Dig into these sweet crumble bars loaded with apricot and a touch of spicy ginger flavor for an easy gluten free treat.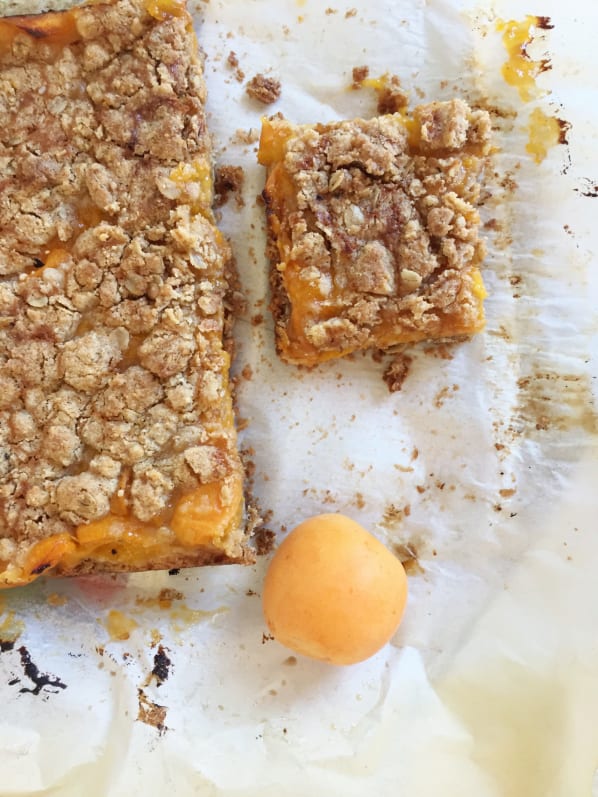 Years ago,I made strawberry crumble oat bars,and the results were disappointing… It was a huge hot mess, a red-brownish mass. I got so disappointed, I gave up.
Last month, though, something changed. Something was itching deep inside to make those damn bars! And the Pinterest research begun. As I was trying to find some good looking oat bars,with a reasonable amount of butter included in the recipe, I found those beautiful, crumble bars from Cooking Classy. I mean, these babies look to die for! My only problem was, I had to make them gluten free.
It wasn't difficult to make a kind of different, gluten free version of it. The results were stunning. Slightly buttery, crunchy with the great oat flavor,and then the filling. Oh, that filling is definitely mouthwatering! Apricots and the slightly peppery ginger are meant to be together!
These bars are a great way to transform fruits and oats into something everyone will love.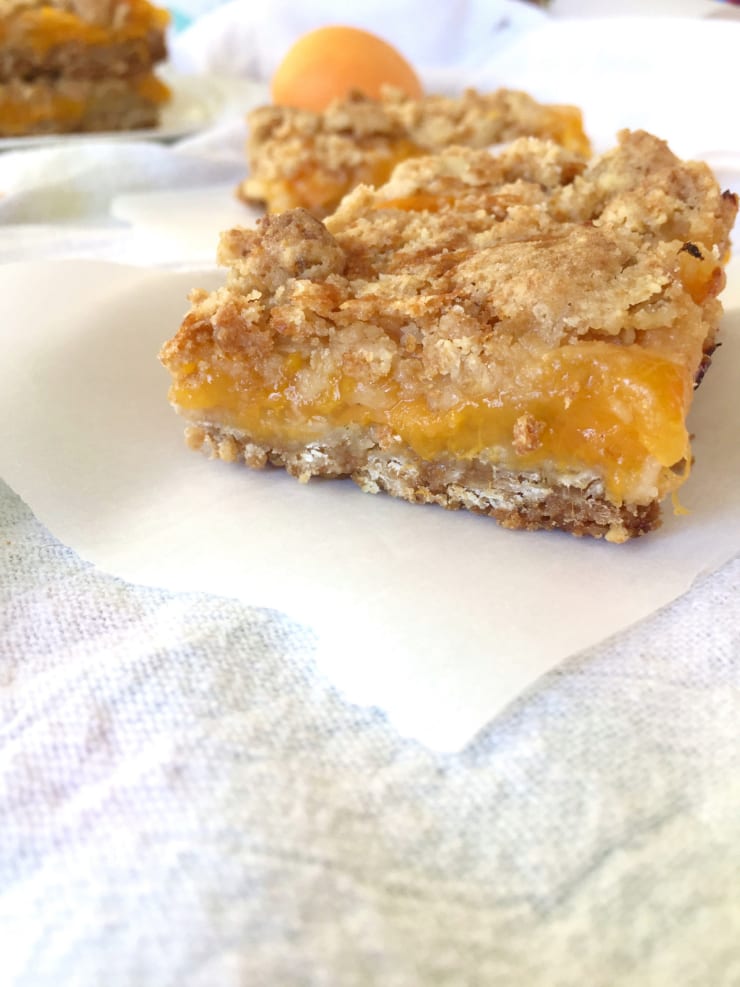 Gluten Free Apricot Ginger Crumble
Dig into these sweet crumble bars loaded with apricot and a touch of spicy ginger flavor for an easy gluten free treat.
Recipe Type:
Dessert, Baking
Ingredients
1 cup gf all-purpose flour
½ tsp baking soda
¼ tsp salt
1 cup rolled old fashioned oats
½ cup almond meal
½ cup packed light brown sugar
½ cup granulated sugar
¾ cup unsalted butter, melted
2 tsp vanilla extract
¼ tsp almond extract (optional)
Filling
2 cups apricots,pitted and diced
1 Tbsp fresh ginger,finely diced
⅓ cup granulated sugar
1 Tbsp cornstarch
Instructions
For the crumb layer:
Preheat oven to 350 degrees. Grease a 8×8 inch baking dish and line with parchment paper, grease parchment.
In a mixing bowl whisk together flour, baking soda and salt.
Add in oats, brown sugar and granulated sugar and whisk to blend, while using fingertips to break up small clumps of brown sugar.
Pour melted butter,almond extract and vanilla over oat mixture. Stir with a spatula until mixture is moistened.
Press ⅔ of the mixture into prepared baking dish, set aside remaining ⅓.
For the filling:
Add diced apricots and ginger to a medium mixing bowl.
In a small bowl whisk together sugar and cornstarch. Pour sugar mixture over apricot mixture and toss to coat. Pour apricot mixture over bottom crumb layer in baking dish.
Sprinkle remaining ⅓ crumb mixture over top. Bake top is golden brown and crisp and filling is bubbling, about 35 – 40 minutes.
Cool completely then cut into squares.