These glazed peach scones taste like a peach pie with a scoop of vanilla ice cream and they are anything but dry.
By Michelle Verkade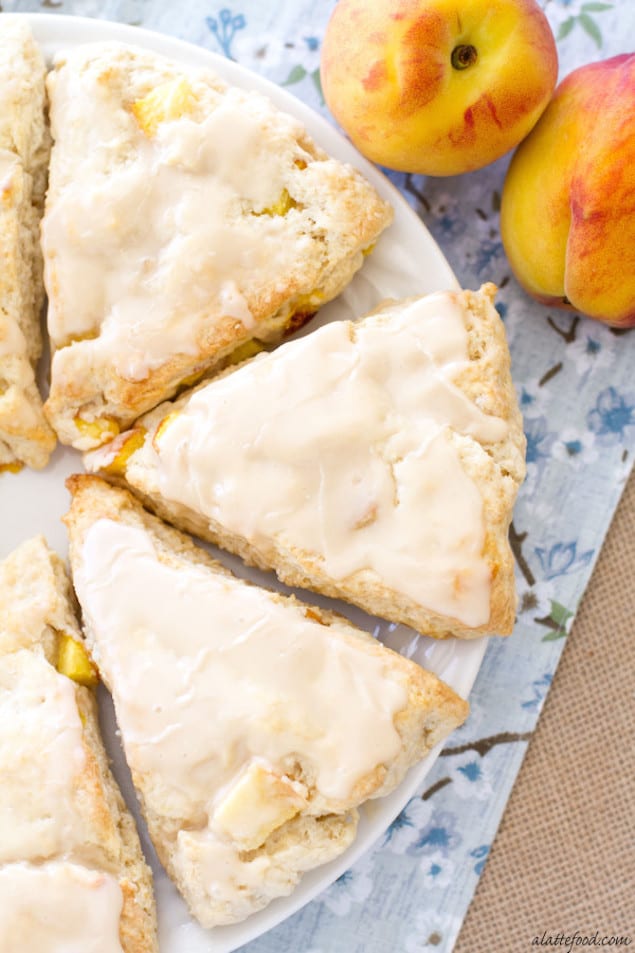 These scones taste like peach pie with vanilla ice cream on top.
They're pretty much summer in a scone. I'm telling you, one of these + iced coffee = summer overload–and it's not even summer yet! Could it get any better?
Yes, yes it could. If you wanted to go completely over-the-top and indulge, top it with some strawberry ice cream. With all the fruit floating around between the two, you could totally get away with it for breakfast.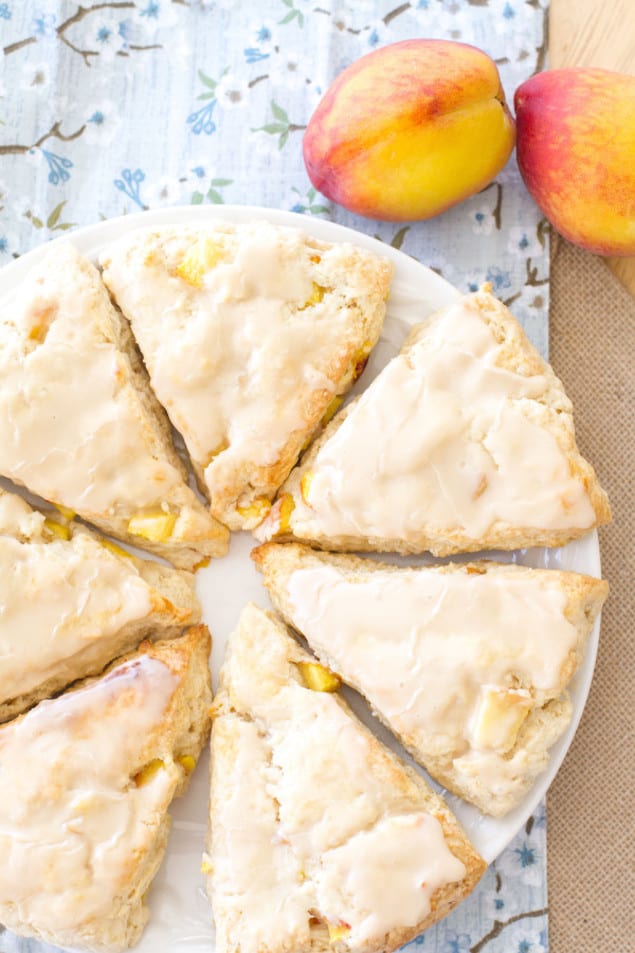 I have a real thing for scones. I'm partial to their texture, sweetness, and overall taste. It's probably because I'm a biscuit person, I would do just about anything for a biscuit and jam).
These peach pie scones are anything but dry. They're packed with sour cream and heavy cream to make them light and fluffy, and moist.

Glazed Peach Scones
These glazed peach scones taste like a peach pie with a scoop of vanilla ice cream and they are anything but dry.
Recipe Type:
Baking, Dessert
Ingredients
2 cups + 2 Tbsp all purpose flour
⅓ cup brown sugar
1 Tbsp baking powder
½ tsp salt
½ cup unsalted butter, cubed and cold
1 egg
¼ cup heavy whipping cream, plus more for brushing
¼ cup sour cream
2 tsp vanilla extract
½ cup fresh peaches, diced
Vanilla Glaze
½ cup powdered sugar
1 Tbsp vanilla extract
1-3 Tbsp heavy whipping cream
Instructions
Preheat oven to 400 degrees. Line a baking sheet with parchment paper.
In a bowl, mix together flour, brown sugar, baking powder, and salt. Once combined, cut in the butter with a fork or pastry cutter until the mixture resembles coarse crumbs.
Whisk together heavy cream, sour cream, egg, and vanilla extract. Slowly add the wet ingredients into the dry ingredients, and mix until just combined.
Stir in the peaches, and mix until just combined.
On a well-floured surface, turn out the scone dough and pat into a small disk that's about a ½" thick. Cut into 6-8 slices, and transfer to the baking sheet. Brush each scone with just a bit of heavy cream.
Bake for 16-18 minutes, or just until golden brown. Allow to cool.
Glaze
Whisk together powdered sugar, vanilla extract, and 1 Tbsp of heavy cream. If the glaze is too thick, continue adding in heavy cream, one 1 Tbsp at a time, until it has reached the desired consistency. Pour over warm scones and enjoy!
Michelle Verkade
Michelle is the creator and recipe developer at A Latte Food, a site dedicated to all things sugar and spice. And coffee. There you will find a variety of delicious desserts and classic comfort foods that are easy to whip up and even easier to eat! For more on Michelle, feel free to visit her blog and connect with her on Twitter, Pinterest, and Facebook.