Caramel and sweet coconut come together in this soft and chewy Samoa macaroon dipped in rich chocolate and inspired by the Girl Scout cookie.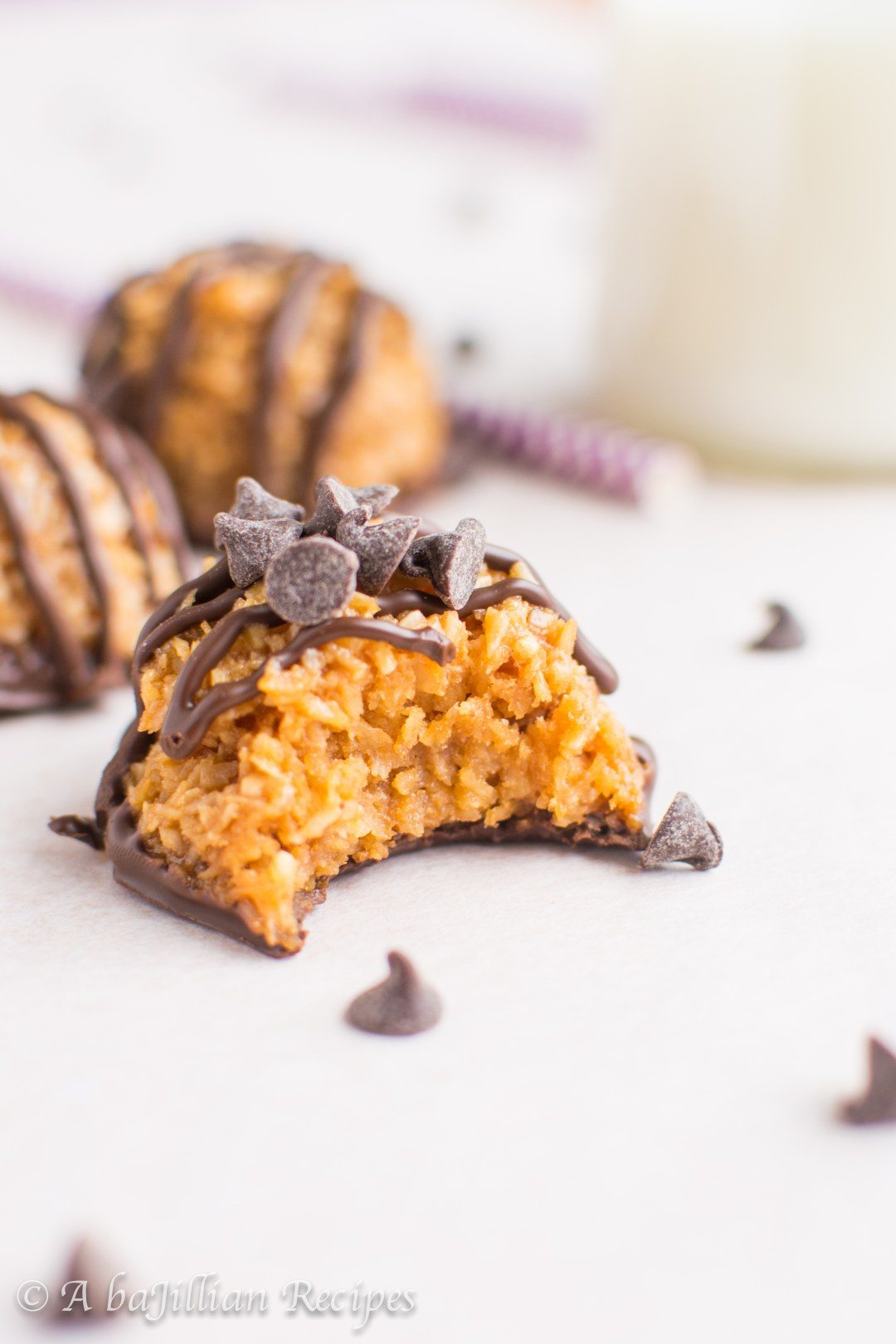 Yes, I once donned the little brown vest complete with those little badges back in the day. Just look at that glint of sheer joy in my expression.
Not surprisingly, my stint as a girl scout lasted all but maybe a few months? I don't think it was really my thing (duh). Heck, I barely even remember selling the cookies. I think I only sold a few boxes to family. Nope, sales were never my thing and they still aren't.

However, that definitely hasn't stopped me from finding a way to enjoy those same classic flavors that we've all succumb to at some point in our lives. Nope, I found a better way. I decided to make my own. Well, sort of….
One of my favorites was always those darn Samoas. Forget the plain ol' Do-Si-Do's and Thin Mints because I'm alllllllll about that caramely, coconutty, chocolatey goodness. Aside from the Tagalong, Samoas are definitely the richest of the Girl Scout cookie collection–exactly why I could never shake that addiction. Last year, I unveiled my Brown Butter Samoa Blondies which were basically a grown-up version of Samoas, and nothing short of heavenly. This time, however, I decided to go a little simpler. Enter, the Samoa Macaroon…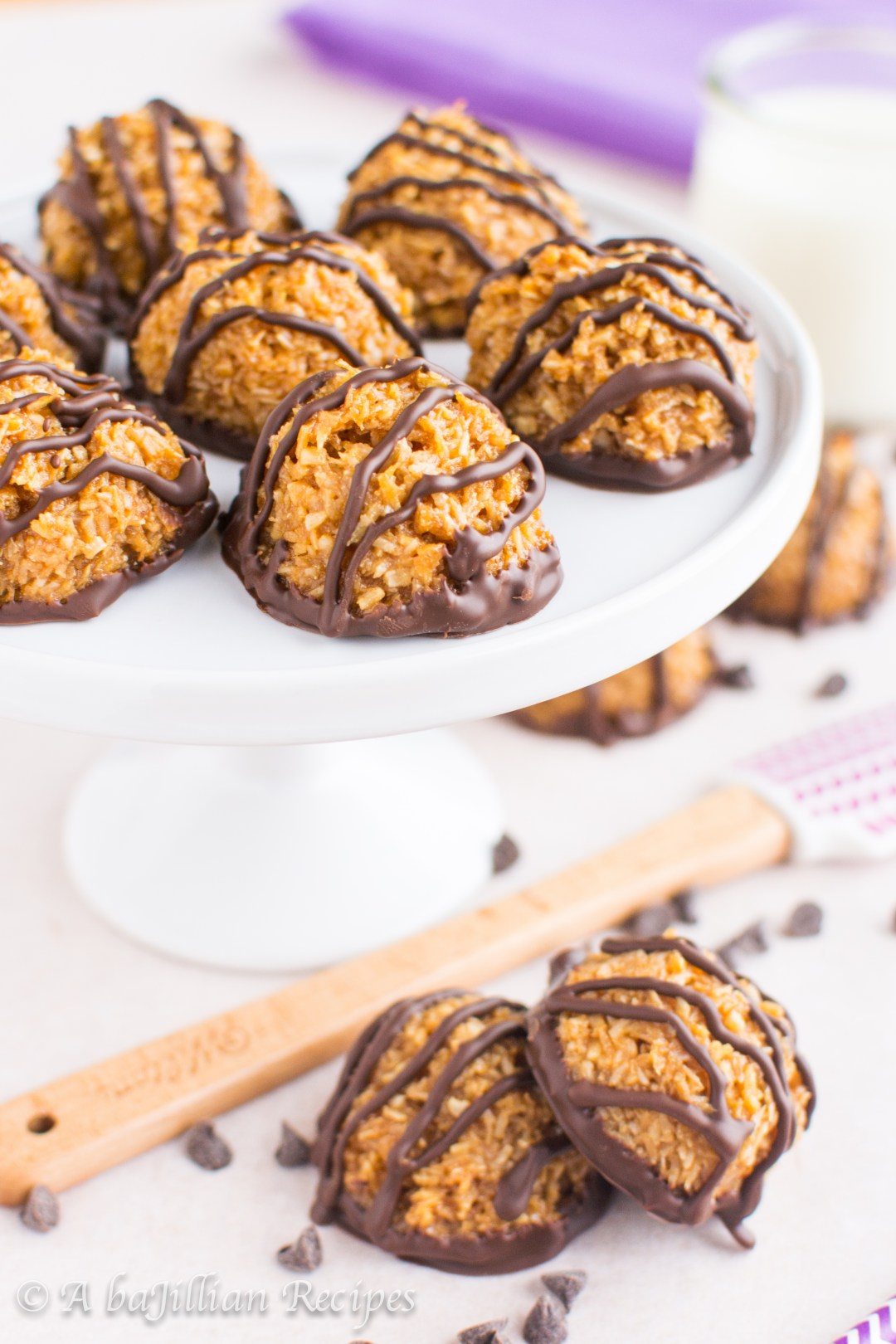 Because we all know that the best part of the Samoa is the caramel coconut topping. In fact, if that cookie bottom wasn't even there, I'm sure we'd be perfectly fine without it. And these Samoa Macaroons are ABSOLUTELY proof of that.
Being the coconut fiend that I am, macaroons have always been one of my favorite cookies. Maybe it's because of the fact that they're more candy than cookie. Speaking of candy, isn't a Mounds bar basically a macaroon covered in chocolate?
Anywho, these Samoa Macaroons are ten times better than those ordinary macaroons (AND Mounds bars!) because these are made with caramel. HOMEMADE caramel–the good stuff. Just whip up a batch of lusciously smooth, golden caramel, stir in some shredded coconut, fold in a couple of whipped egg whites, scoop them onto a cookie sheet and
These macaroons also happen to be gluten-free! You're welcome, GF crowd.
Thanks to the caramel, these macaroons retain their soft and chewy texture for days and days. If you have an ounce of self-control, that is…
What makes these macaroons rise above the rest is also the type of coconut used. Instead of using the regular sweetened shredded coconut, I went with a much finer shred of unsweetened coconut. You can usually find it in the health foods aisle or bulk foods section of most grocery stores. Not only does the finer shred provide a softer, more satisfying chew, but it eliminates that stringy texture that most macaroons have. And yes, it DOES make a HUMONGO difference. then let them do their thang in the oven. Easy peasy, coconut squeezy!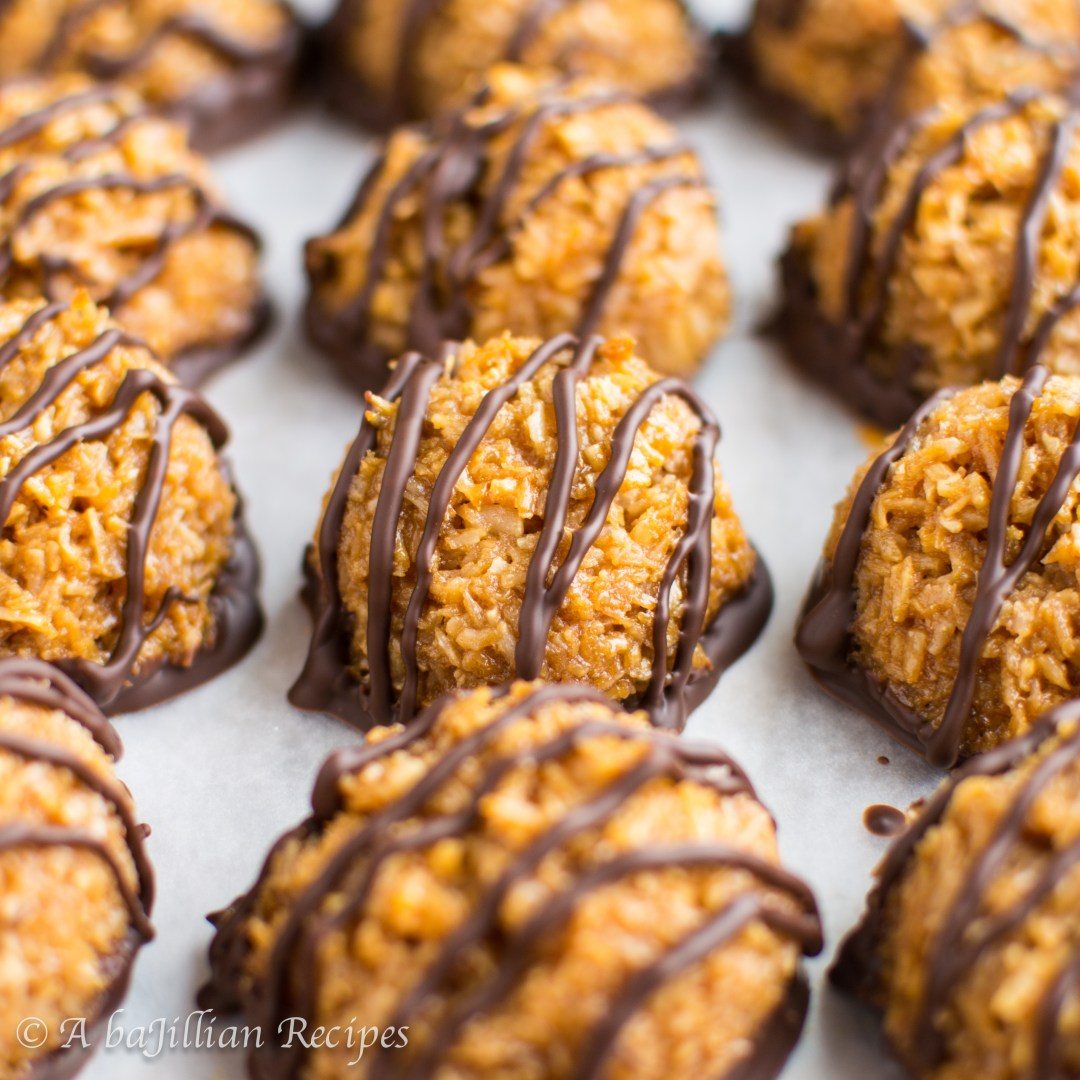 Just like the classic Samoa cookie, these macaroons get dipped and drizzled in rich melted chocolate. They wouldn't be complete, nor as heavenly without it. The bitter sweetness of the chocolate combined with the luscious caramel and the chewy coconut is enough for anyone to drop to their knees in pure ecstasy.
Print
Girl Scout-Inspired Samoa Macaroons
Author:

Jillian Hatsumi

Yield:

40

small macaroons

1

x
Category:

Cookie, Dessert
1

and 1/4 cups granulated sugar

1/2 cup

water

1/4 teaspoon

salt

1 cup

heavy cream

1 teaspoon

vanilla

12 ounces

finely shredded unsweetened coconut*

2

large egg whites

8 ounces

semi-sweet chocolate chips

2

–

3

teaspoons coconut oil or vegetable oil
Instructions
Combine the sugar, water, and salt in a medium saucepan set over medium heat. Stir occasionally with a fork until mixture comes to a boil, about 3-4 minutes. Continue to simmer until mixture becomes a medium amber color, about 5-6 minutes, swirling pan every so often. Immediately add the cream, and reduce the heat to medium-low.
Using a heat-resistant spatula, constantly stir the caramel until mixture is smooth, about 3-4 minutes. Turn the heat off, stir in the vanilla, and allow to cool/thicken for about 5 minutes.
Preheat the oven to 325ºF and line a baking sheet with parchment paper. Stir the coconut into the caramel.
In the bowl of a stand mixer fitted with the whisk attachment, whip the egg whites on high until stiff peaks form. Gently fold whipped egg whites into the coconut mixture.
Using a small cookie scoop, drop rounded (and compacted) tablespoons of the coconut mixture onto the lined baking sheet about an inch apart. Bake for 15 minutes. Allow to cool at least 10 minutes on the baking sheet before transferring to a wire rack to cool completely.
Line a baking sheet with wax paper. Melt the chocolate and the coconut/vegetable oil together either in the microwave or over a double broiler, stirring until smooth. Dip the bottom of each macaroon into the chocolate, then place onto the wax paper-lined baking sheet. Drizzle the remaining chocolate over the tops of each cookie, then chill in the refrigerator until chocolate is set.
Notes
*You can find finely shredded unsweetened coconut in the health/organic foods section of most grocery stores or in the bulk section.
Jillian Hatsumi
I'm Jillian, the writer, baker, chef, recipe creator, and amateur (very amateur) photographer of A baJillian Recipes. Though I'm not a classically trained chef, I like to think I know my way around a kitchen pretty well. Aside from baking, cooking, and EATING, I also enjoy acting, couponing (I LOVE saving money!!), running, working out, photography, and playing with my little fluffernutter, Olivia. She's a dog, if you're wondering...