These cakes are a cross between a classic gingerbread and a muffin. Top them with a glaze and they're pretty much Christmassy-cake perfection.
By Helen Buxton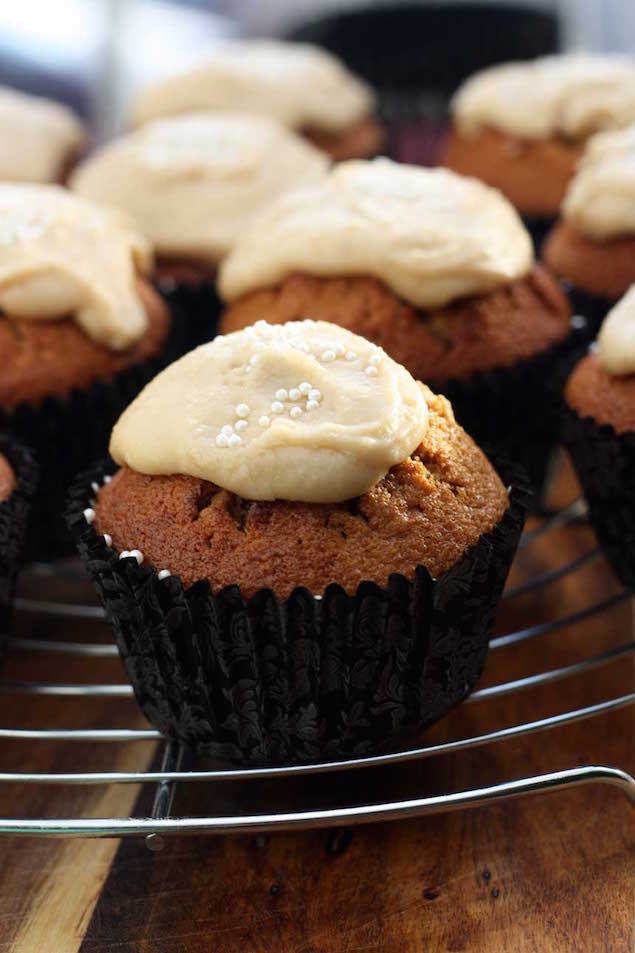 These quintessentially Christmas gingerbread muffins are jazzed up a little with salted caramel frosting, just to be extra delicious about it all. Which also means that you are allowed to call them cupcakes if you like.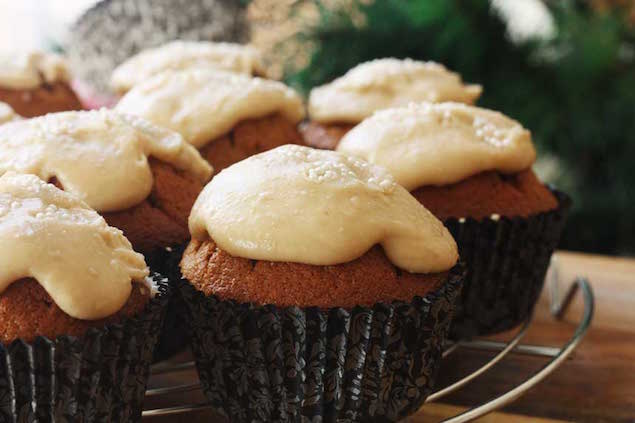 I decided to go for giving these muffins quite a hit of gingery flavour by including a triple hit of ginger: four whole teaspoons of the ground stuff, a piece of fresh grated ginger and some chopped crystallized ginger for a bit of gingery texture. Grated nutmeg adds some extra spice and one huge spoonful each of black treacle (possibly molasses to you) and golden syrup (don't worry, you can use corn syrup and molasses as a substitute if you can't find this classic British ingredient) gives these little cakes that classic gingerbread quality. Don't expect a heavy, sticky result, though. The batter bakes up to a lovely light and fluffy crumb with a firm top. The muffins end up just a little bit sticky and squidgy but definitely without losing the characteristic lightness you expect from a muffin. Just right.
To be honest, you could leave the muffins like this and enjoy them plain with a cup of tea or coffee. On the other hand, though, it is Christmas, which comes but once a year, so I say go ahead and be a devil – whip up some of that salted caramel frosting to dollop over the top! I have to admit this does leave you with something more like a cupcake, but you can always go easy on the frosting if you don't want the overall effect to be too sweet.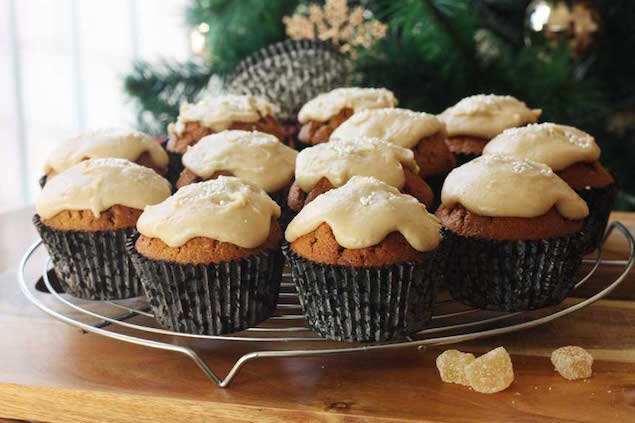 Gingerbread Cake with Salted Caramel Glaze
These cakes are a cross between a classic gingerbread and a muffin. Top them with a glaze and they're pretty much Christmassy-cake perfection. Adapted from BBC Food.
Recipe Type:
Dessert, Baking
Ingredients
For the Batter
140 grams/5 ounces unsalted butter
150 grams/7 ounces caster sugar
60 grams/2.5 ounces black treacle (molasses)
60 grams/2.5 ounces golden syrup (or equal parts molasses & corn syrup – see notes below)
2 eggs & 2 egg yolks
a walnut-sized piece of fresh ginger, grated
75 to 100 grams crystallized ginger, chopped
300 grams/10.5 ounces plain flour
4 teaspoons ground ginger
1 teaspoon ground nutmeg
2 teaspoons baking powder
1 teaspoon salt
240 ml/8.5 fluid ounces warmed milk
For the salted caramel frosting
2 tablespoons butter
3 tablespoons milk (or cream for a richer frosting!)
110 grams/3.9 ounces (about half a cup) brown sugar
130 grams/4.5 ounces (about a cup) confectioner's/icing sugar
½ teaspoon vanilla extract
½ teaspoon salt
Sugar decorations of your choice (optional)
Instructions
Preheat the oven to 190C/375F. Line a muffin tin (12 holes) with muffin cases and set aside.
Cream together the butter and sugar with a handheld whisk until light and fluffy, then whisk in the treacle/molasses, golden syrup (or equivalent – see notes) and eggs & egg yolks until well mixed. Stir in the grated fresh ginger and chopped crystallised ginger.
Mix together the flour, ground ginger, nutmeg, baking powder and salt in a medium bowl. Add half of these dry ingredients to the wet mixture and mix together, then add half of the milk followed by the rest of the dry ingredients and the rest of the milk. Mix everything together well (but don't overmix).
Spoon the mixture into the muffin cases (I used a small ladle as the mixture is quite runny. You can fill them quite full – just leave at least a cm or so at the top) then bake for about 20 minutes or until the muffins are well risen and firm on top.
Cool the muffins on a cooling rack. Meanwhile, make the frosting. In a small pan over medium heat, melt the butter, then add the milk/cream and sugar and let it all bubble quite vigorously for about a minute. Take off the heat, then slowly add the icing sugar.
If the frosting is a little too thick, add a tiny bit more milk. If it's a little too thin, add a bit more icing sugar. Finally, stir in the vanilla extract and salt.
Dollop about a teaspoon or so of frosting onto each muffin and, if you like, decorate with sugar decorations.
Notes
Golden syrup is made by a company called Lyles in the UK. If you can't find it where you are (sometimes you can find it in specialist food stores or foreign food sections in supermarkets abroad) then you can substitute with half molasses and half corn syrup.

I appreciate that some of you may find it difficult to find crystallized ginger (it's common here in the UK, especially close to Christmas). If you do, add in a little extra grated fresh ginger instead.

If you would like to add some sugar decorations at the end, make sure you add them pretty quickly. The frosting sets pretty fast!
Helen Buxton
Hi, I'm Helen. I'm originally from the UK but currently live between the UK, Greece and Australia with my husband (it's a long story!) We'll get settled eventually! I love nothing better than to travel the world … and sample the local street food. I absolutely love (attempting to!) put together flavours and fresh ingredients from all over the world – just so long as the recipes are easy peasy to make!