PARTNER POST – #GarnachaDay is September 18th, join in the celebration of one of the world's oldest grapes with deliciously paired recipes and enter to win a special tasting.
Buttery shrimp and mushrooms are cooked in a creamy white wine sauce and served on toast points for a flavorful appetizer perfect with a glass of wine.
By Dan George
The best part about this recipe is the sauce. It's creamy, buttery and flavored with white wine. The wine is something that you definitely can not substitute here – don't swap it out for chicken broth or anything like that.
Then you have to pair this white wine sauce with a bottle of Garnacha wine. It comes in all varieties from red to white and dry or sweet, whatever flavors you look for in a wine they have, and interesting fact about the Garnacha grape is that it's the only variety that can produce both red and white wines. You can check out their Facebook page to get some more information about their wines, and which ones to cook with too!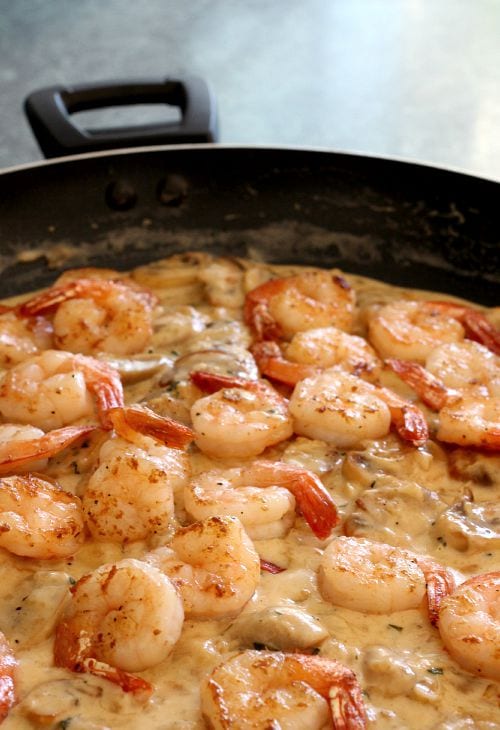 Once the shrimp and mushrooms are cooked and the bread is toasted, put one slice on a plate and cut in half to make triangles. Add a few shrimp to the top and pour some of the sauce all over the shrimp and the bread.
This shrimp is perfect for appetizers or a tapas night while you sip on a bottle of Garnacha wine, make sure you grab a few different kinds so that your friends can try them all and see which is their favorite, red or white!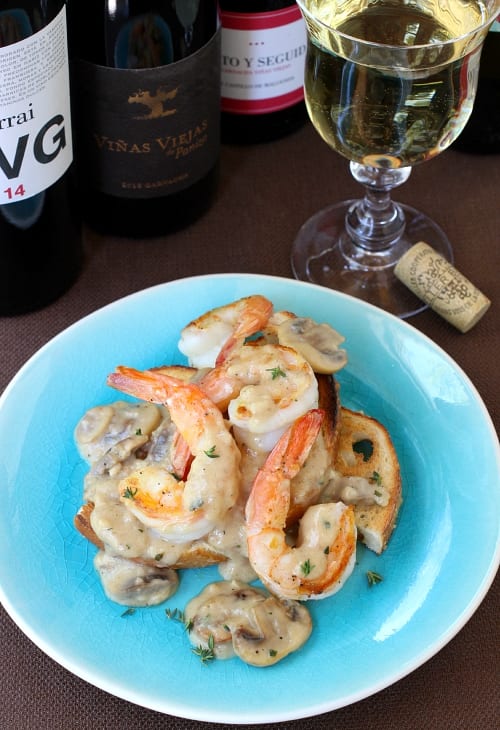 Happy #GarnachaDay!
Click the image below to enter to win a Mediterranean feast for four in your hometown, paired with the best of Garnacha wines.
Garnacha Day — Shrimp Toasts and White Wine Sauce
Buttery shrimp and mushrooms are cooked in a creamy white wine sauce and served on toast points for a flavorful appetizer perfect with a glass of wine.
Ingredients
18 large shrimp, peeled and deveined
2 T. chopped garlic
10 oz. button mushrooms, cleaned, stems removed and thick sliced
¼ c. red onion, chopped
½ t. salt
¼ t. ground pepper
¼ c. Garnacha White Wine
2 T. flour
½ c. heavy cream
⅓ c. chicken broth
6 slices thick cut sourdough bread
4 sprigs of fresh thyme for garnish
Instructions
Heat up the oil in a large skillet over medium heat.
Cook the shrimp for 2 minutes on each side until just pink and remove from the pan.
Melt the butter in the same skillet, then add the onion and cook for 3-4 minutes, stirring.
Next add the garlic, stir and cook for a minute more then place in the sliced mushrooms.
Let the mushrooms cook, stirring every couple of minutes until they're browned all around. This step will take you about 10 minutes to get the mushrooms good and browned.
Add in the wine to deglaze the pan, stir, then add the flour.
Using a whisk, mix the flour well into the wine and mushrooms and cook for 1 minute.
Next pour in the chicken broth and cream, whisk well to combine with the flour and mushrooms and let it come to a boil.
Once the sauce comes to a boil, whisk again, turn the heat down to low and let simmer for 5 minutes until the sauce thickens.
Place the cooked shrimp back in the pan with the sauce and heat through to warm the shrimp.
Cover and turn the heat off.
Toast the bread and cut in half into triangles, serve two triangles on each plate with a few shrimp and topped with some of the sauce.
Garnish with fresh thyme.
Dan George
Born and raised in New Jersey, Dan started the web site Mantitlement as a way to learn how to cook for the first time from his wife, Christie. Christie has always been the primary cook in the household and Dan got used to having her three-course, restaurant quality meals for dinner every night. Well, it was time he learned how to do some cooking on his own, and that's how Mantitlement got started. Dan believes that everyone is entitled to having great food and drinks at home...and he can show you how to make them with his collection of recipes!