Garlic Habanero London Broil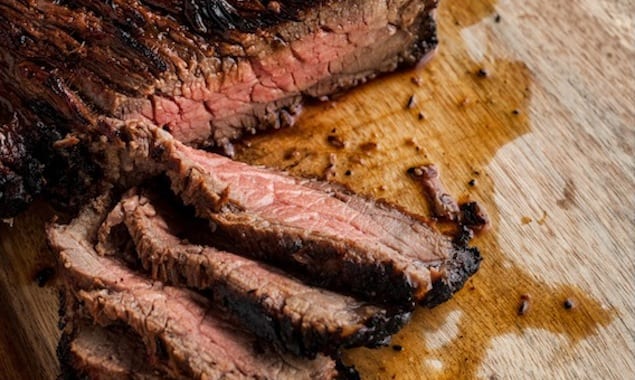 A good London Broil will keep friends and family sitting at the table until the platter is empty. Featuring a garlic and pepper marinade, the flavors blend with orange zest and thyme for a tender and bright meat.
By Taylor Mathis and Sally James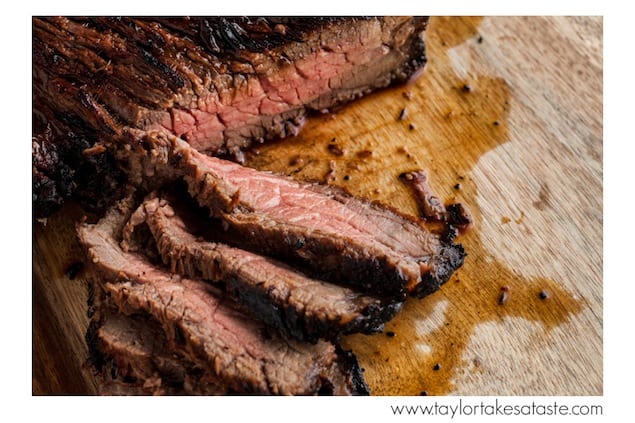 A good London Broil will keep friends and family sitting at the table until the platter is empty. The meat will melt in your mouth and take on a subtle flavor of the marinade you used. You may see London Broil as a label for a cut of beef in your grocers meat section. This is misleading. London Broil refers more specifically to a method of cooking. Top round, flank and shoulder cut beef steaks are all well suited for London Broil. To prepare a London Broil the meat is first marinated, then broiled or grilled until it is rare/medium rare and served sliced across the grain at a 45 degree angle.
The London Broil recipe below features a marinade with Garlic Pepper Tabasco Sauce. This sauce is a milder member of the Tabasco family. The flavors of garlic are blended with cayenne, oak-aged Tabasco peppers and mellow red jalapeno peppers. In this marinade the Garlic Pepper Tabasco mingles with the flavors of orange, lemon, apple and thyme. The result is tasty, tender and bright.

Garlic Habanero London Broil
A good London Broil will keep friends and family sitting at the table until the platter is empty. Featuring a garlic and pepper marinade, the flavors blend with orange zest and thyme for a tender and bright meat.
Author:
Taylor Mathis and Sally James
Ingredients
2 to 2.5 pound "London Broil" cut top round steak
½ cup apple cider vinegar
½ cup orange juice
½ cup apple juice
⅓ cup canola or peanut oil
3 Tablespoons Garlic Tabasco Sauce
2 Tablespoons fresh lemon juice
4 teaspoons honey (can use up to 2 Tablespoons. if you prefer a sweeter marinade)
1½ teaspoons salt
1 scant teaspoon freshly grated orange zest
½ teaspoon coarse ground black pepper
½ teaspoon dry thyme
½ teaspoon Habanero Tabasco Sauce
Instructions
In a medium bowl add the vinegar, orange juice, apple juice, oil, Garlic Tabasco Sauce, lemon juice, honey, salt, orange zest, pepper, thyme and Habanero Tabasco Sauce. Whisk ingredients together until well combined.
Remove the steak from its packaging. Pierce the meat on both sides with a knife or large fork, if desired. Put the meat into a large, resealable plastic bag. Pour the marinade into the bag, over the top of the meat. Seal the bag, pressing out the excess air. Marinate the meat for 4 or up to 24 hours, turning the marinade bag over every few hours.
Remove the meat from the bag and bring to room temperature. Discard the marinade. Grill the meat on an oiled rack at medium/high heat until the meat registers 135 to 140 on a meat thermometer. (Cook to 145 if you prefer a more medium finished steak) Turn the London Broil once while cooking. Remove the meat from the grill and rest for 10 minutes. The meat will continue to cook while resting. Cut the meat across the grain at a 45 degree angle. Serve London Broil warm or at room temperature.
Taylor Mathis and Sally James
Sally James and Taylor Mathis are a mother and son duo from Charlotte, NC. Sally, a professional recipe developer, and Taylor, a professional Food and Lifestyle photographer, work together to create beautiful and delicious recipes designed to be eaten anywhere! Together they are the creators and authors of the food Blog Taylor Takes A Taste and worked together on The Southern Tailgating Cookbook.