Grilled garlic and caramelized onions gives this bread rich, smokey flavors that is perfect on its own or for a gourmet sandwich bread.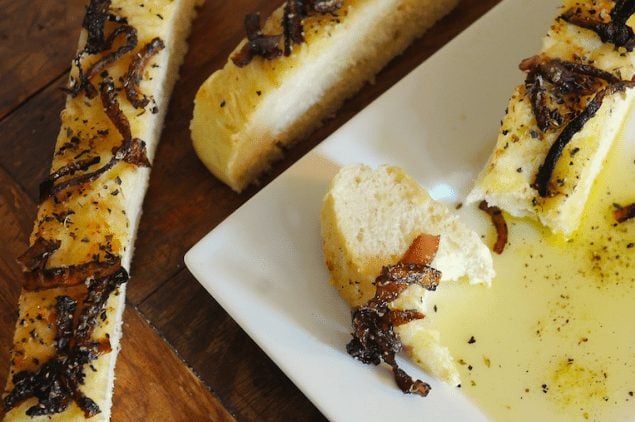 This recipe for focaccia has been made numerous times for my family. I especially like to make it for sandwiches and big parties. It makes two loaves and the options for toppings are endless. This flavor of caramelized onions and grilled garlic is my favorite. It holds up great for a sandwich and the onion/garlic combination compliments the beef well.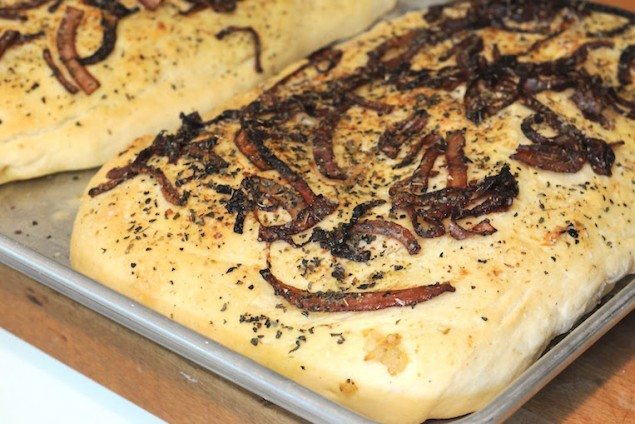 See Also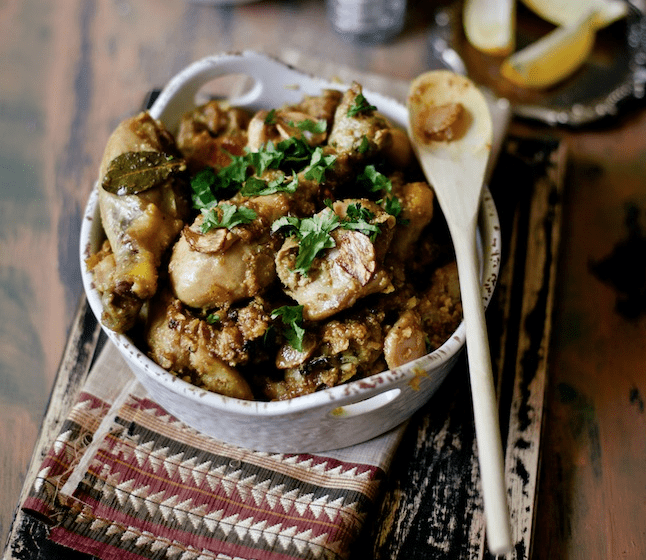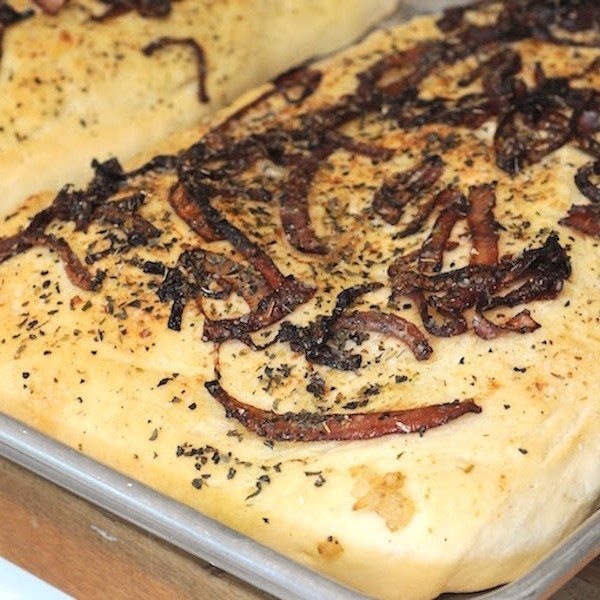 Sherron Watson
Course
Baking, Bread, Pane
Ingredients
To make the caramelized onions:
1

large red onion

sliced

1

T.

of Extra Virgin Olive Oil

Splash of red wine
To make the grilled garlic:
1-2

bulbs of garlic

1/3

cup

of olive oil
To make the loaves of focaccia:
2

cups

of warm water

1

teaspoon

of sugar

2 1/2

teaspoons

of yeast

1 1/2

teaspoons

of salt

4-5

cups

of flour

start with the smallest amount and add as needed

5

T.

of olive oil
Toppings for focaccia:
coarse salt

pepper

fresh herbs or dried

optional

Parmesan cheese

optional

olive oil

grilled garlic

recipe above

caramelized onions

recipe above
Instructions
To make the caramelized onions:
In a large sauté pan, add oil. Add the sliced onion and cook over medium heat. The onions will start to turn a light brown and then gradually become darker. If you need to add a bit more oil go ahead. You don't want them to get dry. When the onions are dark brown, add your splash of red wine. This step is optional but it does add a deep rich flavor to the onion. Continue cooking until the onions are dark, not burnt. The process takes about 25 minutes depending on how many onions you have. If you only use half of the onion, the cook time may be shorter.
To make the grilled garlic:
Cut the ends off of each garlic bulb. Brush the ends with the olive oil. On your BBQ, set your grill to 350 and grill the garlic until browned on both sides. They should be done at around 15 minutes. I try to do a bunch at this time and then store the extra's in the fridge. When they are cooked, I remove the cloves and smash into a small bowl with 4 T. of olive oil, this will be used on the focaccia bread.
To make the loaves of focaccia:
Prepare the yeast by add the water, yeast and sugar to a small bowl. Set aside for 5 minutes until it starts to bubble. If your yeast does not create a foam/bubbly top then you may need to start over.

In your Kitchen Aid mixer with the paddle, add the salt, 3 cups of flour and 2 T. of olive oil. Start to mix together and add yeast mixture. Mix well. Let rest 10 minutes.

Change from the paddle to your bread hook. On medium speed, add a 1/4 cup of flour at a time until the dough forms a ball and no longer sticks to the bottom of the bowl. Because my humidity is so high I usually end up adding more than 5 cups…just add it in 1/4 cup increments and you won't add too much.

Knead in your mixer for 7 minutes. Move dough to an oiled glass bowl and let rise until double.

When the dough has doubled, turn onto a floured surface and knead for one minute. Cut dough in half.

Preheat your oven to 400F.

Prepare your cookie sheet. Spray or oil the sheet then sprinkle some cornmeal across the cookie sheet.

The two focaccia loaves should fit side by side on your cookie sheet. With your hands pull and push the dough into a small rectangle to fit on half of the cookie sheet. Leave an inch in between the two loaves. It will be uneven, this is okay. It should look like little hills and valleys over the top of each loaf.

Take a pastry brush and brush the olive oil and grilled garlic over the top of both loaves. It will pool and look like a lot, this is okay as it all cooks into the focaccia. Let sit for 15 minutes.

Next, add the caramelized onions.

The final step is adding your herbs and coarse salt. I used dried herbs in this recipe. I sometimes use fresh and I love that too. I usually use an Italian spice blend or you can use oregano, rosemary, basil and thyme.

Bake the loaves for 20 minutes. The focaccia bread should be golden brown. We slice ours into 1 inch chunks.

I often times serve the focaccia with a dipping mixture of: extra virgin olive oil, parmesan cheese, Italian herbs and salt. My guest love it!
Sherron Watson
Sherron Watson is a writer and photographer. Her passion for food started at a young age while working with her family in their restaurant business. A career in photography gave her the experience she needed to start capturing images of her favorite dishes. This led to the creation of her blog: simply-gourmet.com. She is currently a food writer for Capital Style Magazine in Annapolis, MD.