Easy garlic cheese breadsticks require no rising time and come together easily for football games and causal holiday gatherings.
By Manali Singh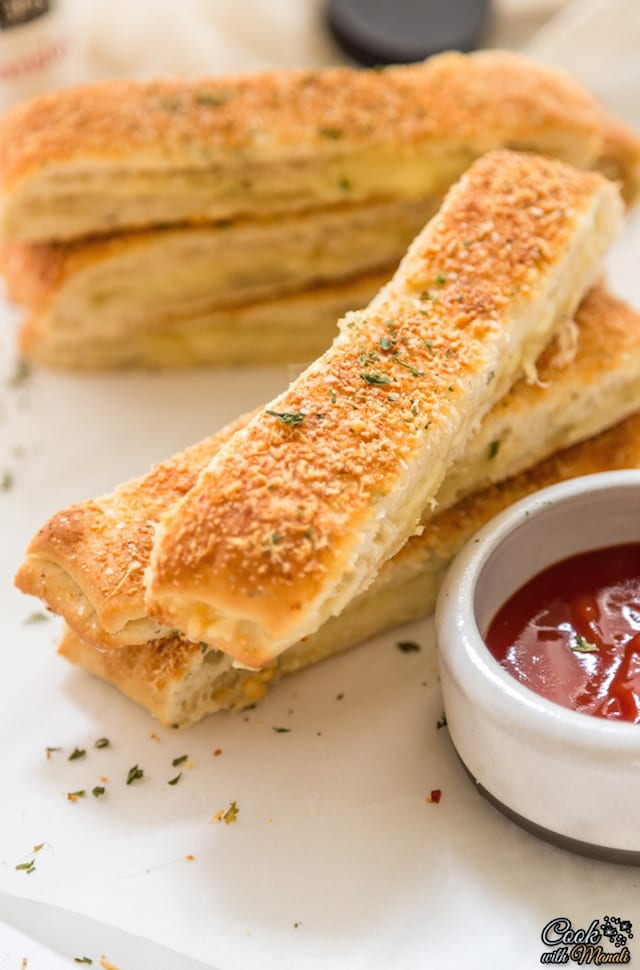 Garlic bread reminds me of my school days. When I was in school, pizza was a very new thing in India. The garlic bread we had at the first pizza place in India used to be so good. In fact I always loved the garlic bread more than the pizza.
The football season is in full swing and while the game is exciting, my focus is always on the food. I mean there's no fun watching football without some good food. And cheesy finger food is the best kind of food that you can serve to hungry people. These garlic bread sticks are so easy to make, you don't even need the dough to rise and all. Also if you want to cut short the process, here's a tip – use store bought pizza dough. I am sure it will work the same way! Enjoy!
See Also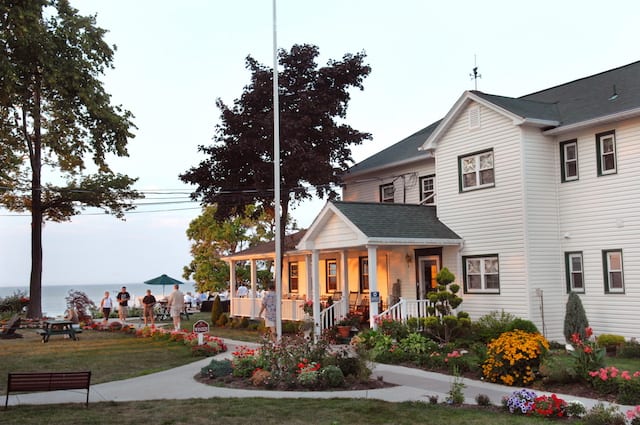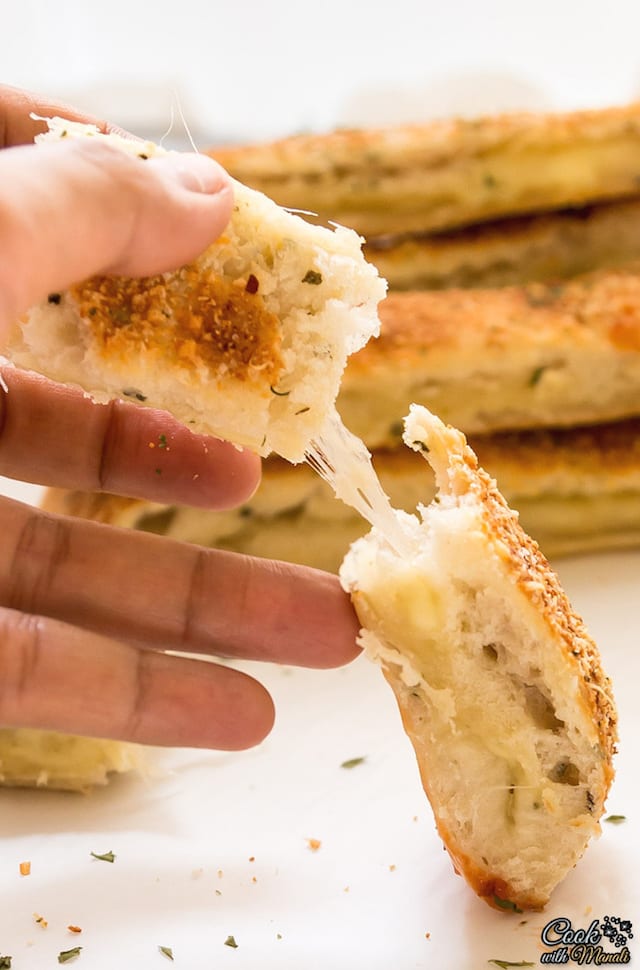 Garlic Cheese Breadsticks
Easy garlic cheese breadsticks require no rising time and come together easily for football games and causal holiday gatherings.
Recipe Type:
Bread, Baking
Serves:
12 to 15 breadsticks
Ingredients
Dough
2.5 cups bread flour
½ teaspoon salt
3 tablespoons olive oil
1 cup warm water
2 teaspoons minced garlic
1.5 teaspoons dried oregano
1¾ teaspoon active dry yeast
2 teaspoons honey
Filling
2 tablespoons salted butter, melted
1 cup shredded mozzarella cheese
2-3 tablespoons grated parmesan cheese
garlic salt, to sprinkle
Instructions
Preheat oven to 400 F degrees.
In a bowl, whisk together flour, salt, minced garlic and dried oregano. Set aside.
In a measuring cup, take warm water and add honey to it. Add active dry yeast and give a quick stir.
Let the yeast activate for 5-10 minutes. This is called proofing of the yeast. You will know your yeast is proofed/active when it's all bubbly and frothy on top. If you don't see any bubbling up, your yeast is dead. Throw the water and start again.
To the flour mix, now add olive oil and mix.
Add the yeast mixture to the flour mixture and knead using the hook attachment of your stand mixer or your hands for 7-8 minutes.
Knead till the dough looks smooth. Place the dough in a well oiled bowl and set aside for 15 minutes in a warm place.
Divide the dough into 2 equal parts and flatten each dough into a square shape.
Transfer the flattened dough to a baking sheet and brush melted butter on top of each flattened dough square.
Cover half of the dough with grated mozzarella cheese. Sprinkle some garlic salt on top.
Take the other half of the dough and fold it to cover the cheese. Sprinkle grated parmesan cheese on top.
Using your pizza cutter, cut thin strips of the dough.
Bake at 400 F degrees for 14-16 minutes or till lightly golden brown in color.
Enjoy these cheesy garlic bread sticks immediately.
Manali Singh
Food lover, recipe developer, food photographer and a big time baking addict. I live in Seattle with my husband and share simple and delicious vegetarian recipes on my blog Cook With Manali.