Fried Halloumi Cheese with Lemon and Caper Vinaigrette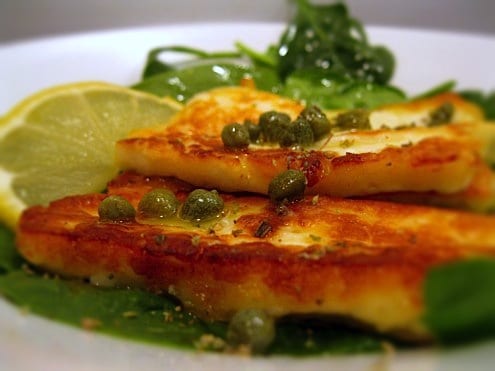 A delectable appetizer featuring salty, fried halloumi cheese with a citrus and caper vinaigrette.
By Kara and Marni Powers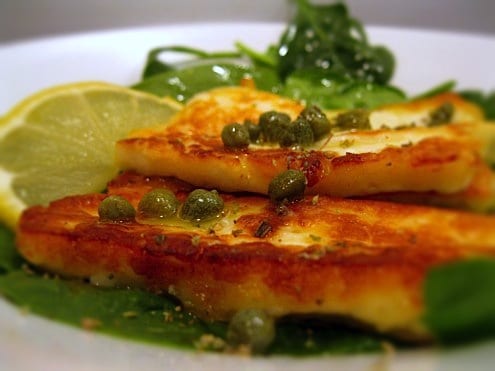 Our best meals abroad take place in tiny tavernas, taperias, bistros, hole in the walls, or any kind of no frills eatery, filled with non-English speaking diners where everyone appreciates one thing: good food. In Cyprus tavernas, many locals enjoy meze dinners where friendly waiters bring out plate after plate of traditional Mediterranean dishes. They often start with a thick slice of one of Cyprus' featured cheeses, halloumi.
If you have never tried halloumi, think of the best qualities of feta and mozzarella combined into one delectable cheese. Its mild, salty taste and firm texture makes it ideal for frying or grilling. The Cypriots often enjoy it served simply grilled, drizzled with honey or topped on salad or fruit. When heated, the outside gets nice and golden and the inside is smooth. Our take on fried halloumi incorporates a citrus and caper vinaigrette. Once the cheese hits the pan, any kitchen is filled with  the pleasantly nutty aroma. Who doesn't love melted fried cheese?
Fried Halloumi Cheese with Lemon and Caper Vinaigrette
A delectable appetizer featuring salty, fried halloumi cheese with a citrus and caper vinaigrette.
Author:
Kara and Marni Powers (Twin Tastes)
Ingredients
½ the juice of a lemon
1 teaspoon Dijon mustard
1 teaspoon dried oregano
¼ cup olive oil
salt and pepper to taste
1 Tablespoon drained capers
8 ounces halloumi cheese cut into ¼-inch pieces and patted dry
2 Tablespoons olive oil
6 ounces mixed greens for a base
Instructions
In a small bowl, whisk the Dijon mustard, dried oregano, lemon juice, salt and pepper.
Slowly whisk in the olive oil until incorporated.
Add the capers and set aside.
Heat 2 Tablespoons olive oil on medium-high heat in a frying pan.
Add the halloumi cheese slices to the pan and cook for a couple of minutes per side until golden.
Plate the fried cheese right away atop the mixed greens.
Spoon the citrus and caper vinaigrette on top.
Kara and Marni Powers
Kara and Marni Powers are twin sister cooks, dining and blogging their way through Boston's North End and beyond. They see the act of cooking and entertaining as a form of creative expression, an art that encourages the mixing of flavors, spices, techniques and stories. Their interest in cooking dates back to their Greek grandmother's open-arms approach, letting them taste her savory creations like her famous spanakopita. Kara and Marni's fascination with food and culture continued during their travels abroad in Europe where they saw firsthand the limitlessness of cooking.