Fried Cheese and Arugula Salad with Apple Cider Vinaigrette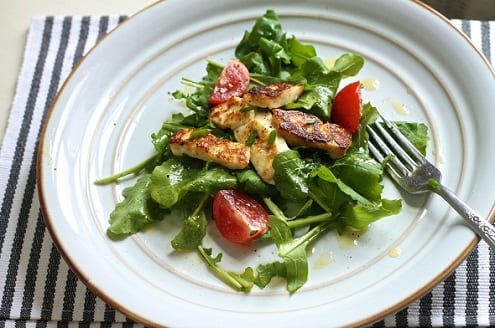 Bryan Picard serves up a fresh arugula salad for lunch today.
By Bryan Picard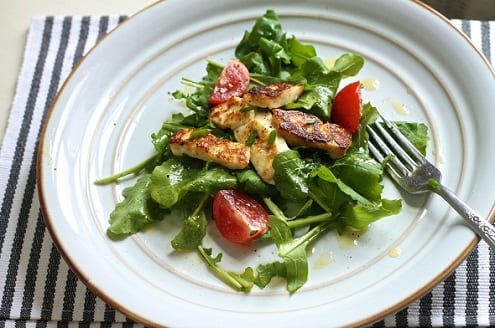 This recipe was inspired by Ron, the Wandering Shepherd, artisan cheesemaker here on the Island of Cape Breton. He makes fresh cheese curds and said they are great fried. He wasn't kidding. I pan-fried the curds in oil for a few minutes then threw them on a salad for lunch. You could use any cheese resembling halloumi. The cheese must keep its shape when cooked.
Enjoy!
Fried Cheese and Arugula Salad with Apple Cider Vinaigrette
Recipe Type:
Salad, Lunch
Ingredients
Small handful of cheese curds
Few handfuls of arugula
2-3 cherry tomatoes, quartered
Fresh chives or basil, chopped
Ground black pepper
3 tablespoons olive oil
1 tablespoon apple cider vinegar
1 tablespoon honey
a small pinch of salt
Instructions
For the vinaigrette, mix together the olive oil, vinegar, honey and salt.
Heat 2-3 tablespoons of oil in a small sauté pan. Once the oil is sizzling hot, add the cheese and cover (the oil can be messy).
Fry a few minutes on each side, until the cheese is golden and crispy.
Toss some greens on each plate, add the tomatoes and cheese.
Drizzle some vinaigrette, top with chives or basil and a twist of black pepper.
Bryan Picard
Bryan Picard is a wild and homegrown food enthusiast. He lives in the Maritimes in Canada and has worked the kitchens as a cook and chef for the past ten years. He writes on his blog The Bite House.