Carly DeFilippo's mother may be Italian, but its her Chinese egg rolls that keep family and friends coming back for more.
By Carly DeFilippo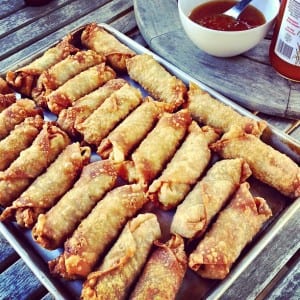 One of my favorite aspects of food culture is culinary traditions. In my Italian family, there were a number of dishes – like Christmas Eve crab sauce or St. Joseph's Day zeppoli – that we prepared but once a year. It was these dishes that I dreamed of and still crave today. Yet when it comes the pinnacle of my mother's cooking, many would point to her egg rolls.
Now, egg rolls are clearly not Italian. So it was always somewhat surprising and hilarious when, each New Years Eve, my mother arrived at the party with a tray of these freshly fried, mystery-meat free Chinese eats. Over the years, I was inducted into the egg roll assembly line, but when my parents and I started spending our New Years apart, the tradition faded into the background.

That is, until my sister created "Egg Roll Weekend". At some point, her college friends had gotten wind of the rolls' lore and legend, and demanded that a tasting be arranged. This year, they celebrated their fifth annual festival of eating these homemade delicacies (while I celebrated my fifth year of cooking them).
See Also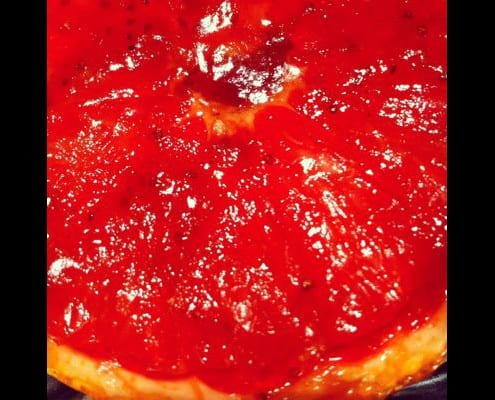 If anything, the rolls get more delicious each year, and the word has spread. For the first time, we had to schedule two weekends to accommodate the hungry masses.

We fry the egg rolls in a small electric deep fryer and canola oil, but – in theory – we've heard a deep stove-top pan and peanut oil is as good, if not better. You can also bake them if you are scared of frying or trying to be healthy. I find them almost preferable to their greasier, fried cousins.

My mother may be Italian, but its her Chinese egg rolls that keep family and friends coming back for more.
Ingredients
1-2 packages of egg roll wrappers
1 egg
½ lb shredded pork
1½ lb shredded cabbage
1 cup shredded celery
1½ cups shredded carrots
1 small package of bean sprouts
1 can water chestnuts, chopped fine
1 can bamboo sprouts, chopped fine
1 bunch scallions, chopped fine
2 tbsp soy sauce
1 tbsp rice vinegar
1 tbsp canola oil
1 tbsp corn starch
1 tsp sesame oil
1½ tsp salt
½ tsp sugar
½ tsp black pepper
4 cups canola or peanut oil
Instructions
Mix together the soy sauce, rice vinegar, canola oil and cornstarch. Marinate the pork in this mixture for 20 minutes.
Slice all veggies accordingly (in Cuisinart or food processor is easiest) while pork marinates.
Mix together sesame oil, salt, sugar and black pepper ("seasoning mixture").
Heat 5 tbsp of oil in a wok, and stir-fry the pork in small batches, adding a bit of seasoning mixture to each batch, as well as chopped veggies.
Repeat until all of the pork and veggies are cooked. Set aside to cool to room temperature.
When mixture has cooled, set out egg roll wrappers as well as a bowl containing a cracked egg.
Lay the wrapper flat, and fill with 2-3 tbsp of the pork/veggies ("filling").
Pull the filling towards the corner closest to you, and begin to roll the egg roll, folding in the sides like a small envelope.
When you have finished rolling the egg roll, seal the final corner with a bit of egg white.
Bring oil to a steady simmer.
Fry egg rolls carefully, so as to not overcrowd the pan or fryer.
When removing egg rolls from oil, place on a cookie sheet lined with absorptive paper, such as that of brown paper bags.
Serve warm with hot mustard, soy or sweet and sour sauce.
Notes
If you are trying to be healthy, you can actually bake the egg rolls at 375 degrees until golden brown and crunchy. (Start checking them and flipping them over to evenly brown after about 15 minutes. Bake for 20-25 minutes total.)
Carly DeFilippo
Carly is a Contributing Writer at Honest Cooking. Though the first line of her college application essay was "I love tunafish," it wasn't until she pursued graduate studies in Paris that she ever considered a future in food. Based in Manhattan, Carly is a freelance writer and the co-founder of Cognoscenti Creative, a boutique branding agency dedicated to establishing artisans as influencers.