Fresh Tortellini Filled with Basil and Ricotta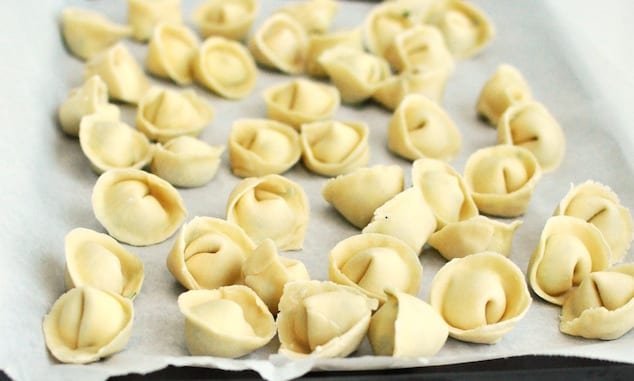 Make your own thin, tender pasta parcel, rolled into a beautiful shape and bursting with mildly herby cheese. The tortellini is topped with a pesto, jam packed with basil, walnuts and parmesan.
By Sami Berger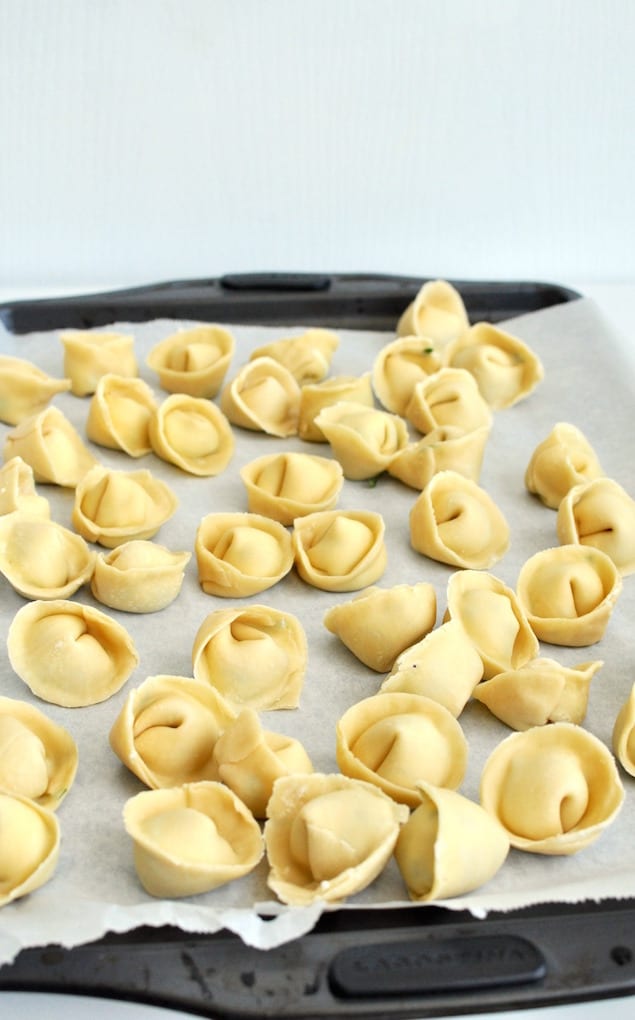 Homemade pasta is not a regular thing around here. In fact, pasta is often one of those "I can't think of anything else to make," quick dinners, that gets thrown together in as fast as it takes for the noodles to cook. However, when I have a little forethought and time, fresh pasta is a whole other experience than that quick dinner. The texture of fresh pasta can't be beat, but even more, being able to stuff your pasta with whatever you want changes everything. Like dumplings, fresh, homemade stuffed pasta is not even close to what you buy at the store. You can taste what's inside. These ricotta and basil tortellini therefore taste like just that: ricotta and basil.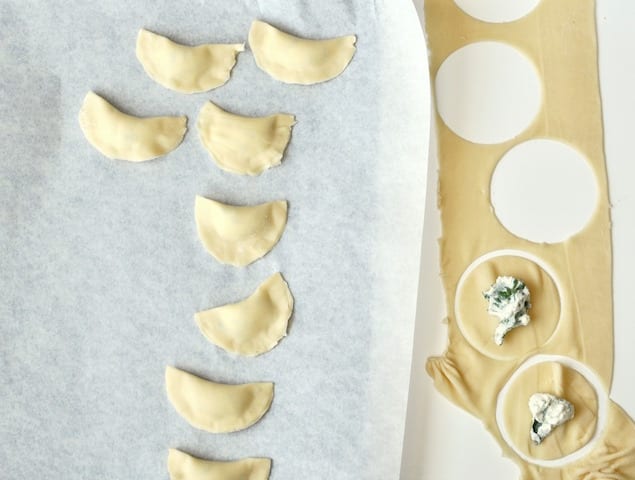 If you've never made pasta before, it's not something to be intimidated by. I have a bunch of tips and extra photos over here, but the gist of it is: you make some dough, rest it for 30 minutes and roll it out. The rolling and shaping step is the longest part, but I think it's a lot of fun. The trick is to work in small batches and not to let the dough dry out before you have a chance to shape it. Just keep the dough that you're not using covered in plastic wrap and you will be good.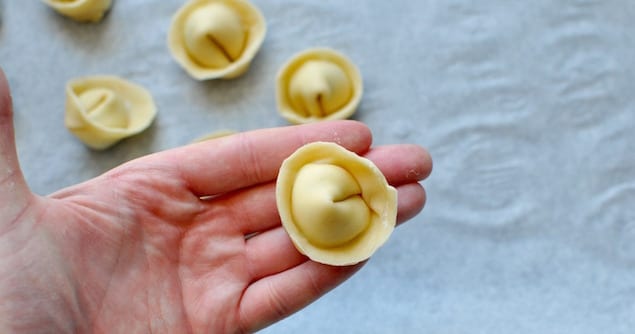 And what you end up with is pretty special. Imagine a parcel of thin, tender pasta, rolled into a beautiful, pillowy shape, bursting with mildly herby cheese. The tortellini is topped with a pesto, jam packed with basil, walnuts and parmesan. It's a smooth sauce that makes the whole dish more vibrant, more basil-y, and more cheesy.

Fresh Tortellini Filled with Basil and Ricotta
Make your own thin, tender pasta parcel, rolled into a beautiful shape and bursting with mildly herby cheese. The tortellini is topped with a pesto, jam packed with basil, walnuts and parmesan. I like to roll out, stuff and shape half of my dough and keep the other half covered so it doesn't dry out. Make sure to re-roll your scraps. Be sure not to overstuff your dough or it will be difficult to fold them.
Serves:
about 4 dozen tortellini
Ingredients
Fresh pasta
300g (10.5 ounces) all purpose flour
3 large eggs
1-2 tablespoons of water (as needed)
Filling
450g (15.8 ounces) ricotta
¼ teaspoon salt
¼ teaspoon pepper
40g (1.5 ounces) basil, finely chopped
Pesto
40g (1.5 ounces) basil
½ cup walnuts, toasted
1 garlic clove
¼ teaspoon salt
¼ cup parmesan
½ cup olive oil
Instructions
Fresh Pasta
Dump your flour on a clean surface and create a well in the middle of it.
Add the eggs into the well and slowly incorporate the flour into the eggs, using your fingers or a fork.
Once the eggs are lightly incorporated, knead the dough for 10 minutes. The dough will be very dry and crumble at first. Keep kneading. If it won't come together, you can slowly add up to 2 tablespoons of water.
Once your dough is smooth, wrap it in plastic wrap and let it rest on the counter for 30 minutes.
Filling
Mix everything together in a bowl. Taste and adjust seasoning.
Folding
Start with half your dough, keeping the other half covered (so it doesn't dry out).
Using a pasta machine, roll out pasta as thinly as possible.
Starting on the widest setting, pass your pasta through the machine, folding the pasta in half and re-rolling it through the widest setting once more. Slowly decrease the width of the setting (and continue to fold the dough) until you are on the thinnest setting.
For more photos and instruction check out this Fresh Pasta 101 post.
Once your pasta is rolled into a thin sheet, place your pasta on a clean surface.
Using the rim of a glass (or something else that can make a shape of a circle that is 3 inches in diameter), press circles into the dough, creating circles that are 3 inches in diameter.
Add 1 teaspoon of filling into the middle of the dough.
Brush water around the edges of the dough and fold into a half circle shape. Press edges to ensure they are sealed.
Bring the pointy ends of the half circle together folding the pocket with the filling in half (see photos above).
Overlap the pointy ends to make a smooth circle and press to ensure it is sealed (see photos above).
Place tortellini's onto a parchment lined paper (so they won't stick).
Repeat until you have no dough left, re-rolling scraps as you go.
Pesto
Blend all ingredients together in a food processor or blender. Taste and adjust seasoning.
To Serve
Bring a large pot of salted water to the boil.
Lower tortellini into the water with a slotted spoon, holding the spoon in the water for a couple of seconds. This will help prevent the tortellini from sticking to the bottom of the pot.
Cook tortellini for about 5 minutes.They will float to the top of the water and the pasta will be tender.
Drain tortellini (reserving a bit of pasta water) and toss with pesto, adding pasta water to thin it out as necessary.
Serve with parmesan cheese and chopped basil.
Sami Berger
Sami Berger is the author of My Second Breakfast, a mostly healthy, mostly vegetarian blog. Inspired by her travels and life in a new city, My Second Breakfast is a space to tell stories and experiment with sometimes new, sometimes familiar and most importantly, always delicious, flavours.