Fresh Spelt Pasta with Seared Scallops, Prosciutto and Asparagus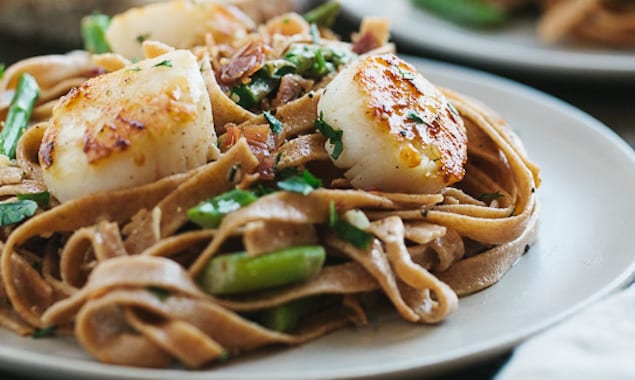 A dish of beautiful textures with silky smooth scallops, the crispy crunch of prosciutto and asparagus, and the pleasant chewiness that comes from the fresh spelt pasta.
By Emily Nelson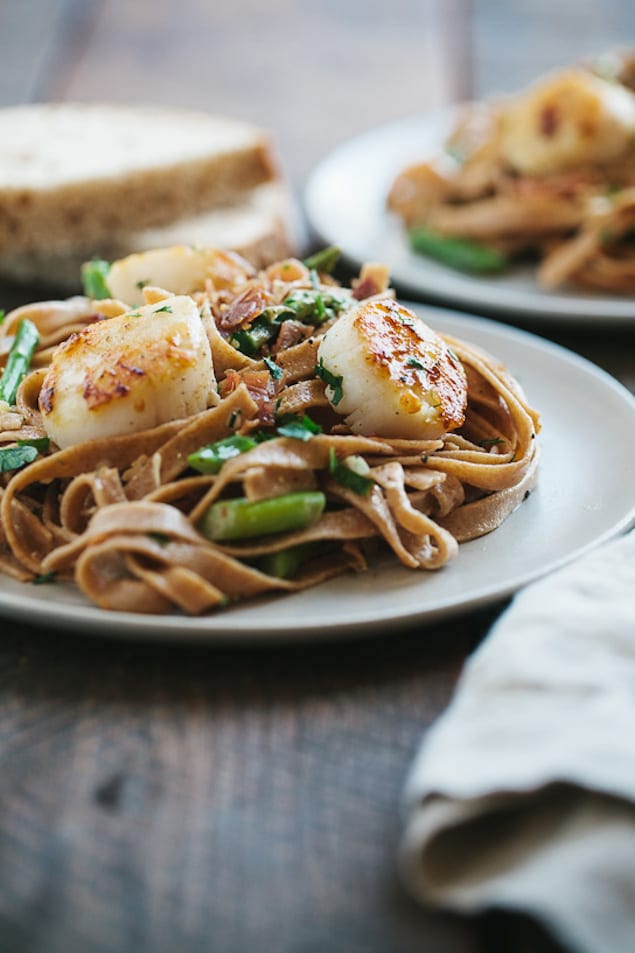 Every once in a while I am able to lay aside my make-ahead casseroles, stews, and soups and prepare a fancier dinner that involves cooking and serving immediately. Even then however, I try to keep things as uncomplicated as possible so I often choose dishes with high quality ingredients, but are no-fuss in their preparation. Scallops are the quintessential food of elegance and simplicity.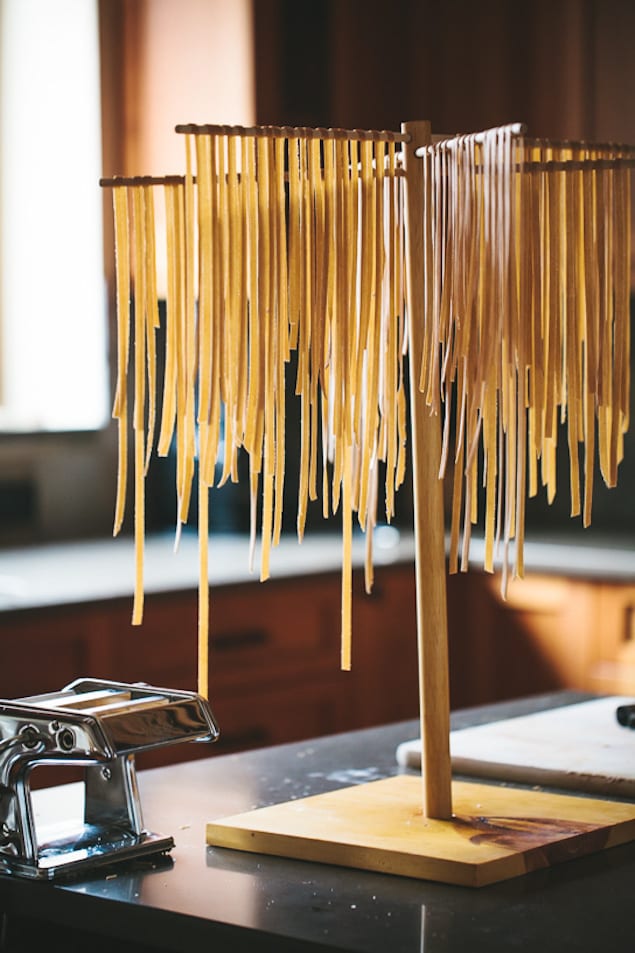 There are so many great textures going on in this dish. There's the silky smoothness of the scallops, the crispy crunch from the prosciutto and asparagus, and the pleasant chewiness that comes from the fresh spelt pasta. Of course any store-bought pasta can be substituted for the fresh spelt pasta, but going through the extra effort of making homemade pasta for this dish makes it truly outstanding. It's not everyday that I'm able to cook like this, but I celebrate the days when I can!
Get the recipe for fresh spelt pasta here.

Fresh Spelt Pasta with Seared Scallops, Prosciutto and Asparagus
A dish of beautiful textures with silky scallops, the crispy prosciutto and asparagus, and the pleasant chewiness that comes from the fresh spelt pasta.
Ingredients
1 pound asparagus, ends trimmed, cut into 1½-inch lengths
1 recipe spelt pasta (or 1 pound pasta of choice) (see homemade recipe link above)
3 tablespoons olive oil
12 ounces fresh sea scallops (or defrosted if using frozen)
kosher salt and fresh ground black pepper to taste
4 ounces prosciutto, diced
¼ cup finely minced onion
2 cloves garlic, minced
½ cup dry white wine
½ cup heavy cream
chopped parsley for garnish
Instructions
Bring a large pot of salted water to a boil. Add asparagus, boil for 1-2 minutes, then remove with a slotted spoon and set aside for later. Add spelt pasta and boil for another 3-4 minutes, until pasta is just tender. Reserve ½ cup pasta cooking liquid. Drain pasta and set aside.
Dry scallops thoroughly with paper towel. Season both sides with salt and pepper. In a heavy skillet, heat oil over medium-high heat. Add scallops one at a time and sear until browned on one side, about 3- 4 minutes. Carefully turn scallops to other side and sear for another 2-3 minutes. Transfer scallops to a paper-towel lined plate and set aside.
Add prosciutto to skillet and cook, stirring frequently, until lightly browned and crisp, about 3 minutes. Remove ¼ cup prosciutto and set aside. Add onion, garlic, and wine and scrape up any browned buts. Boil wine mixture and reduce to about 2 tablespoons. Add cream and reserved pasta water and stir to combine. Continue to cook sauce to reduce slightly, about 4-5 minutes. Season to taste with salt and pepper. Add pasta and asparagus and toss to coat. Warm until heated through. Transfer to a large serving bowl or divide on to individual plates. Top with seared scallops, reserved prosciutto, and chopped parsley. Serve immediately.
Emily Nelson
Emily is a self-taught cook and photographer with a passion for creating beautiful and wholesome food for the family. Her focus is mostly on whole grains, fresh and seasonal produce, and naturally raised meats. When she's not in the kitchen, she loves playing music and spending time with her husband and two children.