No matter your reason for visiting, be sure to save plenty of time to explore the food scene when traveling to The Holy City.
By Janice Nieder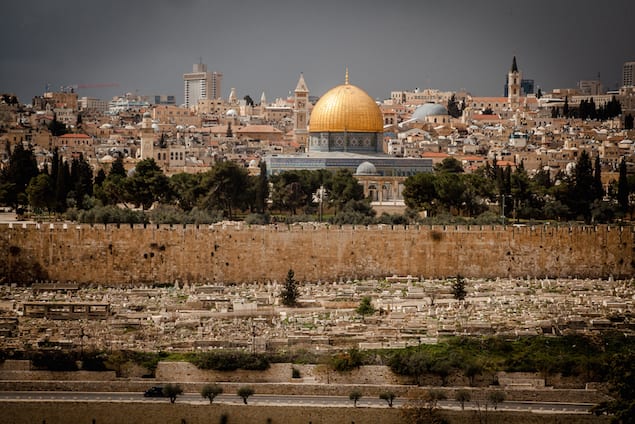 Shutterstock: Alexandra Lande
Although most people plan a trip to Jerusalem, the world's holiest city, to explore the many sacred Jewish, Christian, and Islamic landmarks, or their ancient archeological sites, I have to admit that I was there mainly for the food.
The Israeli culinary scene is a creative conglomeration of cuisines from countless immigrants who migrated to Jerusalem, bringing their cherished family recipes from North Africa, the Mediterranean and other Middle eastern countries.  It's amazing that even though half of Israel is desert, they still manage to produce some of the most succulent fruits and veggies (often organic) I've ever eaten.  Just a few not-to-be-missed mainstays you'll find throughout the city are falafel, hummus, olives, halvah, chopped veggie salads, local fish from the Jordan River, fresh-squeezed fruit juices, fabulous breads, and a variety of honey filo-dough desserts.
Bountiful Brekkies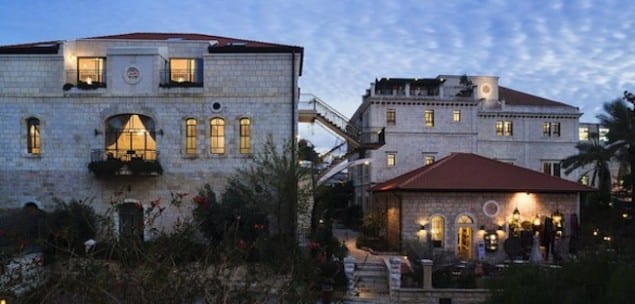 courtesy of American Colony
Israelis really buy into the "Breakfast is the most important meal of the day" mantra. The best way to appreciate this fact, in luxurious style, is at the historic American Colony Hotel's bountiful breakfast buffet. They have multiple tables laden with a kaleidoscope landscape of farm fresh salads, smoked and pickled fish, a variety of cheeses ranging from salty Bulgarian whites to buttery triple–crèmes, heavenly spinach and potato bourekas (baked phyllo dough stuffed with cheese, spinach or potatoes) olives, hummus, tahini, yogurts, crusty whole grain breads, croissants, pastries and a multitude of hot dishes. One standout was the shakshouka; an Israelis breakfast staple consisting of poached eggs nestled in a sauce of chunky tomatoes, chili peppers, onions and spices. If you're short on time, a breakfast here is like the Cliff Notes on Israeli food since you can easily sample many popular dishes in one just one meal.
Best Hummus Hole-in-the Wall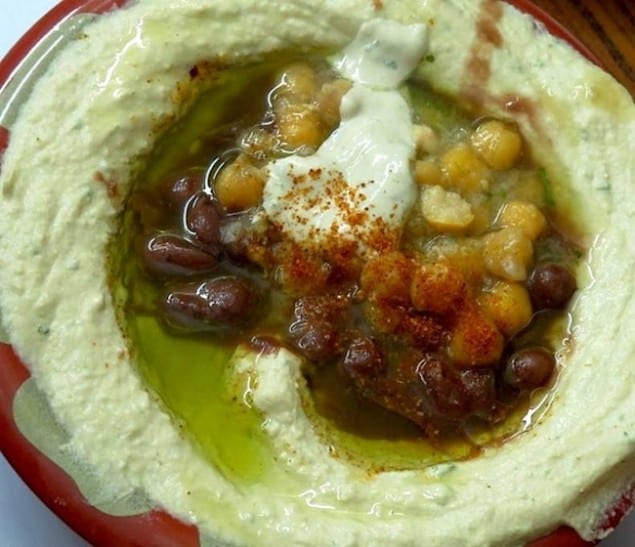 I was never a big hummus fan until I ventured into Abu Shukri, highly touted in every guidebook as THE place to go to for hummus. Located in the Muslim Quarter of Old Jerusalem, this charmless spot is absolutely void of customer service. If you're looking for a new friend, keep walking, but if you want to see alchemy in action, there is nothing more miraculous than how Abu Shukri takes the plebian chickpea, grinds it with tahini, garlic and a little lemon juice–magically resulting in a bowl of silky bean puree topped with toasted pine nuts, whole chick peas or fava beans and further anointed with a generous puddle of olive oil. Then you simply tear off hunks of pita, dip, eat and repeat.
Fabulous Falafels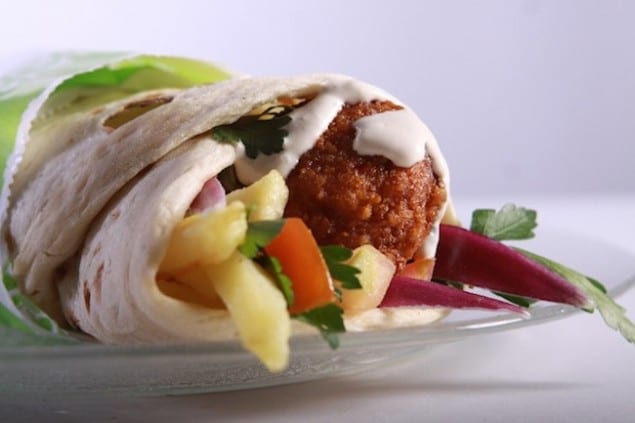 Many Israelis feel as strongly about their falafels, as they do their politics. To see this in action simply ask a group of Jerusalemites, "Who serves the best falafel?" and watch the frenzied debate that ensues. My contender is the Godfather of falafel stands, fittingly named Shalom Falafel, which has reigned supreme since 1945.  The employees move fast here, with little patience for laggers, so its best to decide what you want before joining the inevitable lunchtime queue at this pint-sized joint. Choose between the manageable open-jawed pita or the flat blanket-sized pita bread known as "lafa".  Each come filled with hot falafel, (crisply fried balls of delicately seasoned ground chickpeas) topped with garden delights such as pickles, peppers, tomato salad moistened with tahini and a zingy green sauce.
Memorable bites at the Famous Mahaneh Yehuda Market a.k.a. The Shuk"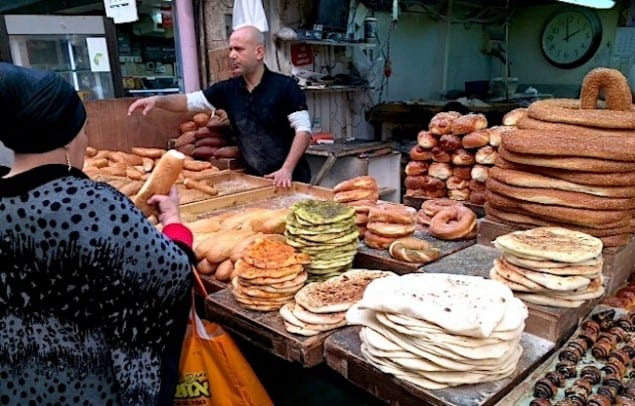 One way to experience the real Jerusalem color is to join the throngs of mankind at this cacophonous food market haphazardly lined with hundreds of stalls stocked with the finest local produce, freshly ground coffee, exotic teas and spices, dried fruits and nuts, fish, meat, cheese, olives, and baked goods. After a recent revitalization, a number of new boutiques and trendy cafes were added. Bob and weave amongst the swarms of tourists jostling alongside local babushka- wearing bubbes (grandmothers) bent under the weight of their shopping bags. Heed the cry of the vendors who "lure" you into their stall by offering tantalizing samples of halvah, spoonfuls of sesame-flavored tahini, a cup of fragrant pomegranate tea, or a glistening black olive.
Tip:  This is the best spot to stock up on gifts for your foodie friends back home. I bought big bags (which I later divided into individual gift baskets) of dried pomegranate tea, halvah, olives and Za'atar, a wildly addictive Middle Eastern spice mixture of green herbs, sesame and salt that can be used on everything from chicken to yogurt, or just blend it with olive oil for a delectable bread dip.
You can easily spend hours here, lost in a pleasurable sensory haze as you aimlessly nibble your way through the winding alleyways but here are a few standouts you worth searching out:
Israel's Finest Cheese Store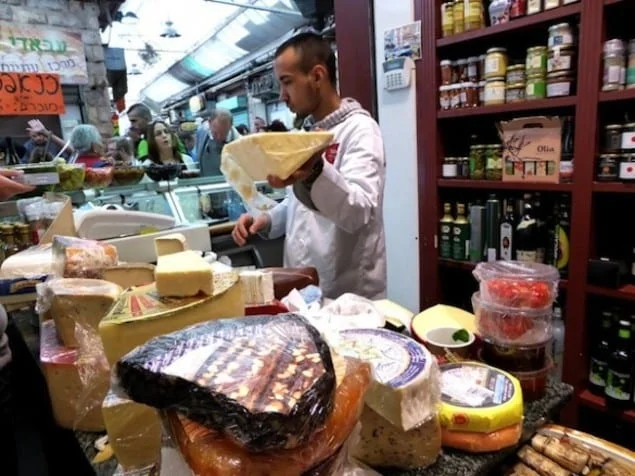 Basher's Fromagerie opened in 1956 and is now on their third generation of Basher's running the shop.  It is considered to be the finest cheese outlet in Israel.  In addition to the over 850 varieties of cheese (think feta, local goat cheese, labeneh, pesto flavored gouda, and the creamiest cottage cheese imaginable) you'll find a nicely curated selection of imported wine, beer, Italian pastas and other gourmet items.  If Eli is there, take time to chat, since this charming cheese connoisseur is happy to share his knowledge during an impromptu tasting. "After all," he says, "Cheese, like chocolate, should leave you with a smile on your face."
A Chocoholics Dream Come True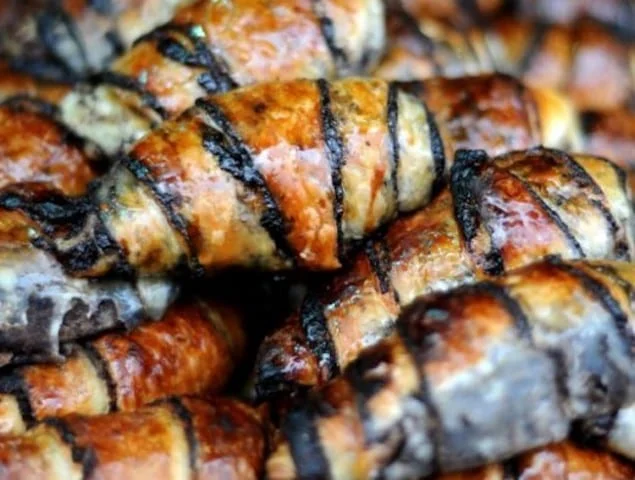 courtesy of Marzipan Bakery
The landmark, no-frills, Marzipan Bakery is basically just a cash register surrounded by piles of Jewish challah, Moroccan cookies, Syrian pastries and a variety of packaged cookies, but their legion of fans swarm the place for one reason: their  gooey, fudge-y, piping-hot, killer-rich chocolate rugelach.
Best Burekas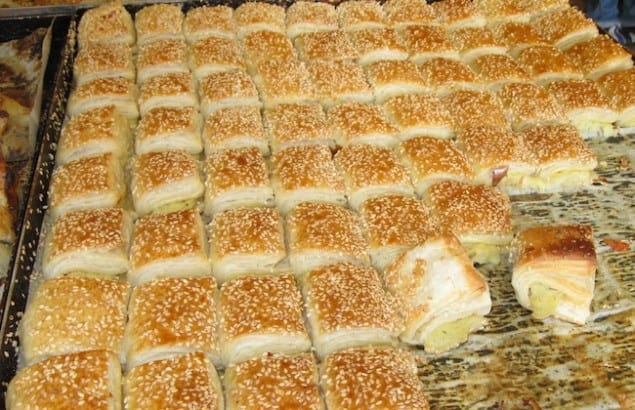 Chokmat Haburekas Mehaifa roughly translates to "Burekas from the Wisdom of Haifa", which doesn't make much sense except that you'd be wise to stop here for their feather light filled pastries. Owner Efi says that the reason his burekas are so flaky is because he makes them with canola oil rather than using margarine, which many bakers here use to keep the products kosher. Popular varieties are potato and cheese, but versions filled with mushrooms, eggplant, and spinach are also available. All are served with tahini, pickles, egg and spicy gravy. Efi grew up in Haifa. One day he was caught stealing burekas from a famous bakery. The owner took pity on him and told him that if he wanted to eat burekas he would teach Efi how to make them. Fast forward many years later, Efi had learned how to make the perfect burekas, got married, moved to Jerusalem and opened his shop.
Halva Heaven
See Also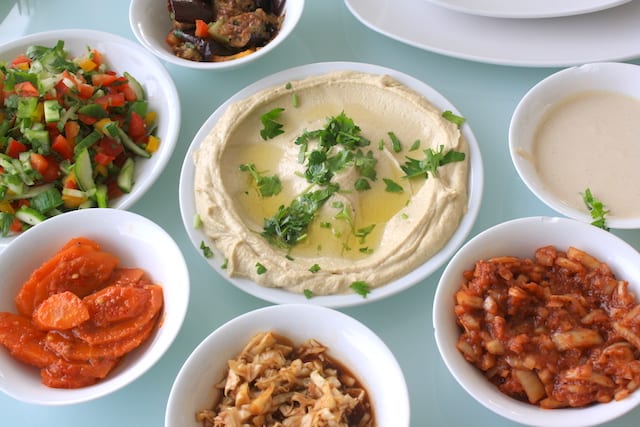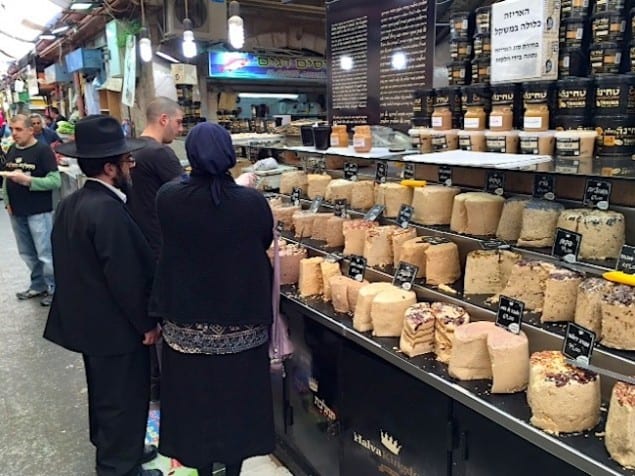 Can you guess what The Halva Kingdom is known for? Before I stopped in here I thought that halva, a rich, crumbly confection made from ground sesame seeds and sugar or honey was available in vanilla, chocolate or a marbled version. Yet Halva Kingdom makes about 100 different flavors such as coconut, pecan, poppy seed, pistachio and coffee. Some are even available in sugar-free versions. All their halva is made from scratch using only the finest Ethiopian sesame seed that is ground by a millstone.
Manou ba Shouk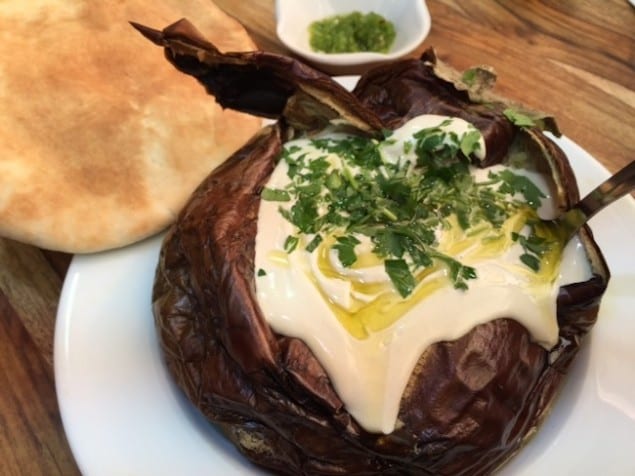 I had just finished my final lap of the market and was so full that I actually turned down my 9th free sample of Halvah when I spied the most appealing looking dish at Manou ba Shouk, a Lebanese Kosher Restaurant perched right in the middle of the market.  It turned out to be a whole baked eggplant swimming in a pool of creamy tahini.  Combining these two pristine ingredients proved that the sum really is greater than the parts. You could further guild the lily with the addition of falafel or chopped meat.
Etrog Juice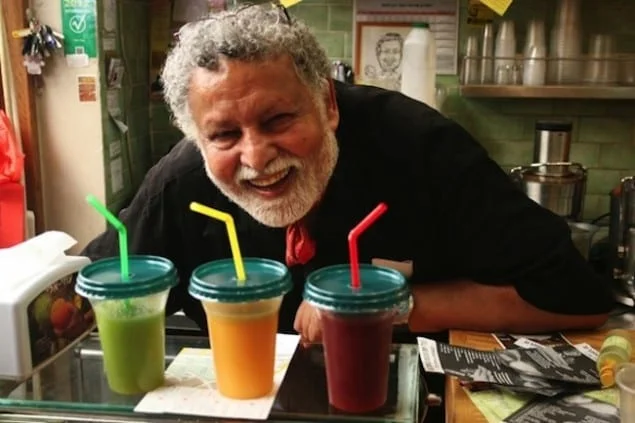 If you're starting to run out of steam ask anyone for directions to Uzi-Eli Chezi's Juice Bar where you'll find the famed "Ertrog Man" selling shots of his etrog-based juice, a potent citrus fruit. Chezi, a third generation Yemenite healer, claims etrog can cure any ill, from treating skin problems to improved masculine virility. At the very least he says his juice contributes to the "health and happiness of the people." Uzi-Eli also sells etrog soaps, creams and cosmetics that have the same curative properties.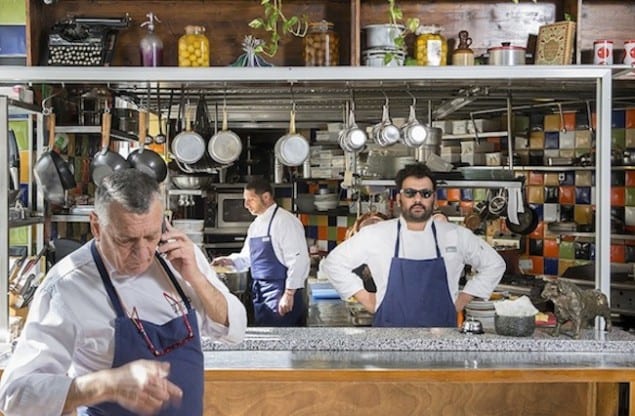 courtesy of Machneyuda
Down the street from the market is the unabashedly cool Machneyuda restaurant, run by three wildly inventive Israeli chefs. When they first opened the restaurant, the trio just wanted a place where they could serve "happy" food. They had no inkling that their restaurant would rapidly become the Israeli equivalent to California's Chez Panisse- a culinary mecca for serious foodies, which is rather surprising since it's so much fun.  Although the restaurant is pricey, it's anything but pretentious. The style could best be described as flea-market chic, with mismatched chairs, flower-power wallpaper decorated with childhood photos of the gorgeous staff. Instead of stuffy floral arrangements you'll find wooden crates overflowing with colorful fruits and veggies, which somehow all comes together in one marvelous mess.  Maybe it's because the staff is extremely gracious and well trained, the menu changes twice a day based on what catches the chef's eye at the market that morning, and they are dead serious when it comes to preparing delicious, creative, farm-fresh food.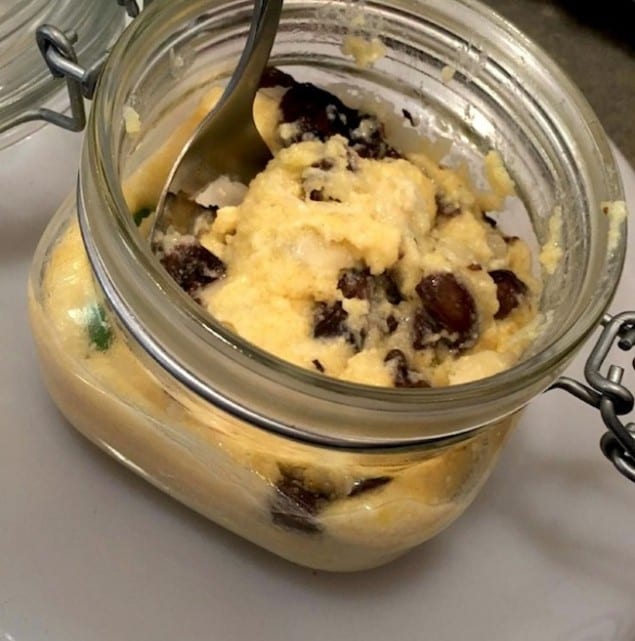 courtesy of Machneyuda
Every seat has a view of the interactive open kitchen, and it's great fun to watch the chefs in action…whether they are whipping up a sauce, pounding out a beat on the pots or stopping for quick dance before coming to your table to put the finishing touches on a dish the might be presented in a mason jar, paper bag or mini-skillet. However, you'll definitely need to make reservations way in advance.
Janice Nieder
Janice could be the love child of Indiana Jones and Julia Child. She was a specialty food consultant in NYC with a client list that included Tavern on the Green and Dean & Deluca. A culinary trendsetter, Janice has visited almost 100 countries searching out gastronomic adventures. She might be found sharing a smoked monkey dinner with Shuar Indians in the Amazon jungle or "running with the dogs" while truffle hunting in Marche, Italy. To keep things in balance, Janice also writes about her Girlfriend Getaways, including everything from luxurious city penthouses and Michelin starred meals to bespoke travel in remote destinations. You can follow her travels at www.janicenieder.com