Eggs are baked until runny with cream soaked toast for this easy, savory version of French toast, also known as oeufs au plat Bressanne.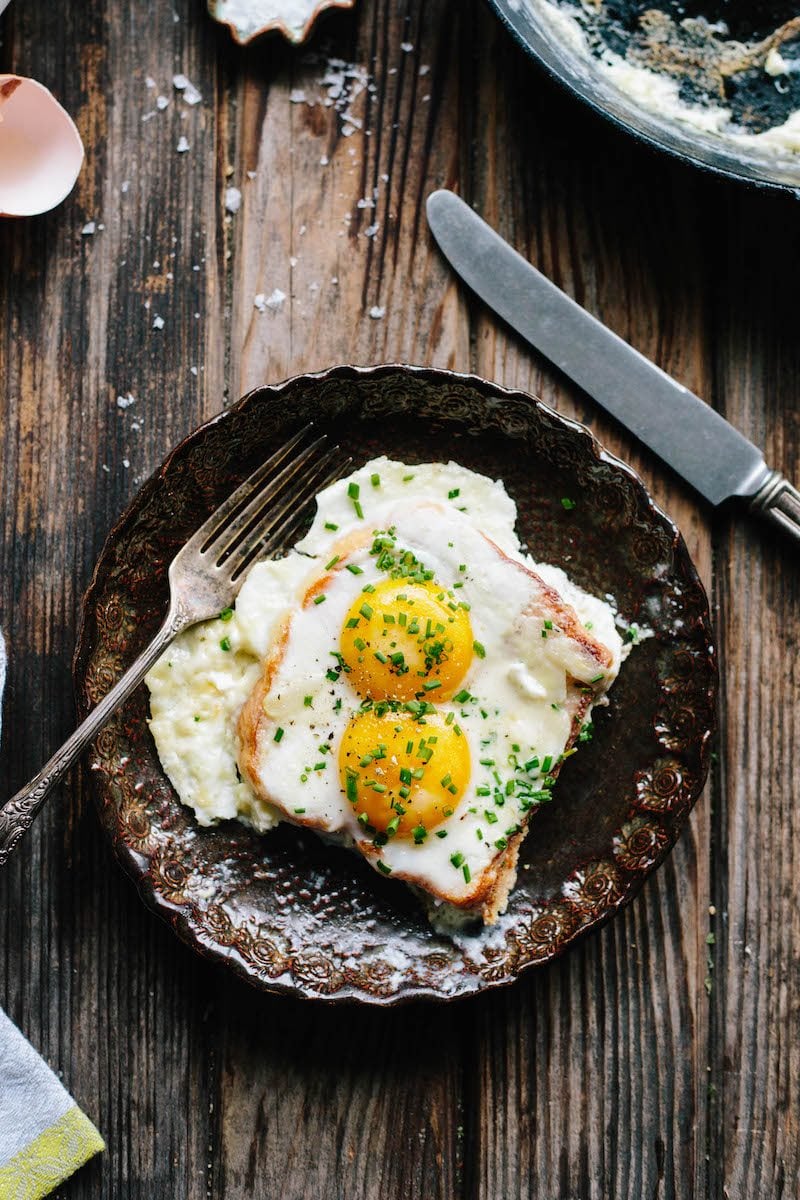 Known as oeufs au plat Bressanne in French, this sinful brunch dish of runny eggs baked with cream soaked toast is far easier to make than it looks.
It's been an unusually steamy fall here in the northeast with temperatures steadily hovering somewhere around the 80's. Last night was the first night to actually feel true to the season with temperatures dipping into the low 40's. I can't believe I'm actually saying this, but I could not welcome it more. As much as I love the warm weather and used to have a real, true hatred of fall, it might slowly be becoming my favorite season. #basicbitch
I think it stems from my ever-growing love for all things cozy. I especially love cozy foods, the ones that warm the house with radiating heat from the oven and pad your body with a little extra insulation for the impending winter months. Roasted chickens, soups, pot pies, slow braises, and anything baked with cinnamon and spice. Cozy food is undoubtedly the best kind of food, which is why most people call it comfort food.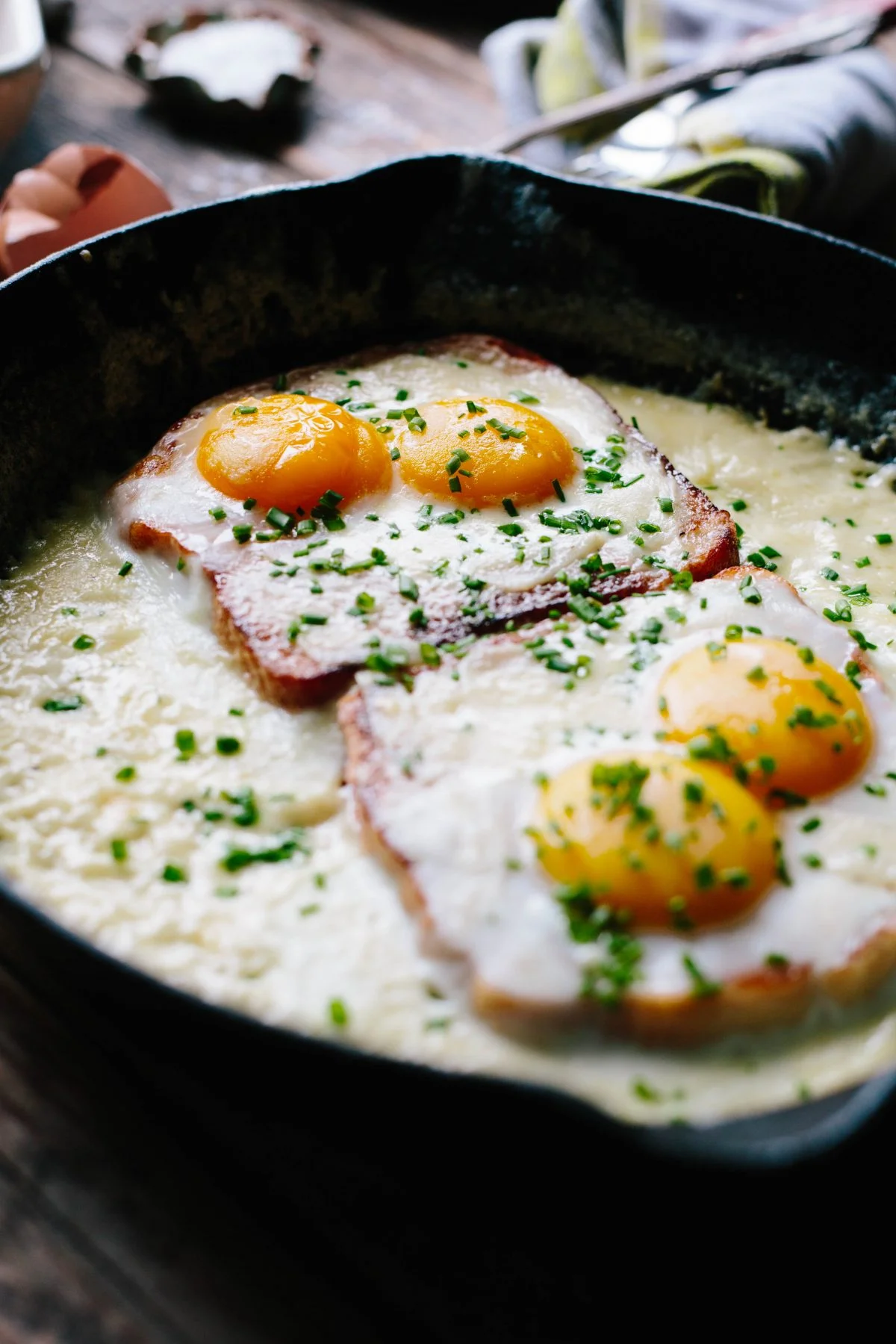 This dish is as cozy as comfort food can get. It hails from the Alpine region of France where it's known as oeufs au plat Bressanne. I actually made it for the first time in the dead heat of the summer because I just couldn't help myself. I opened up my e-mail one morning to find the recipe in a blast from Saveur magazine, and I couldn't stop drooling. It seemed a bit daunting at first, but after reading through the instructions I thought, "I can make this. And I can make this right now." So I did.
The recipe first has you fry up a few pieces of toast in butter until crisp and golden brown. Top them with hot seasoned cream and carefully cracked eggs, then bake until the whites are just set, the yolks are still runny, and the cream has thickened up into a sauce. That's it. It's rich, it's savory, and it's truly one of the most delicious things I've ever tasted.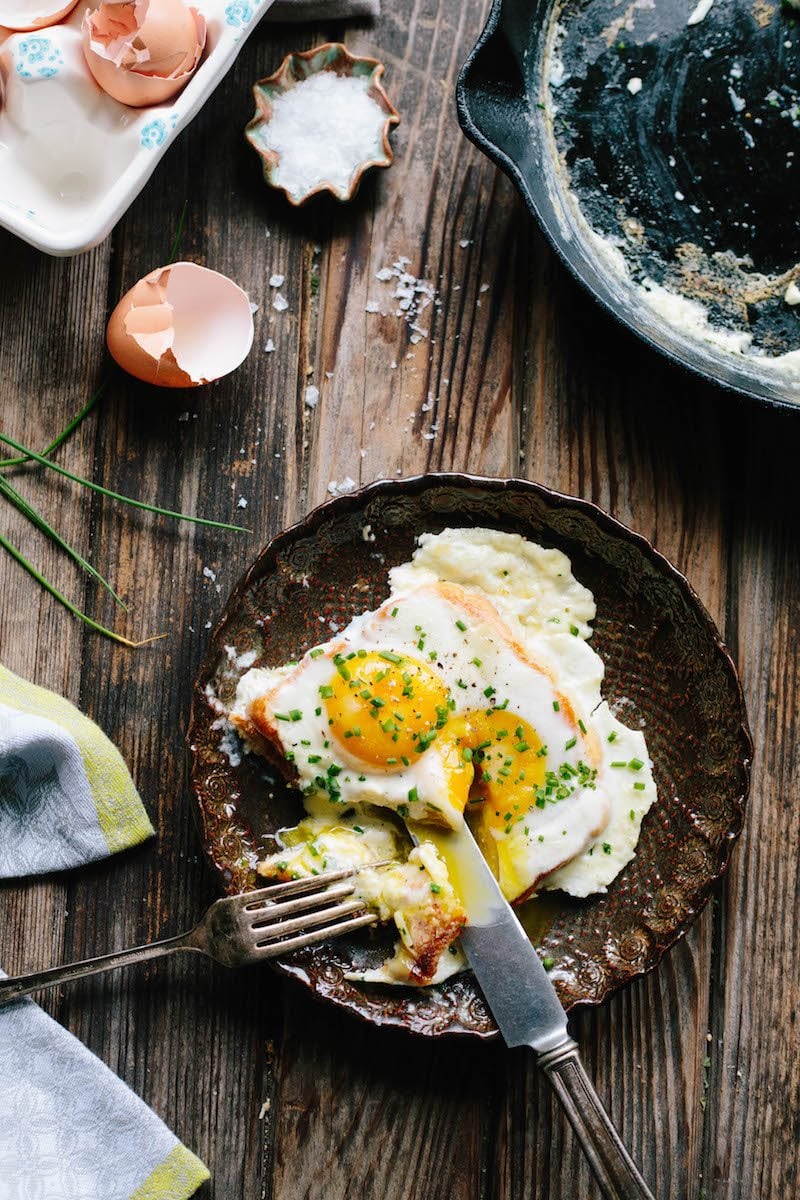 I knew it was going to be good, but it was actually even better than I thought. And to top it off, it was ridiculously easy to throw together. For something that looks and tastes so impressive, the amount of work and ingredients required to make it are mindbogglingly small. It's no more difficult or time consuming to prepare than your standard breakfast fare of bacon, eggs, and toast. In fact, it might even be easier.
This is a wonderful dish to make for a crowd since it's so easy to scale up (or down for that matter). You can do a lot of the prep ahead of time, then just crack the eggs and bake right before serving. I'm not sure if there's a better brunch dish in existence, but this would also make for a wonderful quick dinner or lunch served alongside a simple green salad.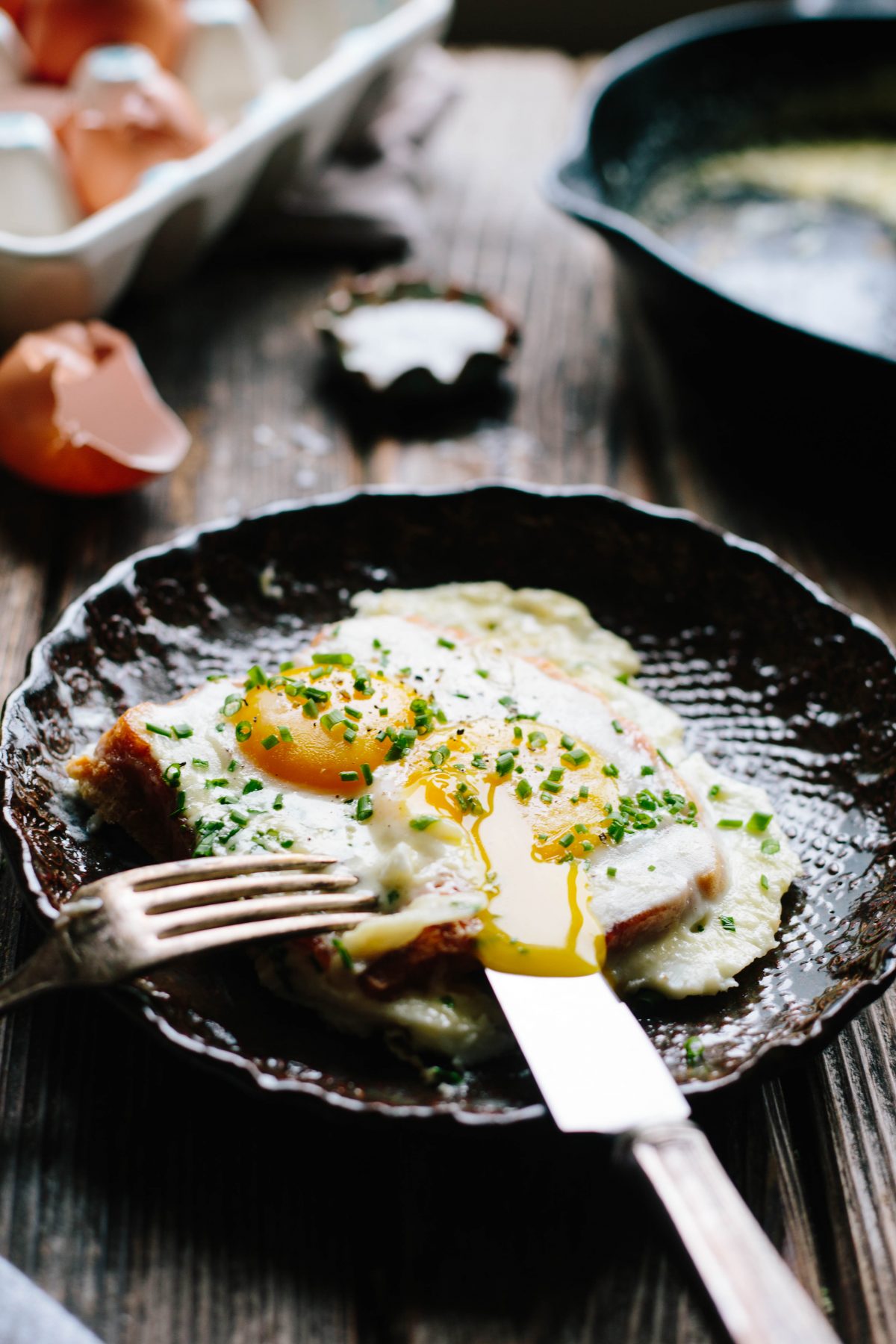 I made only a few slight changes from the original recipe. Saveur's version, inspired by 20th century food writer Elizabeth David, calls for day-old crusty white bread, but I didn't have any on hand. What I did have was soft, pillowy sliced Brioche, so I went with it, and it worked. We fell in love with it's slightly sweet, buttery flavor and melt-in-your-mouth texture.
Since I opted to use soft bread, the instructions to rub a cut garlic clove all over the hot griddled bread (like bruschetta) didn't work out so well. Instead, I sliced the garlic paper thin and let it simmer in the cream to infuse it's flavor. I suppose you could fish the garlic out before topping the bread if you like, but we adore garlic in this house so I opt to leave it in. I also added a bay leaf because I love it's subtle herbaceous flavor when paired with cream. The bay adds such a lovely extra dimension and is exactly what the original recipe was missing.
The French always have a way of transforming humble ingredients into some of the most etherial, mouthwatering food you can imagine, and this dish is a perfect example. I hope you cozy up with a plate of it sometime very soon.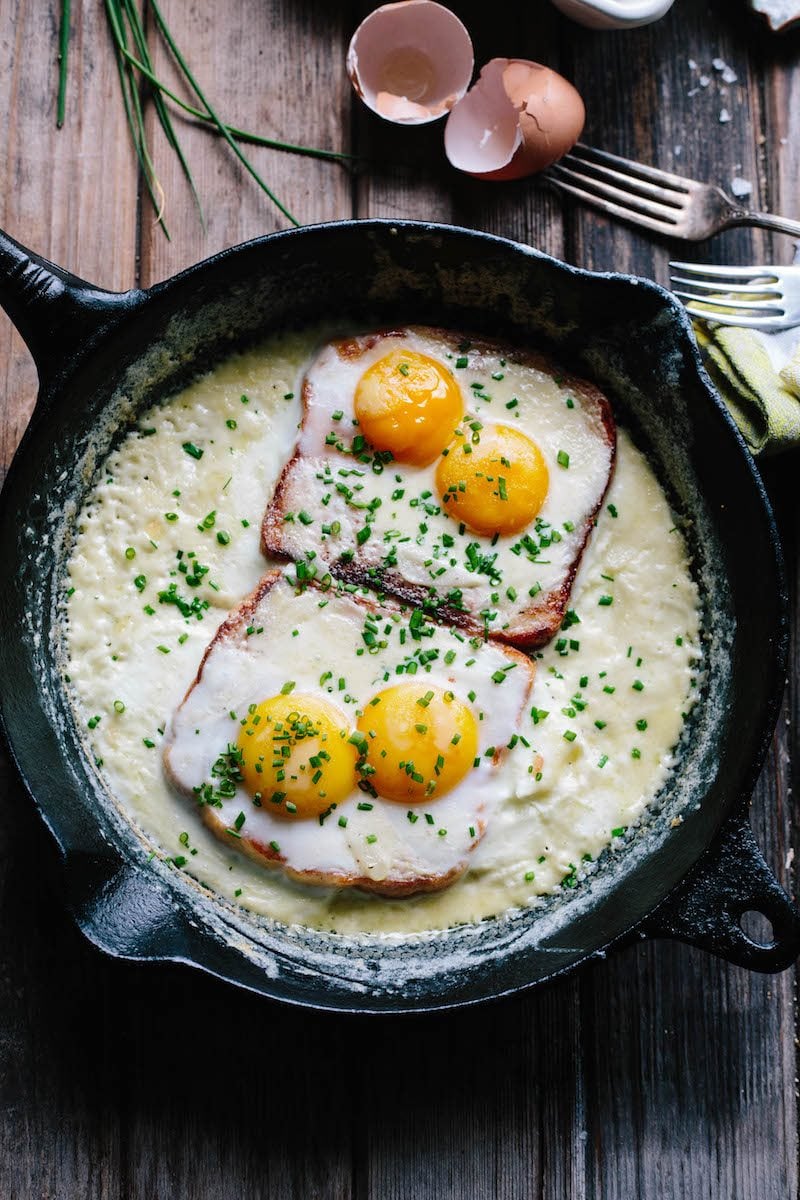 Print
French Baked Eggs and Toast
Eggs are baked until runny with cream soaked toast for this easy, savory version of French toast, also known as oeufs au plat Bressanne.
Author:

Nicole Gaffney

Yield:

2

servings

1

x
Category:

Breakfast, Main

Cuisine:

French
2 tablespoons

salted butter (softened)

two

slices brioche bread

1/2 cup

heavy cream

1

clove garlic (thinly sliced)

1

bay leaf
salt and pepper to taste

4

large eggs

2 teaspoons

chopped fresh chives
Instructions
Preheat the oven to to 375 degrees.
Butter each piece of bread on both sides using one tablespoon for each.
Heat a large oven proof skillet over medium-high heat then add the bread. Cook until toasted and golden, turn, then cook until golden on the other side. Repeat with the other slice of bread, then arrange the bread slices side by side in the pan.
Add the cream to a small saucepan along with the garlic and bay leaf, then bring to a simmer over medium-low heat. Season to taste with salt and pepper and let simmer for about 5 minutes. Remove the bay leaf and the garlic if you're sensitive (I prefer to leave it in). Pour two tablespoons of hot cream over each slice of bread.
Carefully crack two eggs over each piece of bread, being very careful not to break the yolks. Pour the remaining cream over the eggs, then transfer to the center rack of the oven.
Bake until the whites are just set but the yolks are still runny, about 13 minutes.
Sprinkle with chives and more freshly ground pepper if desired. Serve immediately.
Notes
Adapted from Kat Craddock