Dark-spotted, fragrant bananas are ideal for baking, adding bold flavor to banana muffins, banana bread, and banana cake.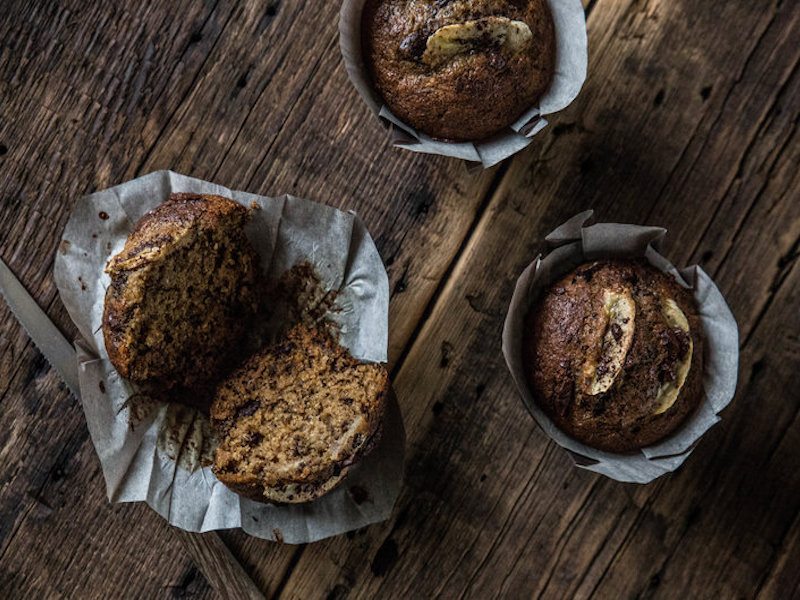 The problem with banana desserts is that when the desire to bake with bananas arrives, the bananas are not the right ripeness. Instead of waiting a few more days for the bananas to ripen, the bananas can be roasted in the oven to bring out the bright, familiar flavor. With extra vanilla extract and a sprinkling of chopped chocolate, these Roasted Banana Muffins are a simple treat for breakfast or afternoon snack.

Fragrant Roasted Banana Muffins
Recipe Type:
Breakfast, snack
Ingredients
3 medium-large bananas
⅔ cup (133 grams) granulated sugar
⅓ cup (80 mL) vegetable oil
1 large egg
2 teaspoons vanilla extract
1½ cups (180 grams) all-purpose flour
1½ teaspoons baking soda
½ teaspoon salt
⅓ cup (80 mL) milk
2 ounces (60 grams) semisweet chocolate, coarsely chopped
Banana slices, for garnish
Chocolate shavings, for garnish
Instructions
Preheat oven to 350 degrees F (180 degrees C). Place unpeeled bananas on a foil covered baking pan and roast for 20-25 minutes, depending on ripeness of the bananas. Remove the banana from the peels and mash. Set aside and let cool for several minutes.
Keep the oven running. Line a muffin pan with paper liners.
In a large mixing bowl, stir together sugar and oil. Whisk in the egg, vanilla, and mashed bananas until combined. Slowly add the flour, baking soda, and salt and mix until smooth. Stir in the milk and chopped chocolate.
Fill muffin liners ¾ full. If desired, place two thin banana slices on top of the muffin batter and sprinkle with chocolate shavings for garnish. Bake for 20-25 minutes, or until a toothpick inserted into the center comes out clean.