Sponsored Post: We've teamed up with Farm Promise to bring you versatile recipes featuring their wholesome, delicious pork raised to not only sustain us, but the land too.
Marinated in a gorgeous blend of spices, lime, ginger and garlic, this pork tenderloin is incredibly flavorful.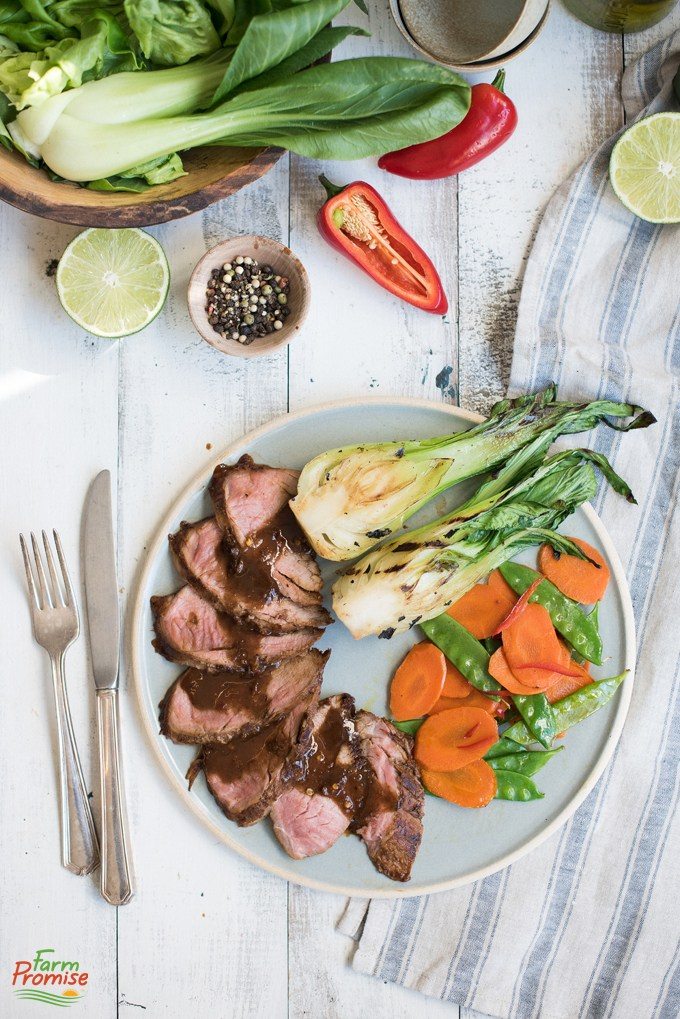 Cooking every night for a family is no easy task. Even a chef like Keith considers family meal planning to be a chore sometimes. There are so many things to consider: accommodating individual tastes, creating well-balanced meals in a limited amount of time, and serving healthy options that taste good. These are common challenges that all home cooks face, which is one reason why we created superman cooks.
As a veteran in the food business, Keith cares about where his food comes from. We both feel responsible for making healthy and ethical choices for our family while supporting local farms. So we were thrilled to partner with Farm Promise to create a family friendly recipe using their delicious pork tenderloin. Farm Promise pork is humanely raised by family farmers in our home state of Pennsylvania, and is committed to delivering quality, wholesome pork with no antibiotics or growth promotants.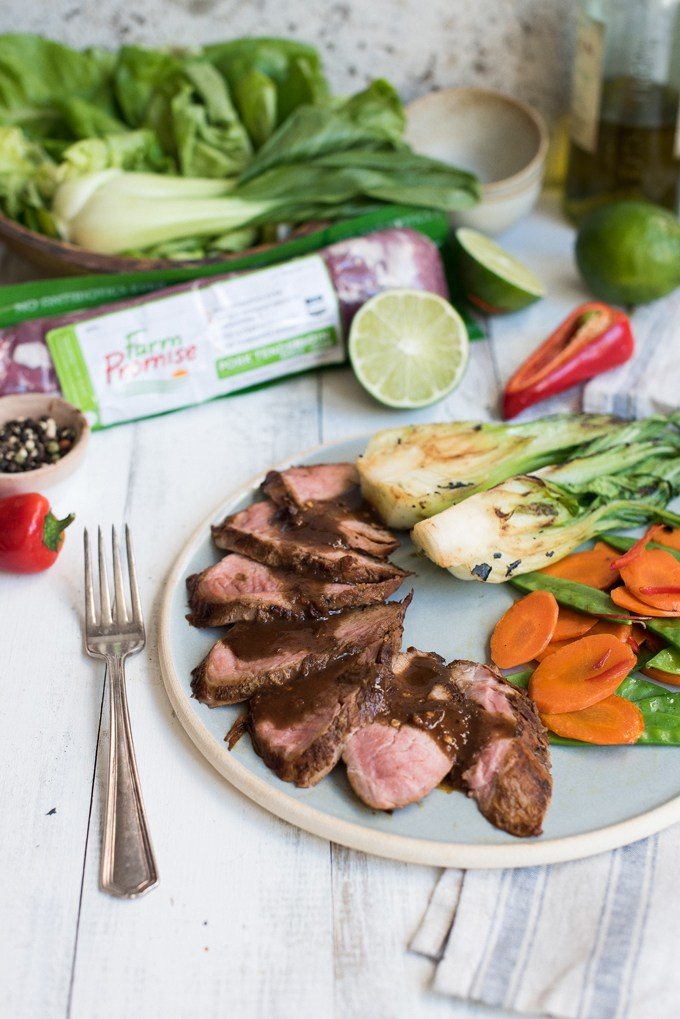 This Five Spice Pork Tenderloin (with mixed vegetables) is an incredibly flavorful meal that is clean, affordable, and easy to make. Keith really impressed me with this one, marinating the tenderloin in a gorgeous blend of spices, lime, ginger, and garlic to give this pork an incredible depth of Asian-inspired flavor. The subtle hints of cinnamon, star anise and lime come through in each bite, and are accented perfectly by simple charred vegetables. It tastes like a roast that has been cooking all day, but only took thirty minutes to make.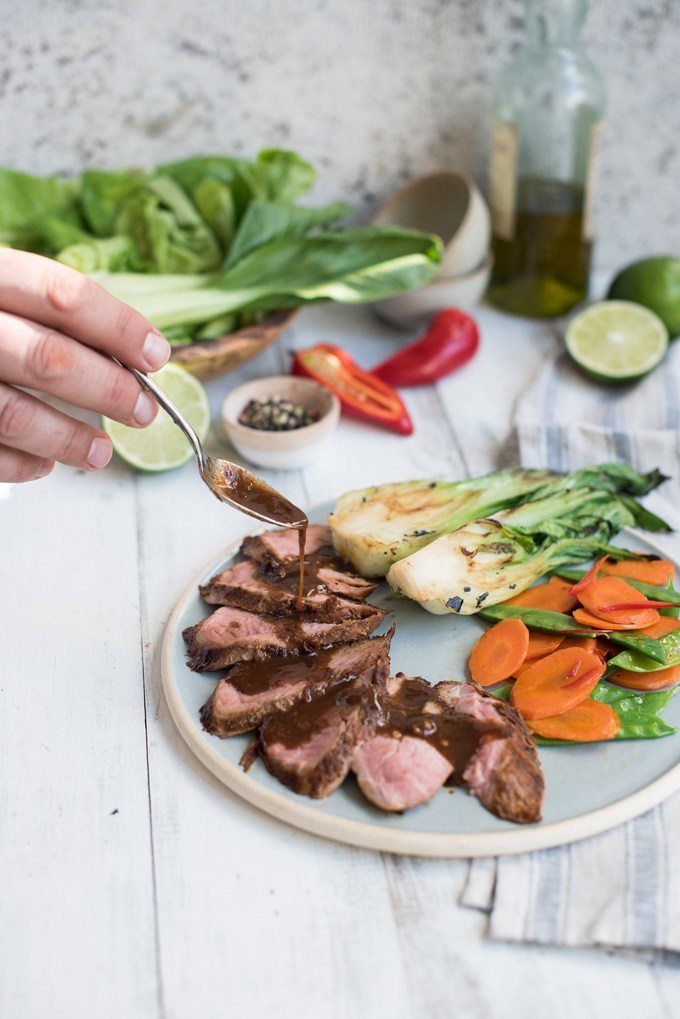 It feels good to serve a meal that makes the family happy. It feels even better to serve the family a delicious meal that we feel good about them eating. Farm Promise makes this possible. It's truly a win-win.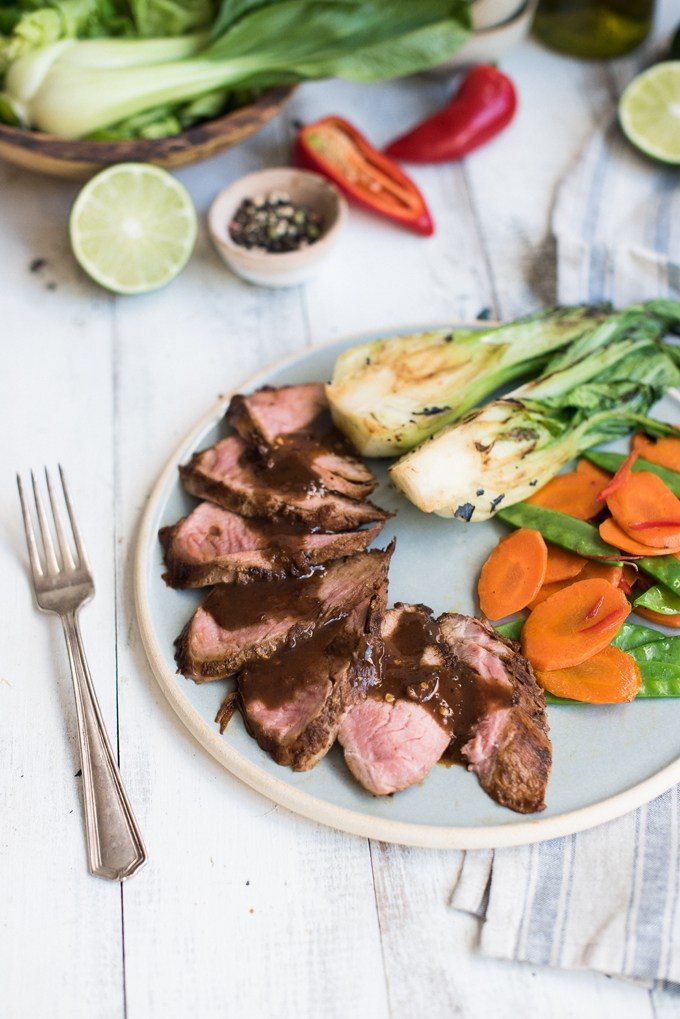 See Also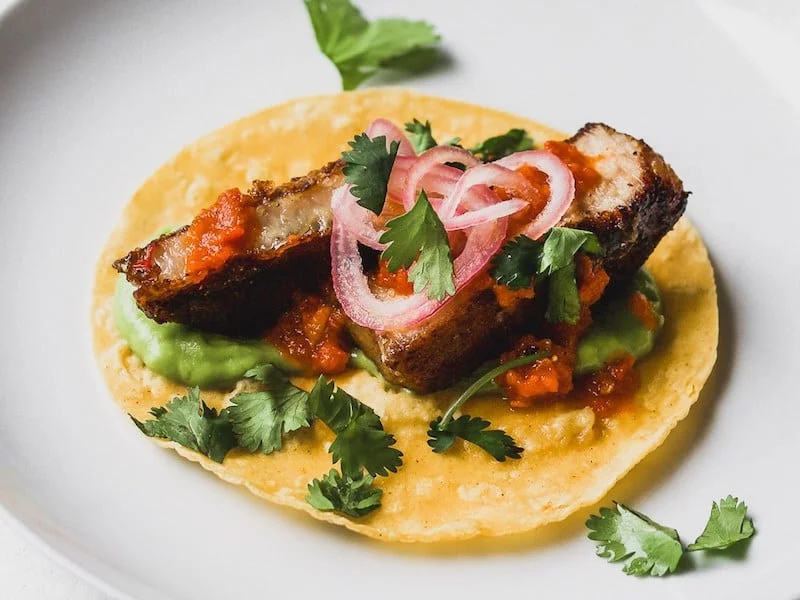 This post is sponsored by our friends at Farm Promise. All opinions are our own.
You can find Farm Promise pork at your local Shoprite.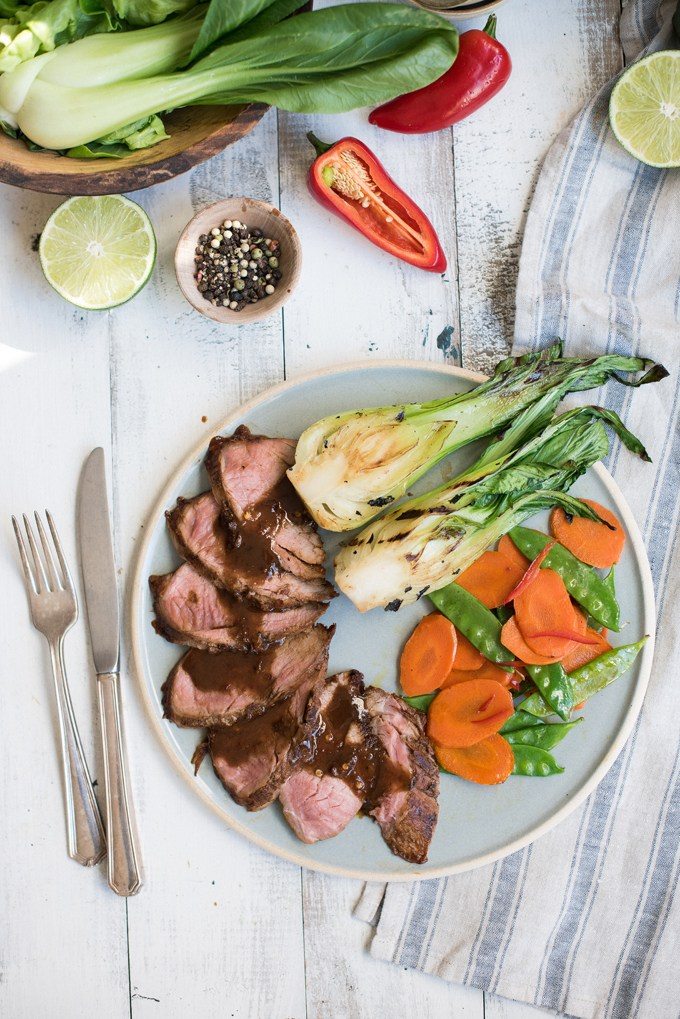 Print
Five Spice Pork Tenderloin
Yield:

2

to

3

servings

1

x
1

Farm Promise pork tenderloin (about

1.5

lb)

8

garlic cloves (crushed (but not chopped))
Juice of

4

limes (about

½

C)

1/4

C lite soy sauce

1/4

C honey

1 tsp

five spice seasoning

1 tbsp

chopped ginger

1½ tsp

crushed red pepper
Instructions
Pre-heat oven to 350°.
In a 1 gallon zip-lock bag, combine all ingredients other than pork. Zip the bag and mix all ingredients together until well combined.
Add pork tenderloin to the marinade and zip closed, removing as much air as possible.
Transfer to refrigerator and allow to marinate at least 30 minutes (up to overnight).
Using a grill pan that is oven safe, set on the stove over high heat. Remove pork tenderloin and reserve remaining marinade (save for later). Place pork in the pan and sear all sides until browned (about 3-4 minutes per side). Be careful as pork will burn if heat is too high.
When browned, transfer the pork to the oven leaving it in the pan, and cook for about 15 minutes or until pork reaches 145-150° internal temperature.
While pork is cooking, pour reserved marinade into a sauté pan and heat over medium high heat, stirring often until sauce thickens to resemble gravy.
Once pork has reached the 145-150°, remove from oven and allow to rest for 3-4 minutes.
Slice pork on the bias in ½ inch slices and place on serving plate.
Spoon thickened sauce over pork and serve with your favorite side dishes. We used a combination of sautéed carrots and snap peas as well as grilled baby bok choy.
Keith Jackie
We met on a warm summer evening. His square jaw and engaging smile reminded me a bit of Clark Kent. We share a passion for life: music, baseball, and especially food. He makes me feel like I can fly. Welcome to our exploration of food, recipes and ideas that celebrates our life together. He creates the recipes and prepares the food, and I am the documentarian. My superman can cook! Check out our site, Superman Cooks.