This thick cheesecake is made tall and dense to be New York-style with Oreos in the batter and an Oreo crust.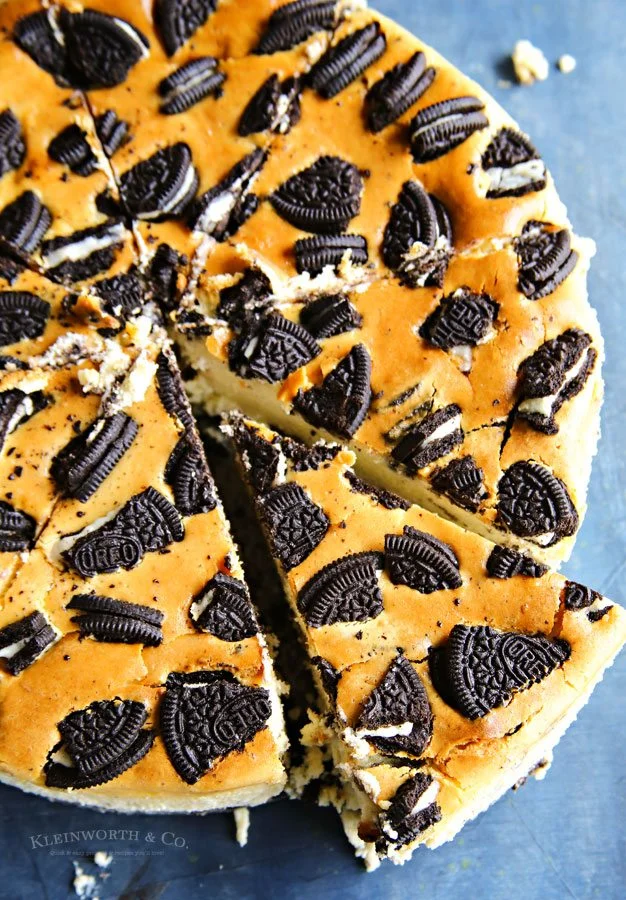 Oreo New York Cheesecake is the easiest recipe for cheesecake you'll find. Thick, dense and loaded with Oreo cookies, this perfect New York cheesecake is so simple, it's positively fool-proof!
Cheesecake is a favorite in our house and one of the most requested recipes out of everything I make. Why wouldn't it be? I mean, there is something to be said about a nice thick slice of cheesecake that satisfies every sweet-tooth craving one could possibly have. Most people head out to a restaurant for just one slice. But you know the markup on desserts when you dine out is like 35%? My friends, I'm here to tell you that you CAN make this AMAZING Oreo New York Cheesecake at home and it is SO MUCH BETTER than anything you can buy.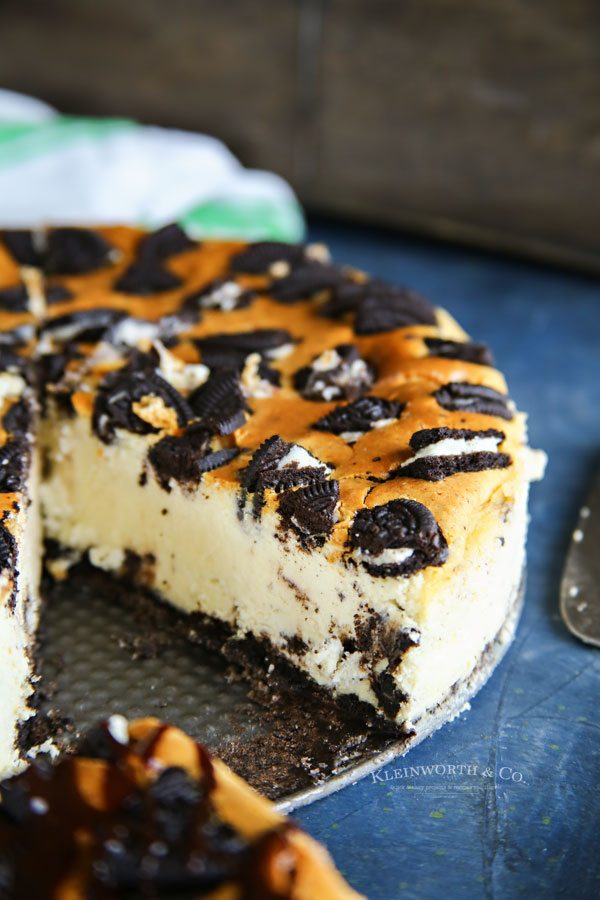 Honestly, I'm not kidding. I know people tend to get intimidated by a recipe like this. But I'm here to break it all down for you so you can have all this deliciousness any time you want. For years I would make different cheesecake recipes and they would crack or were just so complicated that it wasn't worth the effort. But I have worked years to simplify the process so it is quick and easy. I promise, it turns out perfect every single time. It is AH-MAZ-ING!
Now- you don't have to make this with Oreo cookies. I just happened to be making an Oreo cookie crust with this New York Cheesecake, so I decided it would be pretty awesome if I crumbled up some of those cookies and added them to the cake itself. I'm so very glad I did. But you can also leave out the Oreos and just add some chocolate sauce or fresh fruit too. It all would be delicious.
Click here for the crust recipe.

New York-Style Oreo Cheesecake
Ingredients
Crust
Click the link above for the recipe.
Cheesecake
4 pkgs cream cheese (8 oz each ) room temperature
5 large eggs room temperature
2 cups sour cream room temperature
8 tbsp (1 stick) butter room temperature
1½ cups granulated sugar
2 tbsp cornstarch
12 Oreo cookies crumbled
Toppings
10 Oreo Cookies crumbled
Chocolate sauce
Instructions
Crust
Click the link above for the recipe.
Cheesecake
Wrap 2 layers of foil around the outside of a 10" springform pan making sure to cover the bottom and sides.
If you aren't using a non-stick pan, spray pan liberally with cooking spray
Preheat oven to 300º.
Use an electric mixer with paddle attachment, combine cream cheese & butter & beat until smooth.
Add eggs one at a time until blended.
Beat in sour cream
Add sugar & cornstarch & beat until very smooth
Fold in crushed Oreo cookies
Pour into prepared chilled pan
Top with crushed cookies
Place in a large roasting pan
Place pan in preheated oven & carefully pour boiling water into roasting pan to fill halfway up sides of cheesecake pan.
Bake 2 - 2.5 hours, or until cake is lightly browned on top. I baked 2 hours & then turned on my convection for another 12 minutes.
Remove from water bath & foil & cool at room temperature
Cover & refrigerate overnight
When ready to serve, drizzle with chocolate sauce