Picture this:  I'm vacationing at the luxury JW Marriott Miami Turnberry Resort and Spa when someone in the party I'm traveling with says "Hey, let's go to Tidal Cove…I love Waterparks it will be so much fun!"  I was hoping this day wouldn't come, but here it was.    I've read about Tidal Cove before coming to the Resort.  It's the newest addition to the newly renovated JW Marriott Miami Turnberry Resort and Spa which houses a 60-foot tower with seven water slides, a 4,000 square foot kid pool with an aquatic play structure,

and the first-ever FlowRider Triple surf simulation pool offering three surfing areas totaling 42-feet wide.  Ummmmm, not me.   None of it.  Nope. I am not going.  But how can I say no?   The whole crowd is going.  I figured, ok….I'll just stay in the VP pool area for adults.  Perfect.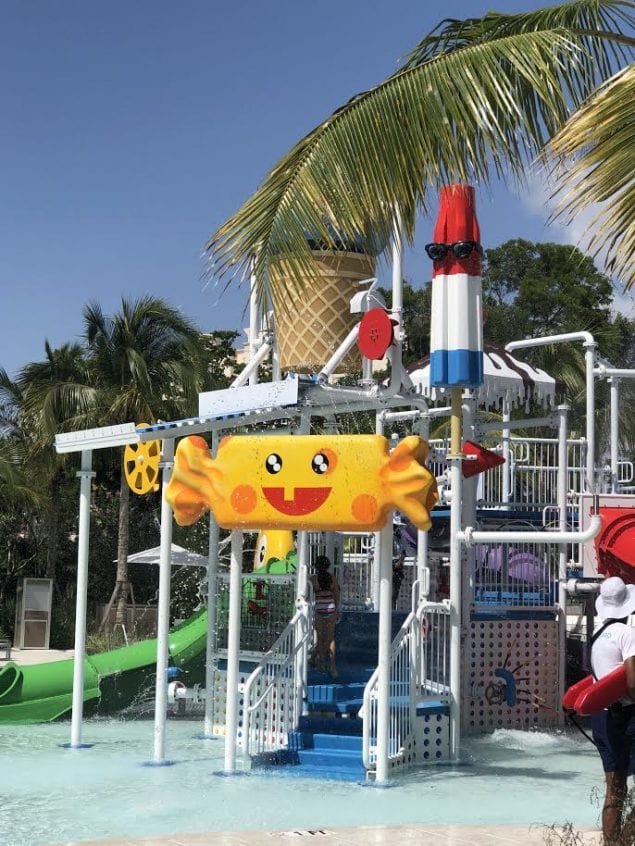 My group and I take a short walk from the JW Marriott Turnberry Resort and Spa to Tidal Cove.   It's minutes away by foot when you're staying at the resort. Stopping in the Waterpark Retail Store first, I pick-up some screen and a hat from the wide selection of items they have to offer.  I'm tempted to purchase some candy and a purse shaped like a slice of watermelon for my niece, but I move on.  While strolling to one of 25 private luxury cabanas The Surf House Bar and Grill appears, and I'm relieved.   While my friends are all having fun at the Tower, I can have a great lunch and some cocktails while relaxing in this two-story open-air restaurant and bar.   Stopping, I scan the menu.  Swordfish churrasco, steamed mussels, shrimp ceviche and blackened mahi-mahi sandwiches all sounded great.  Not to mention the cocktails.  Or I can get something quick like a slice of pizza at Freestyle, Tidal Cove's second place to eat.   Passing countless lounge chairs with fluffy thick white towels on them, the 60-foot tower is staring at me, and for some
strange reason, I feel a little tinge of excitement starting to brew inside of me.  I remember loving  Waterparks as a kid so much that my fingers would shrivel up like prunes and my Mother would have to pull me out screaming.   But now as an adult, the thought of going on anything that's going to drop, shake or scare me to my core wasn't appealing.  Or at least I thought so.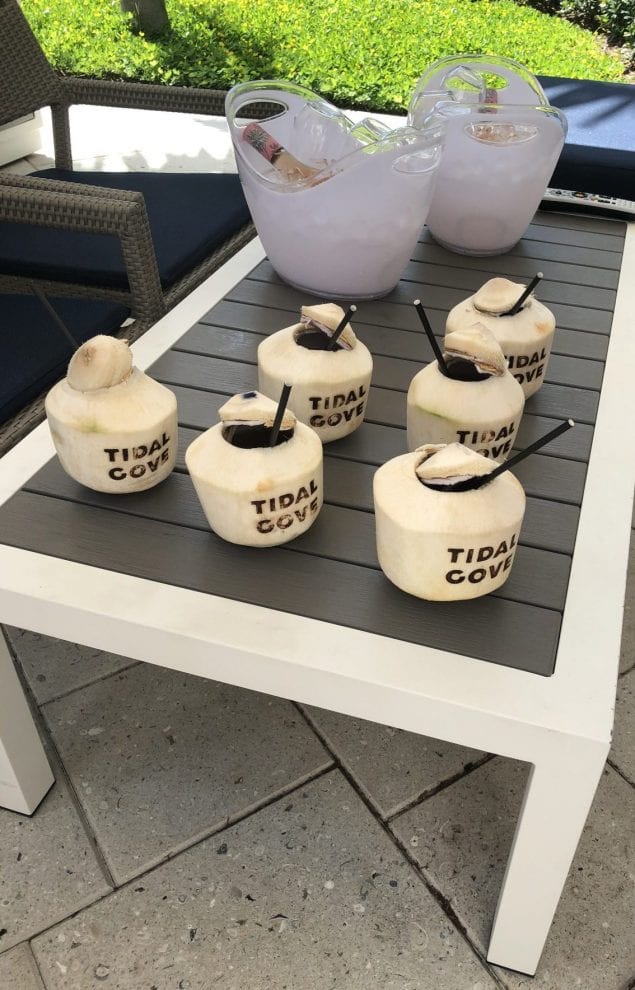 Setting up my space in the cabana, I decided there's no harm in just re-reading all about the Tower and all it has to offer.  Designed by WhiteWater, the 60-foot water slide tower features seven slides.  The Constrictor, a 558-foot slide for 1- 2 riders on rafts; Master Blaster, a 486-foot slide for 1-2 riders on rafts; Boomerango, a 377-foot slide for 2-4 riders on rafts, the Whizzard, a 266 foot two-slide single rider mat racer slide and two Aqua Drop body slides, 348 feet and 286 feet………you get to pick how long you want the terror to last.   Nope. I am not going on anything.  I know what I'll do.  I go down the Lazy River.  The River moves slowly down a one-eighth of a mile course past beautiful foliage inspired by the local South Florida surroundings.  Pondering I'm looking at kids and adults alike coming off the slides laughing and having such a great time.   The excitement in me starts to bubble up and pushing the fear aside,  I move towards the Tower
The next thing that happens is this. The floor beneath me gives way and I'm plunging down the 348 feet Aqua Slide.  I want to scream like a kid…no, really I do.   But when the slide lets go of me,  I'm cracking up laughing.   Next up, I'm racing up the stairs with a group of kids and adults to share a raft with a friend to go on the Constrictor.   Looping through dark caves, swishing back and forth and plunging into a waiting pool was exhilarating.  Next…the Boomerango…..next the Whizzard…….and the Constrictor and Boomerage for a second time.  I was hooked.
So sore from laughing so hard I watched as several of my friends went on Tidal Cove's Exclusive FlowRider Triple.  The FlowRider is a surf simulation machine which incorporates elements of not only surfing, but bodyboarding, skateboarding, skimboarding, snowboarding, and wakeboarding as well.  Only showcased at Tidal Cove,  the FlowRider appeals to all board sport participants along with Xtreme sports enthusiasts.  Although challenging, my friends loved it.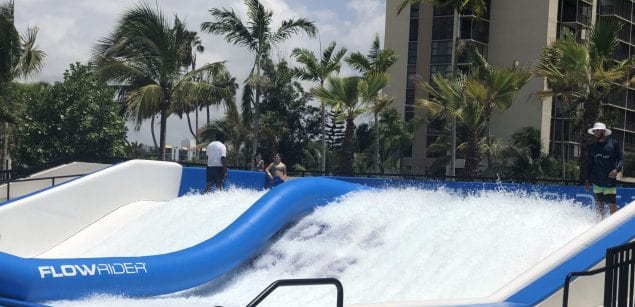 The day ended walking back from Tidal Cove to JW Marriott Miami Turnberry  Resort and Spa licking a dark chocolate and oreo gelato from Freestyle with wonderful memories of reliving my childhood and being a kid again.
Gabe Fanelli
In another lifetime I went to Culinary School (ICE) and graduated with a degree in Pastry Arts. I interned and worked for a bit in the Test Kitchen of Rachael Ray's Magazine "Everyday with Rachael Ray" but missed meeting her by 15 minutes. Currently, I'm the Marketing Director for Town Sports because after eating all of that pastry and working in a test kitchen, I needed a free gym membership.