Breakfast toasts are simple to enjoy with gourmet ingredients. Try this fava bean spread with basil that can be made ahead for a busy morning.
By Justine Sulia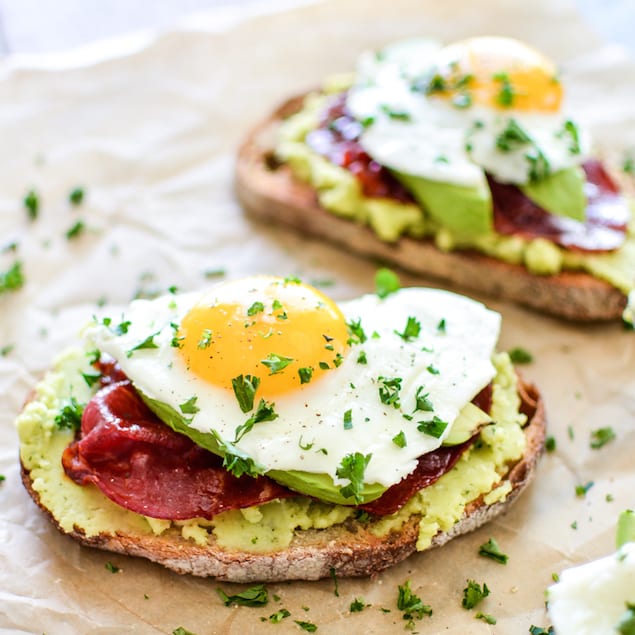 Breakfast toasts are my favorite way to eat breakfast. The sky is the limit with breakfast toasts. Sweet, savory, I love them all. The recipe I'm sharing today combines some of my favorite ingredients to enjoy on toast: fava beans being at the top of that list!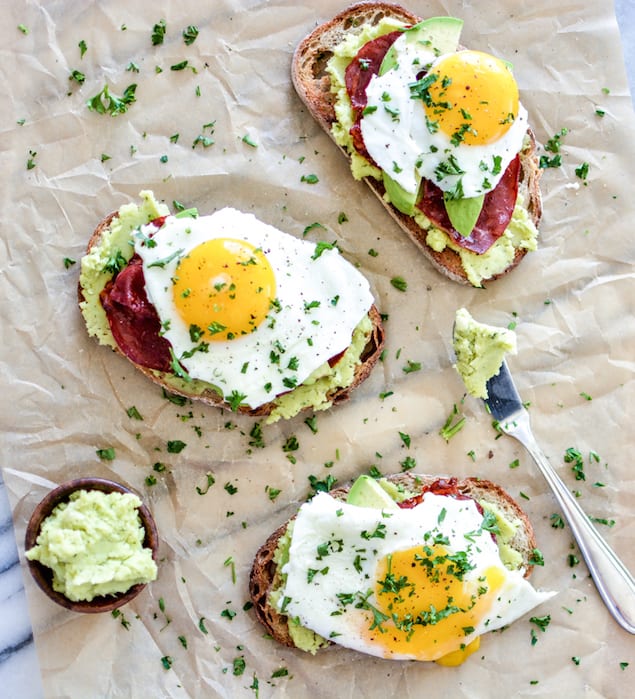 Fava beans definitely get shoved aside. I feel bad for foods such as these little cuties, so I decided to highlight them today and make a spread from them. What is so great about this fava bean spread, is that you can make it when you are meal prepping at the beginning of the week and refrigerate it for later on. You want it to be chilled anyway, and it is great on toast, English muffins and/or bagels. Throw an egg on top, and you have heaven in a mouthful.
The second best part of these breakfast toasts? Why, the crispy capicola of course! Capicola is another ingredient that gets shoved aside for other more popular deli meats like honey-glazed ham and smoked turkey breast. Capicola has so much flavor, and I'm totally partial to Italian-style deli meats. Crisp these bad boys up in a greased pan, and it's perfect on breakfast toast adding yet another much-desired crispy element.

Fava Bean Spread Toast with Crispy Capicola
Breakfast toasts are simple to enjoy with gourmet ingredients. Try this fava bean spread with basil that can be made ahead for a busy morning.
Recipe Type:
Breakfast, Side
Ingredients
1 cup shelled fava beans
salt and black pepper
¼ cup extra virgin olive oil
2 tablespoons chopped basil
2 tablespoons grated parmesan cheese, plus extra for topping
4 slices capicola
4 slices store-bought artisan bread, lightly toasted
1 avocado, pitted, peeled and sliced thin
4 eggs, cooked to your liking (I fried mine)
chopped parsley (garnish)
Instructions
Bring a pot of salted water to a rolling boil. Add the fava beans and cook for 3-4 minutes. Drain and transfer to an ice bath. Once cool enough to handle, shell the fava beans. Add them to the bowl of your food processor. Also to the food processor, add a dash of salt and black pepper, extra virgin olive oil, basil and parmesan cheese. Pulse until smooth. Adjust seasoning to taste. Set aside.
Spray a non-stick griddle pan or skillet with a non-stick spray. Add the slices of capicola and cook for 3-4 minutes on each side, or until crispy and brown. Remove from heat and set aside.
Assemble your breakfast toasts by spreading a thin layer of fava bean spread on each slice of toast. Top with crispy capicola, avocado, and egg. Garnish with additional parmesan cheese and chopped parsley.
Justine Sulia
I am the writer, publisher and photographer behind Cooking and Beer. Over at Cooking and Beer, I am combining bold and inspirational cooking (and baking) with the best craft beer I can get my hands on!