This drink was originally created by Shawn Layton of L'Abattoir in Vancouver, and contains Cuban tobacco infused bourbon, Marsala, bitters and whiskey. A perfect Father's Day cocktail.
By Pamela Braun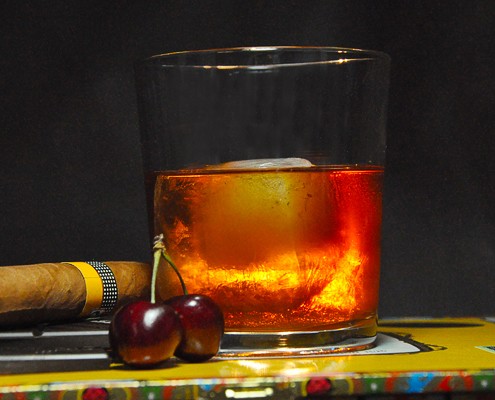 On a recent trip to London, my husband and I were fortunate to stumble across a fantastic bar called the Experimental Cocktail Club.
Once inside you'll be greeted with a drink menu that will have you thinking you just stepped into the adult version of Willy Wonka's candy factory.  While the the liquor combinations may sound a bit strange: Havana 3 year rum with Billecart-Salmon champagne, cognac with mezcal and sherry with Calvados (of course there are other ingredients with each of these mashups) your taste buds will be rejoicing and chastising your brain for ever doubting.
One of the drinks my husband had, and loved, was called Havana.  This drink was originally created by Shawn Layton of L'Abattoir in Vancouver, Canada.  The cocktail contains Cuban tobacco infused bourbon, Marsala, bitters and whiskey.  It's a heady libation where all of the individual ingredients come together to make a smooth cocktail that will bring a tear to your eye when you realize that your glass is empty.
My version is a bit different from the original, but according to my husband…just as good.
A couple of words of wisdom/advice.
1.  Don't use your dad's favorite cigars that he quietly stashes away in his "secret" hiding place.  I do recommend that you use a good cigar though…you will taste it in the finished drink.
2.  You don't have to use his favorite bourbon when you make this either.  You'll definitely be elevating the flavor of whatever bourbon you use.  But don't some cheap nasty tasty bourbon…it won't elevate it that much.
3.  If you're able, make a single large ice cube to add to the glass – it adds a touch of class to the drink and it melts much more slowly than a bunch of small cubes.
Print
Father's Day Cocktail: The Havana
Author:

Pamela Braun

Prep Time:

6 hours

Total Time:

6 hours

Yield:

1

1

x
Tobacco Infused Bourbon:

1 Cup

(.24l) Bourbon

3

1″ (2.54cm) Pieces Cut from a Good Quality Cigar
Cocktail:

2 Ounces

(59ml) Infused Bourbon

3/4 Ounce

(22ml) Frangelico

12

Dashes Aztec Chocolate Bitters

9

Dashes Cherry Bitters

3

Dashes Angosturo Bitters
Instructions
Tobacco Infused Bourbon:
Add cigar pieces to a re-sealable glass container.
Pour bourbon over the top of the cigar pieces.
Stir the bourbon and tobacco to loosen up the leaves and continue to stir until all of the leaves are separated.
Seal the container and set in a cool place for 6 hours.
After 6 hours, strain the bourbon through a fine mesh sieve lined with cheesecloth.
Cocktail:
Add the bourbon and Frangelico to a large rocks glass.
Add in the various bitters and stir to combine all ingredients.
Carefully place the ice into the glass and serve.
Notes
Before lining the sieve with the cheesecloth, dampen it with water first (squeeze out the excess water first). By wetting the cheesecloth first, you'll keep the cheesecloth from absorbing your bourbon.
You will have enough tobacco infused bourbon to make 4 drinks.
Pamela Braun
Pamela writes the blog My Man's Belly to help women get the upper hand in the dating world. You can be a saint on the street & a sinner in the bed, put up with his friends and rock six inch stilettos like a pro. But if you can cook, you've got the entire package. If you can chew gum and walk at the same time, you can cook. After all, the best way to a man's heart is still through his stomach.