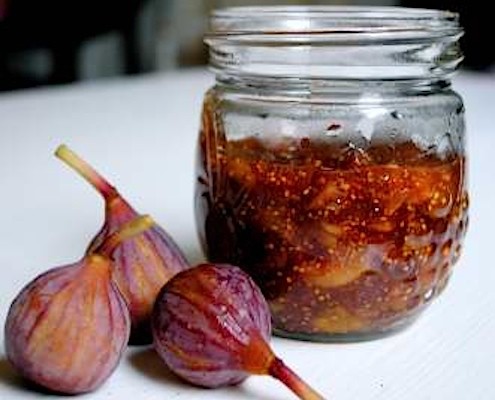 Figs, summertime, and the relentless Georgia heat. That's pretty much all Katherine Ingui has been thinking about for the past few days.
By Katherine Ingui
I managed to find a way to stay cool (hello new house with great air conditioner) and a great wave of inspiration came over me. My new kitchen is fantastic, spacious, and quaint, and all I have wanted to do is create new dishes. Culinary inspiration has recently come from ladies' brunch dates with some of my dearest friends, fresh fruits and legumes from nearby gardens, and free time to read cooking magazines and food blogs. Oh, summertime.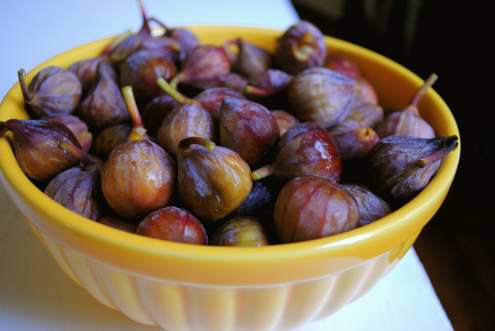 A result of my summertime bliss: figs. Figs? Yes, those little delicious fruits that are so ripe in Georgia as we reach the middle of August. I was given a ridiculous amount of plump figs a few days ago from a friends' garden, and thanks to my new house, great air, and roomy kitchen, I couldn't imagine letting them sit unattended. I then came across a small problem, and it made me a bit nervous. I simply had too many ripe figs than I knew what to do with.
Wait, where's the problem? The ripeness of the fruits made me think about how they might go to waste if I didn't use them quickly enough. Well, I hate wasting food, so there's that. Also, thanks to an endless list of favorite fig recipes, I had conjured up too many fig dishes and not enough time to create them all. That and soon I think I will have achieved eating my weight in these little fruits. It was time to start cooking. Fast.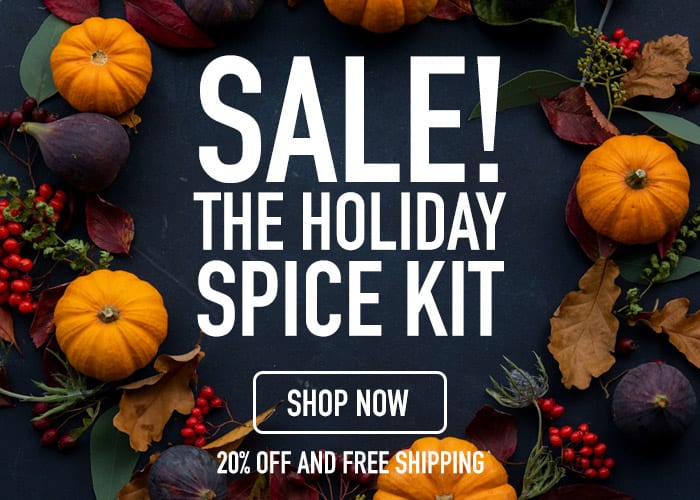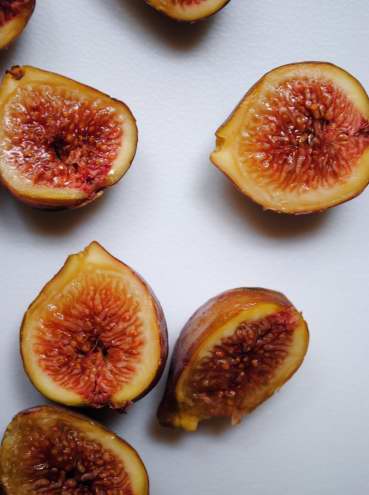 Luckily, fresh figs are so sweet and flavorful, offering a chewy flesh, a soft body, and a seeded inside that melts in your mouth. It seems like I've heard about nearby fig trees and the health benefits of figs themselves more this summer than I have in the past. That, I can say, I am grateful for. Figs are rich in fiber, high in potassium, iron, and calcium, and are fat-free, sodium-free, and cholesterol-free. Really? I was meant to love figs. And use them in my kitchen.
With so many fresh and ripe figs, I began brainstorming the possibilities of creative dishes I could make. I thought about fig and date bread (and attempted to make it, but I believe the yeast was determined not to contribute to my cause), as well as pizza, topped with prosciutto, goat cheese, and arugula (but I didn't have time to run to the store and buy all of that). What did I have on hand in my new kitchen? Sugar, honey, and a craving for spreadable goodness to be placed atop a recently-purchased raisin and currant bread loaf from Earthfare.
So there was my answer: quick jam. I began searching online and I found an article written by Mark Bittman, a writer for the New York Times, from 2002 about using late summer fruits to make jam. What an easy recipe! His article, "Fast Late Summer Jams," was so helpful and I had jam cooked up in under 20 minutes. Really. I mean, I did say I wanted to make something fast. And I achieved that with no sweat. I repeat, no sweat.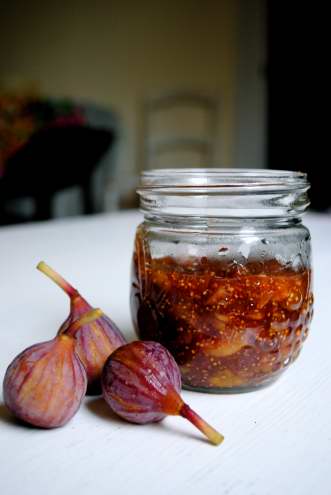 The next morning, I topped some toast with my new attempt at culinary magic, and  let me say, the fig jam is a winner. Don't waste those good, ripe fruits you have in your kitchen; make some jam, top some toast, and share with friends. Still have too many figs, peaches, blueberries, or other fruits left over from the summer? Preserve them (if you have time) or try freezing them. They'll be tasty three months from now and you'll have wasted nothing in the process.

Making jam is a fast and easy way to enjoy your late summer fruit. This was so easy; I didn't have a vanilla bean, but I did have a craving for honey, so I simply substituted it. The experiment was a success, and I had spreadable jam in no time.
Author:
Katherine Ingui, adapted from Mark Bittman, NY Times
Ingredients
15-20 small fresh figs, stems removed and chopped
¼ cup (50g) granulated sugar
¼ cup (85g) honey
Instructions
Combine ingredients in a medium sized saucepan. Bring to a boil (may need a little water, but wait and see how much the fruit produces).
Adjust heat so that it boils steadily. If the mixture is too soupy, increase heat; too dry, decrease. Cook and stir until the mixture is a thick liquid (there will be chunks of figs-this is nice and natural).
Let cool and store in a jar for up to a week in the refrigerator.
Katherine Ingui
Katherine Ingui is a photographer, an art educator, and a lover of healthy and adventurous food, in her home or on the road. A devout supporter of creativity in the everyday, she appreciates the glorification of what we all essentially crave: food.