From elaborate Thanksgiving meals to lovely everyday dishes like fried green tomatoes, Gilda Claudine Karasik loves sitting down at her stepmother's table.
By Gilda Claudine Karasik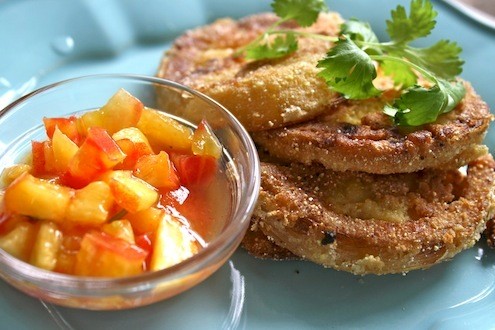 I have a stepmother. She is like Glinda the Good Witch from the North only her voice is not so high and breathy.  Also, she cannot fly, as far I know, but she does possess a pure magic when it comes to cooking.  For instance, she can conjure up all manner of Southern cuisine from scratch, even when it seems the cupboard is nearly bare.
My step-Glinda is one of those natural home cooks who learned her craft by osmosis at the edge of her mother's apron, her culinary skills already prescient at a young age and predictive of the cook (and mother) she would one day become.
Channeling her own Carolina-born mother like a medium from the Low Country, she cooks in bare feet with a quiet intensity.  She swipes at wisps of blonde-ish hair that frame her face as she assesses available ingredients or tastes a sauce bubbling on the stove.   If preparing for a dinner party, a chilled glass of white wine will keep her company as she grates, chops, sizzles and sautés.
Elaborate meals may include a leg of lamb with mint jelly, yellow squash and cheese casserole, Bourbon yams with candied pecans and marshmallows, all perfectly timed, seared, blended and baked.  In the midst of the activity, surreptitiously, she will have set the table with antique linens, polished silver and fine china, emerging on cue–Ms. Southern Hospitality personified–from a hot kitchen dressed for her guests and beaming a smile.  Every time.
Each year, I eagerly await the Thanksgiving meal she prepares, but I also live for her simpler day-to-day recipes:  cucumber and asparagus tea sandwiches; grits, country ham and Red Eye Gravy; and peanut butter drop cookies, just to name a few.  Her buttermilk biscuits are divine and come out of the oven supernaturally flaky; they are delicious full-moon morsels that leave mere mortals wanting more.  There is not a slaw or a salad beyond her power to perfect and her chicken soup, I am quite certain, is THE cure for the common cold.  And her fried green tomatoes? Well, you'll have to taste for yourself.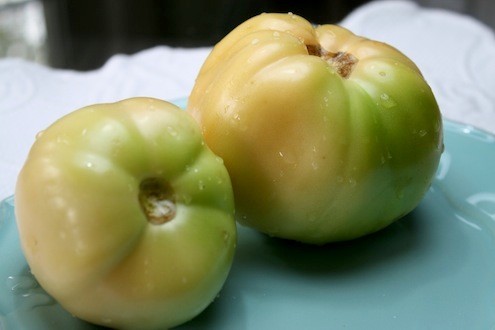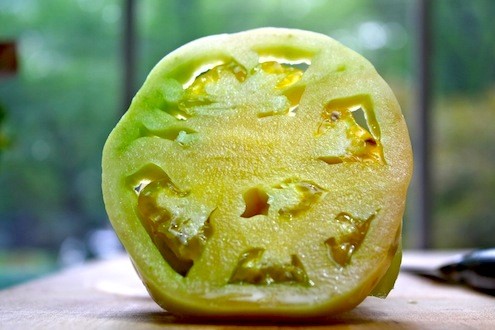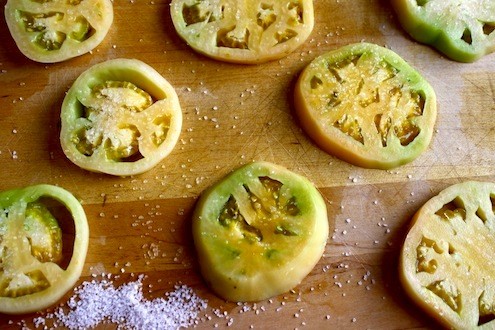 Print
Fried Green Tomatoes with Summer Peach Relish
Author:

Gilda Claudine Karasik

Prep Time:

15 mins

Cook Time:

15 mins

Total Time:

30 minutes

Yield:

4

to 6

1

x
Tomatoes
3

or

4

very green tomatoes

1/2 cup

Canola oil

2

eggs
Equal parts flour and cornmeal
Salt and pepper to taste
Cayenne pepper (optional)
Relish*
1

fresh yellow peach, diced

1

small ripe red tomato, diced
A few sprigs of cilantro, chopped

1/2

freshly squeezed lime juice

1

serrano or jalapeño pepper, diced
Instructions
Relish
Prepare the relish first before frying the tomatoes.
Combine the diced peach and tomato.
Add the lime juice and a little salt.
Stir and mix in the chopped cilantro and peppers.
Set aside.
Tomatoes
Slice the tomatoes into 1/2 inch thick pieces.
Salt them for about 5 minutes.
In the meantime, heat the oil in a frying pan until it is almost at the smoking point.
Beat the eggs
Coat each tomato slice in the egg mixture and then coat with the flour/cornmeal mix.
Add tomatoes to the pan two or three at a time.
Cook 2 to 3 minutes per side.
Remove the tomatoes from the pan and drain on paper towel
Serve alone or with the relish.
Notes
The Summer Peach Relish is adapted from Mark Bittman's Mango-Peach-Melon Salsa, published in How to Cook Everything.
Gilda Claudine Karasik
Gilda Claudine is a lawyer and freelance writer. She blogs about Mexican food and culture at www.dosgildas.com and about writing at www.dkwritings.wordpress.com. She is currently working on a her first novel.