Fannie Farmer's Banana Bread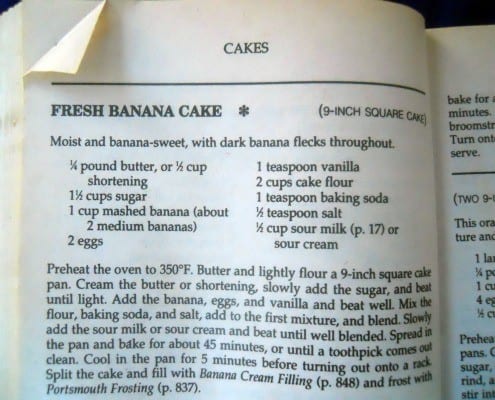 Fannie Farmer's Classic Banana Bread recipe, adapted with current ingredients such as quinoa flour. Topped with slices of ripe pear, this is not your usual banana bread; much added health benefits due to the quinoa and undertone flavors of bourbon and sweet banana.
By Marnely Rodriguez
Published originally in 1896 under the title The Boston Cooking School Cook Book by Fannie Merritt Farmer, The Fannie Farmer Cookbook is a staple to anyone cooking in New England. Finding old copies of this cookbook makes my day, and being able to bake a recipe that was baked 100+ years ago just makes it even more special.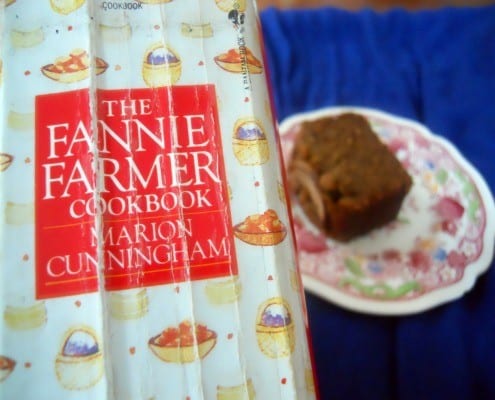 I decided to recreate Fannie Farmer's Banana Bread, by incorporating healthier flours. Fannie calls for white cake flour, but for this recipe I did a combination of quinoa flour and white whole wheat flour. The addition of bourbon brings out the sweetness of the ripe bananas, making this a moist bread that would be perfect as breakfast or a mid-day snack with your tea or coffee.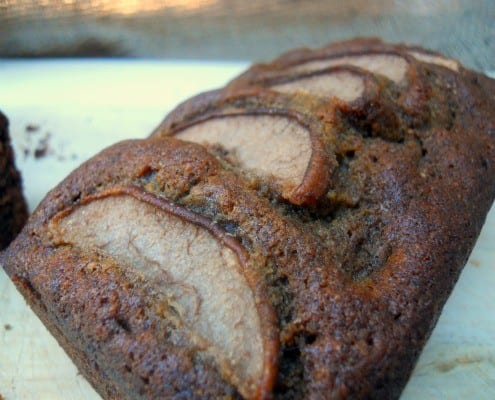 Fannie Farmer's Classic Banana Bread recipe, adapted with current ingredients such as quinoa flour. Topped with slices of ripe pear, this is not your usual banana bread; much added health benefits due to the quinoa and undertone flavors of bourbon and sweet banana.
Author:
Marnely Rodriguez
Ingredients
½ cup shortening
1 cup sugar
2 medium bananas, mashed
2 eggs
1 teaspoon bourbon
1 cup whole wheat pastry flour
1 cup quinoa flour
2 teaspoons baking soda
½ teaspoon vanilla salt
½ cup buttermilk
Instructions
Preheat the oven to 350F degrees. Grease one loaf pan or four mini loaf pans.
Cream shortening, sugar, bananas, eggs and bourbon.
Add flours, baking soda and salt. Slowly mix in buttermilk but do not overmix.
Pour batter into greased pans and bake for about 45 minutes, or until bread springs back to the touch*.
Notes
* Instead of inserting a toothpick into quick breads or cakes, get used to touching your baked goods and getting a feel of what under-baked or baked feels like. Lightly touch quick bread while still in oven and if it springs back, it's done. If it slowly tries to spring back, bake for about 5 more minutes. If it stays down or you feel the liquid batter inside, keep baking.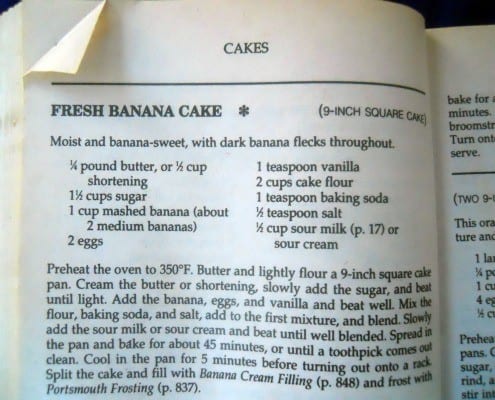 Marnely Rodriguez-Murray
Marnely Rodriguez-Murray is the author of the food blog Cooking with Books. A graduate of The Culinary Institute of America, she has worked as an Overnight Bread Baker in Colorado, a Chocolate Maker in Virginia as well as a Pastry Cook on the whimsical island of Martha's Vineyard, just to name a few. She currently resides on Martha's Vineyard with her chef-husband, where they are both on an endless search for Caribbean flavors, new culinary trends and gastronomic inspiration.