Sara Clevering with a tweaked tribute to one of the most classic Greek dishes.
By Sara Clevering
I feel a little funny telling you about my own take on spanakopita.  After all, who am I to mess with a classic?  While I consider myself very accomplished at eating and enjoying Greek food, I am by no means an expert at making it.  But then again, maybe we could consider this a tribute to that classic dish.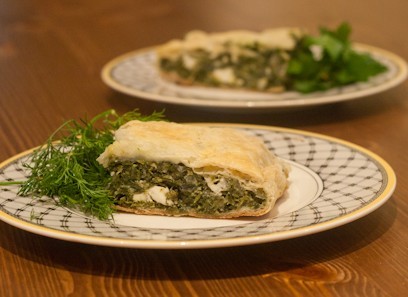 Of course I love spanakopita as is–but sometimes I wouldn't mind something a bit lighter.    Along the lines of, more spinach, less cheese.  (Something I can hardly believe I am saying–how could you ever have too much feta?)  And with lots of flavorful dill and parsley, perhaps we can just consider this an extra-green spanakopita?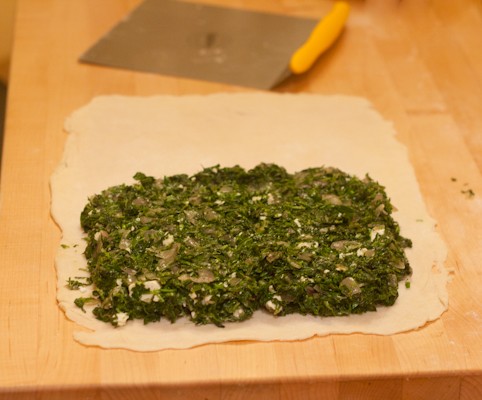 I made another tweak, while I was at it, and decided to give it a whirl with puff pastry.  You could certainly use phyllo if you wanted, but personally, I find puff easier to work with (and I always have loads in the freezer–see my prior post here).  I tend to get those gossamer-thin leaves of phyllo matted into an unappealing clump.  Though I follow all instructions to keep under a damp towel, the edges still manage to dry out on me.  And I inevitably shred as many phyllo sheets as I manage to tease apart.
Since phyllo layers are glued together with butter, why not use puff pastry dough, which has all that golden butter rolled in for you already?  And puff bakes up light and airy,  delicately embracing the filling of my extra-green spanakopita.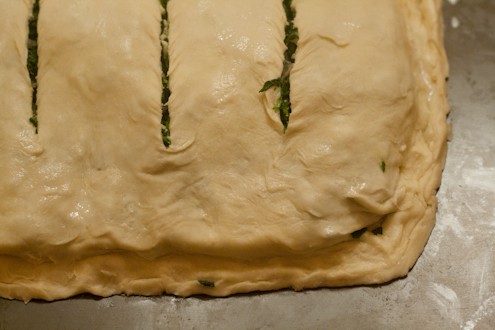 Spinach and Feta Pie (Spanakopita-inspired)
Ingredients
3 10-ounce packets (about 850g total) chopped spinach, defrosted
1 small red onion, chopped fine
1 small yellow onion, chopped fine
4T butter
Several grindings (or a healthy pinch) of nutmeg
Several grindings of pepper
¾t salt
2 big handfuls of parsley, chopped (about 4T)
2 big handfuls of dill, chopped (about 4T)
2 eggs
6 ounces (170g) feta, crumbled
10 ounces (285g) or so of puff pastry
1 egg, beaten, for egg wash.
Instructions
Roll out pastry dough into a rectangle approximately 12" by 14" (30 x 35cm). Slide onto a cookie sheet, cover with plastic wrap, and chill.
Squeeze out as much water as possible out of the spinach. (Push spinach against a colander, or squeeze in a towel).
Melt the butter over medium heat. Add the chopped onions and saute until soft. Add the nutmeg, pepper, and salt and stir.
Add the spinach, and cook, stirring frequently, until the liquid has evaporated and the spinach is dry. Remove from heat and cool slightly. Stir in the parsley, dill, and eggs. Crumble in the feta.
Take out your puff pastry and scrape the filling out over a little less than one half of the dough, leaving a margin all around. You don't want to spread it too widely because you want to make sure you can fold the dough without stretching and also so you have edges available to seal it shut.
Fold the remaining dough over the filling, and use water to help seal the package shut. Cut slits in the dough to allow steam to escape while cooking. Paint with an egg wash if using.
Bake for about 30 minutes, until the filling is set and the pastry is nicely browned.
Sara Clevering
Sara sees cooking and baking as a delicious way to connect with the past and travel the world from her kitchen. She is commited to preparing homemade, unprocessed meals for her family and is always looking for tricks to fit this into a busy schedule. Sara is currently in the Boston area after several years living in London, Spain, and the Czech Republic, and travelling extensively in Eastern and Western Europe, always making sure to experience local culture through food. She also blogs with her sisters at www.threecleversisters.com