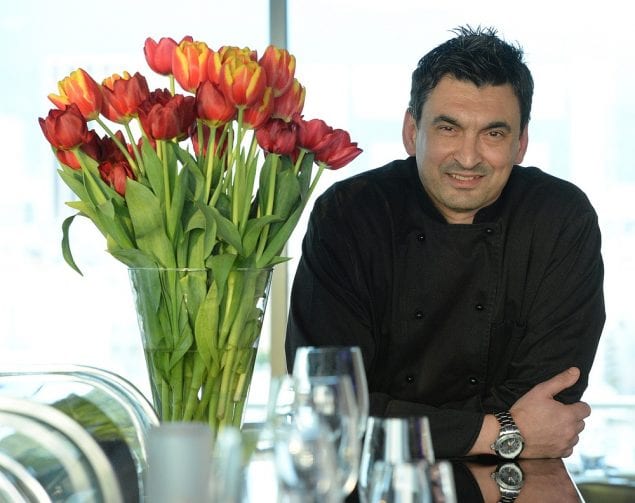 The Hilton Athens has a star in the kitchen named Executive Chef Kostas Athanasiou. Local Athenians all know of him, and you should too. The list of five-star establishments that Chef Athanasiou has worked in over his 20-year career, is way longer than your spatula. But at the heart of this chef's success is his creative spirit and skill in marrying seasonal ingredients and perfect cooking technique. Here, the food and drinks, like his Sea Bream Carpaccio, are as good as the views.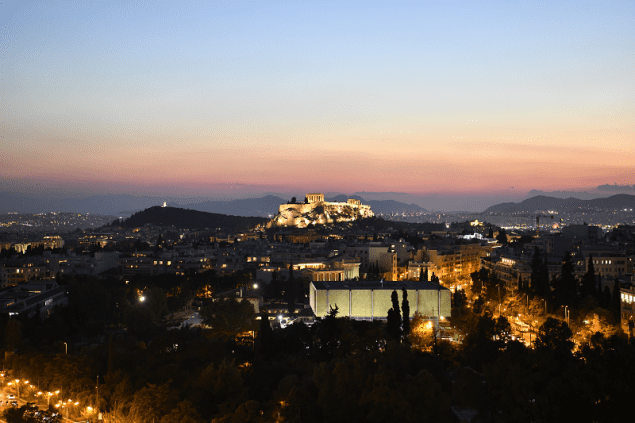 Galaxy Bar For Stunning Acropolis View
Exactly at moment you step onto the terrace of the Hilton Athen's rooftop Galaxy Bar , and are seated under the stars, you'll be transfixed by the view of the Acropolis glowing against the darkening evening sky. Sit and sip one of the unique cocktails like the Mastic Tears, flavored with drops of mastic tree sap, and skillfully balanced with a pour of lemon liqueur, Aperol, and a dash chocolate bitters; then move on to dinner next door at Galaxy Restaurant.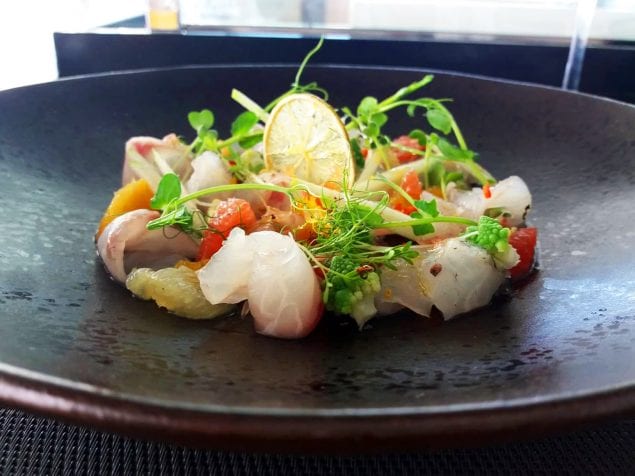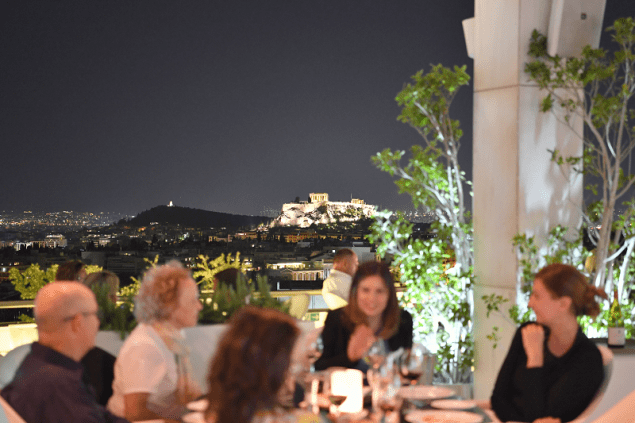 Galaxy Restaurant's Seasonally Inspired Menu
Chef Athanasiou's menu is rooted in traditional Mediterranean fare with his own unique twist. Perhaps you'll opt for the pork belly from the black pig of Olympus with celeriac, black quinoa and lemon sauce, or the black cod fillet with clams, fennel aoli, curry and apple sauce. Fish is popular here as chef has a magical way with seafood and cooks it to perfection. Chef also prepares sushi, which is very "of the moment" in Athens.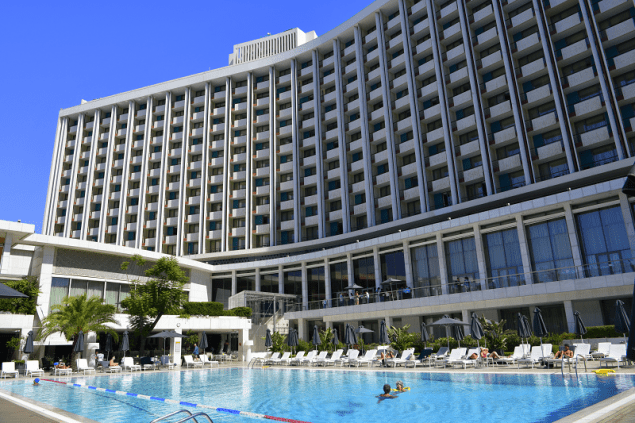 Call Hilton Athens "Home"
To give you a sense of place, a word about the Hilton Athens is in order. Conrad Hilton opened the hotel in 1963 along the avenue in of Athens' most stylish neighborhoods. It's a marvel of mid-century design sheathed in exterior abstract reliefs of Greek themes by Greek artist Yiannis Moralis. A quick walk or metro (nearby) ride from the hotel to the National Art Gallery, Benaki Museum, Acropolis and Acropolis Museum, Syntagma Square and shopping in the chic Kolonaki area, and across from the famous "running man," a monumental art glass piece called Dromeas by Costas Varotsos.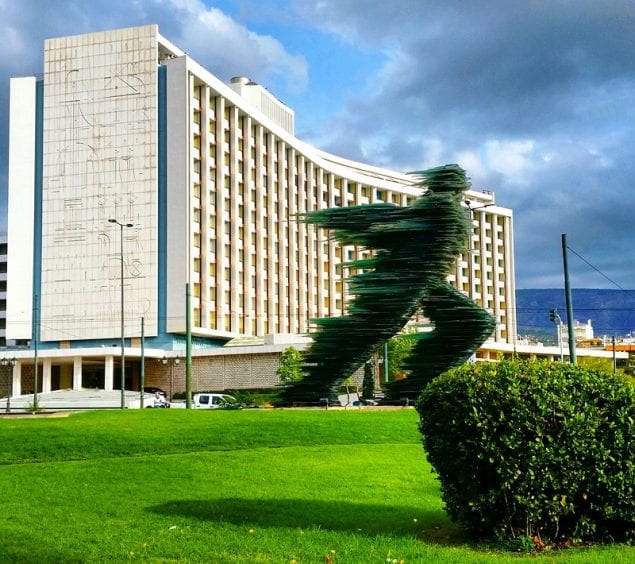 Why Stay Here?
The Hilton Athens is large, with every amenity that you could want including meeting rooms; full-service Hiltonia Spa; modern sleeping rooms and suites; stunning views from your balcony; an Executive level with private Executive Lounge; the Byzantino Restaurant on ground level offering a sumptuous breakfast every day, with the city's richest Sunday family lunch buffet; one of the largest outdoor swimming pools in the city adjacent to the outstanding Oasis Bar and Grill; authentic Greek cuisine at Milos Restaurant; curated shops including the flagship Luxury Concierge, a collection of spectacular food products and wines with a section of rare Greek products like fresh Greek truffles, olive oil and uncolored honey; full service concierge; and a gracious hotel staff. But the crown jewel is the Galaxy Restaurant & Bar perched atop the hotel's curving architecture.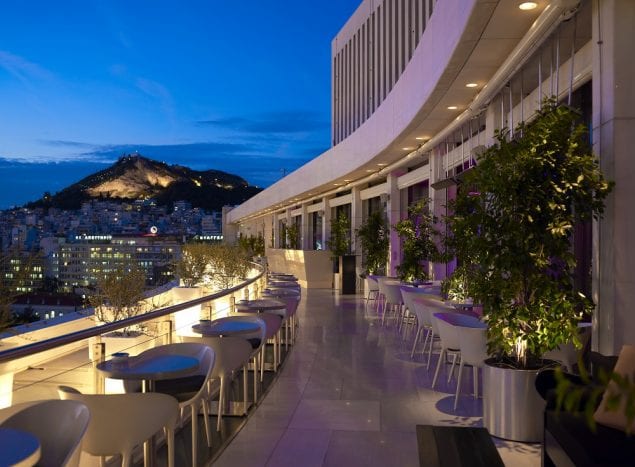 From the Hilton Athens' Executive Chef Kostas Athanasiou's winter menu at Galaxy Restaurant, we proudly share his recipe for Sea bream carpaccio with citrus fruit, green apple, green tea and lemon powder. NOTE: You'll have to make the lemon powder first which requires 4-5 hours in low oven. The broth takes 30 minutes, and fish is served raw with a pour of broth. Buy the freshest, tender white fish you can find.
Print

Hilton Athen's Galaxy Restaurant's Sea Bream Carpaccio by Exec. Chef Athanasiou
---
Author:

Executive Chef Kostas Athanasiou

Yield:

4
Description
Hilton Athen's has a star in the kitchen whose way with fish is stellar. Meet Executive Chef Kostas Athanasiou and make his delicate Sea Bream Carpaccio from Galaxy Restaurant .
---
Ingredients (for 4 portions:)
• 1 sea bream of 600g (net weight: approximately 80-90g per portion or 22 ounces)
• 1 grapefruit
• 1 lime
• 1 orange
• 1 radish in thin slices
• 1 green apple julienne
• 1 lemon
• 200 ml vegetable broth or approx. 7 ounces
• 50 ml soy sauce or approx.1.69 ounces
• ¼ bunch chopped chives
• 1 chopped chili pepper
• 1 tea spoon roasted white sesame
• 4 table spoons olive oil
• Fleur de sel and ground pepper
Ingredients for the vegetables broth:
• 1 diced carrot
• 1 quarter-sliced onion
• 1 thin sliced twig of celery
• 1/2 thin sliced leek
• 1 quarter-sliced tomato
• 100g white mushrooms cut in half or just over a cup (96 grams to a cup of sliced mushrooms)
• 2 twigs of thyme
• 2 laurel leaves
• 1 tea spoon coriander seeds
• 2 pieces of star anise
• 1/5 bunch of parsley
• Olive oil
• 50ml white wine or 1.69 ounces
• 2 teabags of green tea
---
Instructions
Preparation method:
For sea bream carpaccio:
Remove the scales and guts from the sea bream, rinse well and wipe with kitchen towel.
Remove the fish bones with a knife and a fish tweezer and cut the fillets.
Remove the skin and cut the fish in thin slices at a slight angle.
Place the fish slices in a deep plate.
For the lemon powder:
Put lemon shavings in a pan with grease-proof kitchen paper.
Lemon must dry out for 4-5 hours in the oven in a 122 degree Fahrenheit without fan.
Lemon should retain its color.
For vegetable broth:
Put all ingredients in a pot with water and boil for 30 minutes.
Strain and add soy sauce.
For garnishing:
Cut the lime, the orange and the grapefruit in thin slices and place them on the fish.
Add the sesame, the chili pepper, the radish and the green apple.
Garnish with the chopped chives and add the fleur de sel and ground pepper on top.
Serve with some flavored broth (poured on via the side of plate), and a few drops of olive oil.
Category:

Appetizer

Cuisine:

Mediterranean/Greek
Michelle M. Winner
Michelle was born with a fork in her hand. As a culinary travel writer and confirmed foodophile she delights in the world-wide discovery of new flavor profiles, spices, salts and herbs. Based in one of the world's foodie meccas; Portland, Oregon, not far from "Pinot Noir Heaven" Michelle shares culinary travel and chef's recipes. Her photography has appeared in Saveur Magazine and she has contributed culinary travel articles to Forbes online, WSJ online, Business Insider, Condé Nast Digital Media, Islands magazine and many others. A confirmed globetrotter, she still keeps her bags packed and fork in hand (well . . . except through airport security.)