Rebelliously located in New York City, Emmett's serves up deep dish pizza to a thin crust-loving crowd. Despite the odds, the delicious joint is converting the Big Apple's tastes one pie at a time.
By Val Twerdahl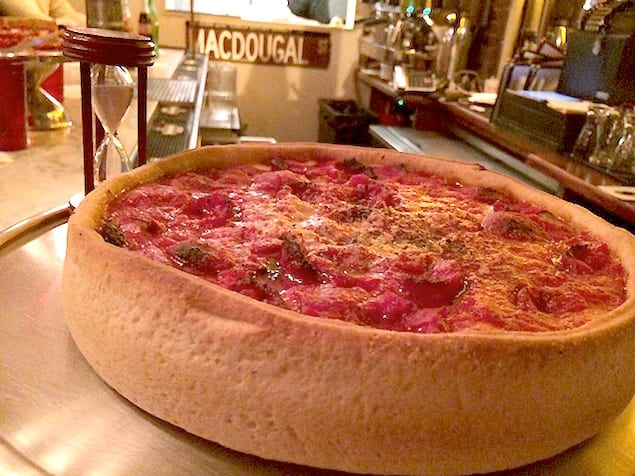 As a New Yorker, I'm partial to slices that are paper thin and easily foldable. I prefer them plain, and love eating them off white paper plates while standing on street corners and watching the world zoom by.
I've never even thought about Chicago-style pizza, until I ate it at Emmett's.
Emmett's is one of those restaurants that feels like it's been around for ages even though it only just opened a few months ago. A vintage metal sign on the wooden door reads "OPEN to PUBLIC," and multi-colored twinkle lights hanging from the red-and-white awning look as if they were strung a few Christmases ago. Inside, the atmosphere is just as inviting in its familiarity: cozy brick walls, worn wooden chairs, and a marble-topped bar are all swathed in the heavenly smell of freshly baked dough and melted cheese.
It was about 6:45 when my hubby and I walked in. The tiny dining room was packed and the hostess quoted a 45 minute wait for a table or a spot at the bar. Since deep-dish pizza takes about that time to cook, she handed us a menu and suggested we order our dinner from her while we were waiting to be seated.
The menu at Emmett's is short and to the point. A handful of salad starters, a few sandwich options, and, of course, deep-dish pizza. The pizzas are offered in three different sizes, 8?, 10?, or 12?, and with any combination of 5 toppings—sausage, pepperoni, mushroom, green pepper, and onion.
We placed an order for a medium with sausage, green pepper, and onion, and snagged two seats at the marble-topped bar a few minutes later.
A steaming hot pie—with red sauce on top of the cheese—was placed in front of us when I was halfway done with my second glass of wine. The pizza was accompanied by a wooden hourglass timer. "What's this for?" I asked the barman, who, I later learned, owns the restaurant with his brother. "The pie needs a few minutes to set before I can cut it," he explained simply. After waiting for 40 minutes for our main course, watching as diners all around us enjoyed their meals, we had to wait a few more minutes for the pizza to "set??" Chicagoans must be a reeeeally patient, I thought, as we waited for the sand to slowly pass through the hourglass.
The pie was well worth the wait—the cheese was oozy, the sauce tangy, and the toppings rich with flavor. And the crust? It spoke to my soul. Crispy-crunchy and porous on the outside, dense and chewy on the inside, it tasted like it was cooked with a minimal amount of salt, if any. It was Emmett's crust that converted me from a Chicago-style-pizza-hating New Yorker to one that now agrees there is room in this city for another kind of pie.
Emmett's
50 MacDougal St, between Houston & Prince
917-639-3571
(This restaurant has no website.)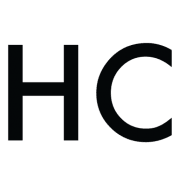 Val Twerdahl
Val Twerdahl is a writer with a passion for food, art, fashion, and travel. Born and raised in New York City, she has become a master explorer of her hometown, constantly scoping out new hubs of creativity in the form of restaurants, art galleries, and shops. To visit her in the blogosphere, go to miscv.tumblr.com.