PARTNER POST — The holiday season is here and it is time to add some Italian flair to your menu with authentic ingredients from Colavita and Perugina's rich Italian chocolate.
An Italian holiday favorite, eggplant timballo is a stunning presentation for your table. Especially when served with a chili and orange chocolate polenta cake.
By Rachael Hartley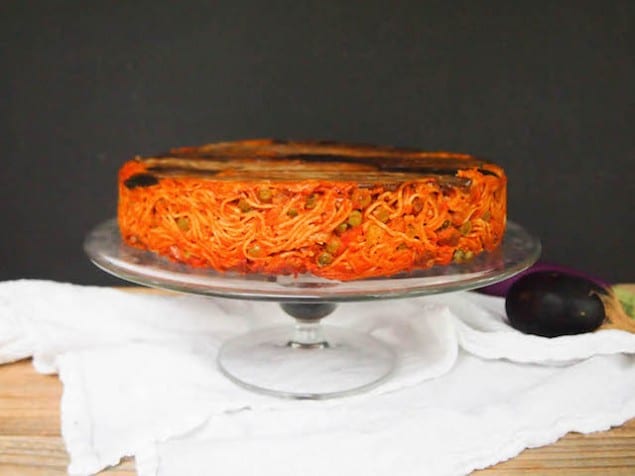 Savoring holiday food is something I'm pretty passionate about. You know who else is passionate about savoring the holidays? The Italians. If it involves food, they know how to do it right. In most countries, food is a part of their culture, but in Italy, food is their culture.
When you're putting your heart into a dish, you want the best ingredients. Enter Perugina and Colavita. Colavita is a family owned distributor of extra virgin olive oil and Italian specialty products, like olives, pasta, and vinegars. Perugina makes chocolates in Perugia, Italy and is famous for their Baci, a hazelnut and chocolate candy.
Inspired by their products, I created these two holiday recipes, perfect for savoring with the people you love this holiday season. When I was coming up with Italian inspired recipes for the holidays, I consulted my little brother, who lived and worked in Italy for a few years. He told me timballo was a traditional holiday dish, partly because it takes some time to prepare, but also because it's made with eggs, which used to be expensive and therefore reserved for special occasions. The polenta cake was all me. I had a polenta cake a few years back and haven't stopped thinking about it. I love it's crumbly texture – kinda like a sweet, chocolatey cornbread!
Italian Holiday Table: Eggplant Timballo with Sausage and Artichokes
Cuisine:
Italian Inspired
Ingredients
¾ lb Colavita 100% Whole Wheat Cappellini
1 medium-large eggplant
2 tablespoons Colavita extra virgin olive oil plus 1 teaspoon
½ onion, chopped
2 garlic cloves, minced
8 ounces organic hot Italian sausage, removed from casing
26 ounce jar Colavita Spicy Marinara
1 10-ounce jar Colavita Artichoke Hearts in Olive Oil, drained and chopped
¼ cup Colavita Bella di Cerignola Olives, pitted and chopped (or other green olive)
1 cup frozen peas
2 eggs, beaten
Instructions
Bring large pot of salted water to a boil and cook pasta according to package directions to al dente. Drain and set aside until ready to use.
While pasta is cooking, prepare the eggplant. Set oven to broil. Trip top and slice ½-inch thick. Brush bottom of baking sheet with some of the 2 tablespoons of olive oil. Spread eggplant evenly on the baking sheet. Brush the remaining olive oil over the top of the eggplant. Place under the broiler and cook until tender and browned, about 6-7 minutes total, flipping halfway. Remove from oven and set aside until ready to use.
In a large sided skillet, heat 1 teaspoon olive oil on medium-high heat. Add onion and garlic and cook until tender, about 3-4 minutes. Add sausage, crumbling with a spatula, and cook until browned, about 7-9 minutes total. Add marinara, artichoke hearts, and olives. Bring to a simmer and cook 15 minutes until flavors have melded. Stir in peas and cook until warmed through. Remove from heat and set aside to cool slightly.
Preheat oven to 375 degrees. Brush a 9 inch springform pan with olive oil. Layer eggplant slices evenly over the bottom, overlapping if needed. Stir pasta into the sauce. Add beaten egg and toss until evenly combined. Pour pasta over the eggplant slices and flatten with a spatula. Place in the oven and bake 45 minutes until edges are browned and timballo is set. Remove from oven and set aside to cook at least 20 minutes before slicing, otherwise it will fall apart.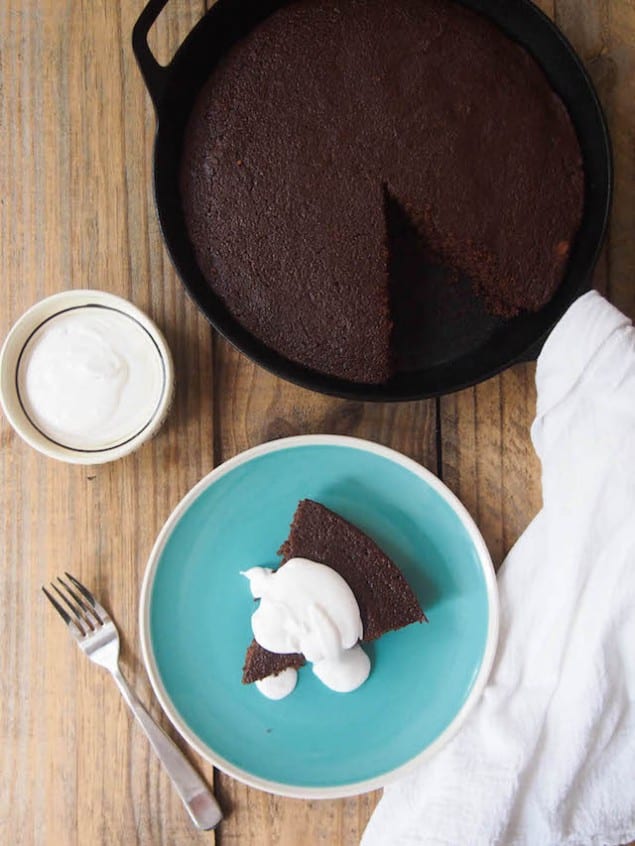 Italian Holiday Table: Chocolate Chili Polenta and Orange cake
This cake is gluten-free!
Recipe Type:
Dessert, Cake
Cuisine:
Italian Inspired
Ingredients
1 3.5-ounce Perugina Dark Chocolate Orangello Bar
2 tablespoons Colavita Pepperolio Extra-Virgin Olive Oil
¼ cup pre maple syrup
5 eggs
½ cup unsweetened almond milk
½ teaspoon vanilla extract
½ teaspoon orange zest
¾ cup Colavita Instant Polenta
1½ teaspoons baking powder
¼ teaspoon sea salt
Instructions
Preheat oven to 375 degrees.
In a small pot, melt chocolate with olive oil on medium heat, whisking until melted and smooth. Remove from heat.
In a large bowl, whisk together syrup, eggs, almond milk, vanilla and zest. Stir in melted chocolate and whisk until combined. In another large bowl, whisk together polenta, baking powder and salt. Stir wet ingredients into dry and whisk until well combined. Pour batter into a well seasoned and oiled 9-inch cast iron skillet. Place in the oven and bake 20 minutes until edges pull away and center is set. Remove from oven and cool before serving with whipped cream or coconut cream.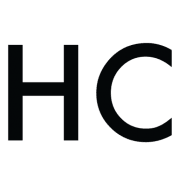 Rachael Hartley
Hi there! I'm Rachael Hartley, a dietitian, food blogger, whole food lover and avocado enthusiast. My mission is to help you rediscover the joy of eating. I believe living a healthy, fulfilled life should be fun, simple and most of all, delicious!