Eggplant-Salsa Fresca Bruschetta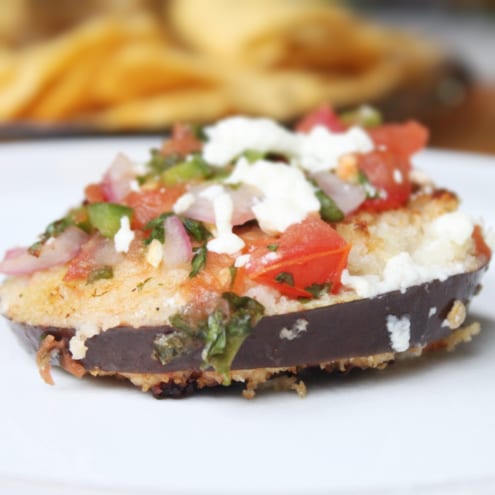 Spicy salsa fresca on top of lightly-fried eggplant slices is a fusion dish at its finest and makes a unique bruschetta-inspired appetizer.
By Kelsey Hilts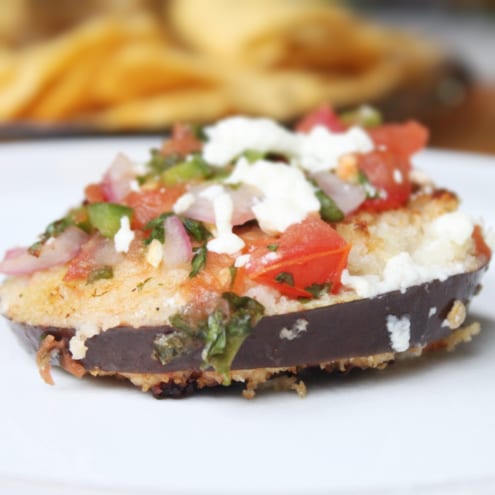 The breadless bruschetta is bursting with color, flavor and nutrients and can even make a hearty vegetarian main course.
Eggplant-Salsa Fresca Bruschetta
Spicy salsa fresca on top of lightly-fried eggplant slices is a fusion dish at its finest and makes a unique bruschetta-inspired appetizer.
Ingredients
1 eggplant, sliced in rounds
1 egg
1 Tbsp water
Panko crumbs
1-2 Tbsp olive oil
1 tsp salt
? tsp pepper
!Salsa Fresca
3-4 Roma tomatoes, chopped
2 Tbsp onion, chopped
1-2 cloves of garlic, minced
1 jalapeño pepper, chopped
1 tsp chopped cilantro
Squirt of lime juice
Salt, to taste
Cotija or feta cheese crumbles
Instructions
Mix the egg and water in a shallow bowl.
In another shallow bowl, mix the Panko, salt and pepper.
Dip the eggplant rings in the egg and then dredge in the Panko mixture.
Place the coated eggplant in a pan coated with olive oil and cook the eggplant over medium-high heat until golden brown and crispy with a tender center.
Top the fried eggplant with salsa fresca and sprinkle them with cotija or feta cheese crumbles.
Salsa Fresca
Stir all of the chopped veggies together and season to taste with salt.
Cover the salsa with plastic wrap and let it chill for several hours to bring out the flavors.
Kelsey Hilts
Kelsey Hilts is the founder of Itsy Bitsy Foodies, an online resource for families looking for ways to spend more time together enjoying food and exploring the world beyond the children's menu.