This is the easiest chocolate cake you'll ever make, full of almonds and made in 20 mins from scratch in the microwave.
By Anita Mokashi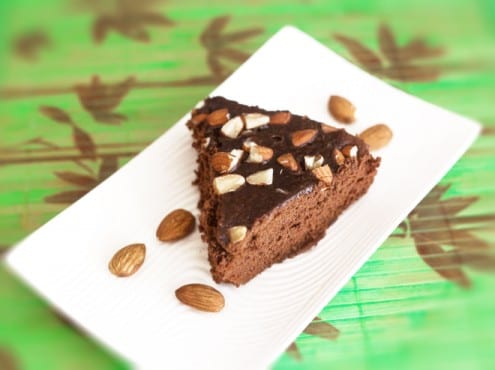 Eggless Instant Chocolate Almond Cake
This is the easiest chocolate cake you'll ever make, full of almonds and made in 20 mins from scratch in the microwave.
Author:
Anita Mokashi, adapted from Cooking with Geetz.
Ingredients
1 cup milk
1 ½ cup all purpose flour/ Maida
1 ¼ cup sugar
3 tbsp cocoa powder
4 tbsp oil
¾ tsp baking powder
½ tsp baking soda
½ tsp vanilla essence
½ cup almonds chopped
Instructions
Mix all the ingredients and blend well together.
Pour the batter in the greased dish, garnish with some sliced almonds and microwave for 5 minutes.
Remove from microwave.
Let it cool down for 10 to 15 minutes.
Your Chocolate Almond Cake is ready
Serve it with Ice cream.
Anita Mokashi
Anita Mokashi is based in California, but born and brought up in Mumbai, India. Her blog Crave Cook Click is mostly about Indian cooking, but occasionally she shares recipes from other cultures and cuisines too. Anita is also the publisher of a popular photography blog.