If you are looking for a dessert that is not overtly rich and sweet – yet decadent – then your search ends here.
By Nandita Nataraj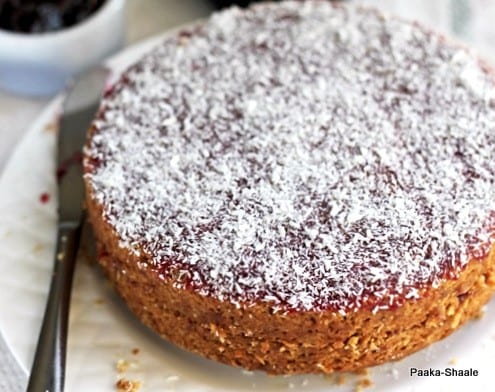 This is one of those desserts that is fuss free and yet rather impressive.  This recipe is adapted from here.  It is one of those recipes were the flavors are spot on. It is a moist, pleasant flavored cake that can be dressed up either with a frosting, or a glaze. Or better still, like me, you can have it slathered with raspberry jam
Ingredients
All purpose flour - 3 cups
Baking Powder - 2 tsp
Baking Soda - 1 tsp
Sugar - 1⅔ cup
Salt - 1 tsp
Unsweetened dessicated coconut - 1 cup+2bsp
Coconut milk - 14 Oz can
Thick Yogurt - ½ cup
Canola Oil - ⅔ cup
Cardamom extract or powder - ½ tsp
Vanilla extract - 1 tsp
Raspberry jam- 3tbsp
Instructions
Sift the all purpose flour, baking powder, baking soda and salt in a bowl. Mix 1 cup of desiccated coconut and set aside
In another bowl, mix the coconut milk, oil, sugar, yogurt, sugar, cardamom powder and vanilla extract and whisk well.
Preheat the oven to 180C. Grease and dust the baking pan with oil and flour and set aside.
Slowly add the dry ingredients to the wet and stir. Do not over mix.
Pour the batter into the greased baking pan and bake for 50-60min or until a skewer inserted comes out clean.
Turn the cake into a wire rack and cool completely.
Once the cake is cooled, cut the cake horizontally into two slices. Place the bottom half of the plate on a serving plate and spread a tbsp of jam on the cake evenly.
Cover this with other ha;f of the cake and spread the remaining jam on the cake and sprinkle with grated coconut and serve.
Notes
This recipe is originally a recipe for bundt cake. Since I did not have a 10" bundt pan, I baked in a 8" round cake pan and in my mini bundt pan. You can bake this cake in a loaf pan but then the baking time might differ. This cake does not brown too much. So you might want to keep a check on that.