From the labyrinth-like streets to the traditional yet evolving food scene, the capital of Catalonia stays with you. As does the moment you first lay eyes on the work of Gaudi. Or taste a crema catalana.
By Pepper Passport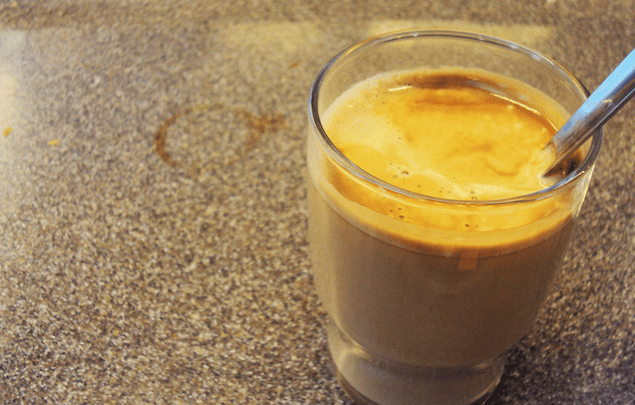 When you've left the capital of Catalonia you'll begin plotting your return. For it's not uncommon when speaking to one who's already been to this seaside city to hear, "Seriously. It's so good. You won't want to leave." Or "We cancelled another part of our trip short, just to fit in a few more days in Barca". And if the claws are in really tight, you might even begin plotting a more permanent move.
Barcelona is combined by several neighbourhoods, all with distinctive characteristics – from the underground cool of Born, to the glitz of beachside Barceloneta and slightly more spacious Zona Alta – the areas existing about Avinguda Diagonal. It's this combination that makes for a multitude of experiences on various levels, which is perhaps part of the charm. You can spend big or small, pack the days with activities or aimlessly wander, yet feel all the richer (either with food or culture) for how you've occupied your time.
Take note it's a nocturnal city, and while being the early bird holds true and pays off for some pursuits (e.g lining up for museums for the first Sunday of the month when they're free), it's best to adjust your clock and emulate being a resident. Rise and dine late, get to bed even later, and take those ingrained siestas to escape the heat. When eating out avoid anywhere that posts a menu with pictures. The best finds are those that don't boast their presence and you'd easily walk past. You'll find them dotted down the carrers (Catalan for street). And take note, paella, is not a Catalan dish – it's from Valencia, so side step the restaurants featuring it on their a-frames. Word is they're bought frozen and reheated for the tourists.
Crime wise it does have a slightly dark reputation with pick pocketing and thieving rampant at popular sites. So try to assimilate like a local so to decrease your likelihood of a run in, or someone running off, with your goods. Don't bring the map out too often (besides, when loosing yourself down alleyways you're almost guaranteed a unique and organic find) and use a small shoulder bag, one you can easily wear across the body, with the opening facing in towards your hips.
ACTIVITY
If you're craving some beach time and need to get away from the bustle that is Barceloneta (and the men selling unsavoury and possibly spiked mojitos on the beach), take a day trip to Sitges. Forty-five minutes away by train, it's an old, fortified town by the sea, with views of the Mediterranean. Post swim and sun laze, head for La Salseta (Sant Pau, 35) for a slow food focused lunch and seeing the founder of Bacardi Rum hailed from here, a cocktail along the beach.
You can rent bikes all over the city, but get one from My Beautiful Parking, a slick and friendly operation. An ideal route is to cycle down towards the water. Take in the harbour then the path running along Barceloneta beach, pass the gentrified neighbourhood of Poblenou by the sea.
Put aside a night, and book into class at Cook and Taste (Paradis, 3). Because learning about a culture while cooking and drinking wine with fellow travellers is a beautiful thing and so too the dishes you'll eat, and now have the recipes for. As well as a little more culinary and cultural know how. Money and a night well spent.
Make for a morning at Mercat Sant Josep aka La Bouqueria. Rise early, and watch the set up begin, then pull up a seat for café con leche (coffee with milk) or seeing you're on vacation, a glass of cava (sparkling wine). Food wise, it's best to ask what's good for the day, but a warm slice of eggy tortilla that's thick with potato never disappoints. Try Kiosk Universal or Pinotxo.
For an early walk or run head up towards Montjuïc, it's the the hill perched high above the city and makes for phenomenal views as it rouses. You'll see down too, to the bustling harbour and Mediterranean coastline. Originally farming land, it's been transformed countless times, and used for many events, notably the 1992 Olympics. The castle perched at the top, has looked over the city since 1640, and holds a dark history, owing to its location for executions during Spain's colourful past and uprisings.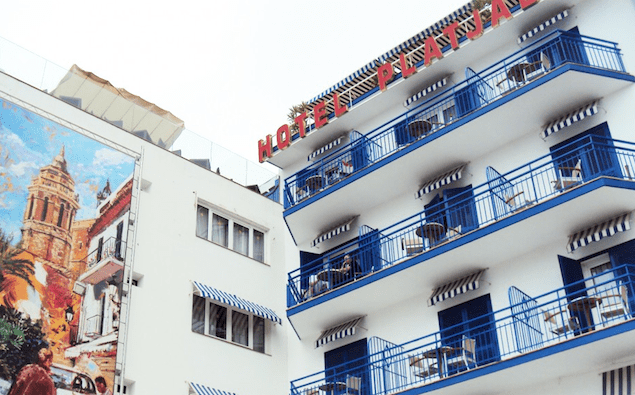 EAT QUICK
The Spanish aren't known for their bread, but Forn Baluard is. And good god is it good. You'll smell their dense yeasty presence, long before you step into the room adorned with many a loaf (sometimes up to 40 types). The products from owner Anna Bellsolà, who is forth in a long line of bakers, can hold their own against many of Europe's heavy hitters.
The burgers from Pim Pam are incredible, not just because they're €5, but are crammed with many a good thing. It's what you order when you've got a hankering for a taste of home, need something restorative from the 'night before' and/or a break from jamon. The chips are wicked, and so too the other dishes made up to takeaway.
Quimet & Quimet (Carrer del Poeta Cabanyes, 25) is a famed locale in the city and was originally a tavern in the early 20th century. None of the food is cooked as it's all made on preserved goods and there are too many options to choose from, so it's best to ask for a plate to be assembled, telling your food preferences to the family who've run it for five generations. Wines line the walls from floor to ceiling and beers come on tap. It's standing room only, which makes walking back to the counter to order more, all the easier.
From the outside La Cova Fumada (Carrer del Baluart, 56) doesn't look as appetising as what you'll get on your plate (apparently the décor hasn't been touched in over 75 years). This is a true and bustling neighbourhood favourite. The dishes are scrawled on chalkboard and in the peak hours, it's an art form squeezing to the bar, or nabbing a table. The bombas (e.g fried balls of potato) are next level. So too anything pork based and hot off the flames.
For something totally different, head to Bun Bo for Vietnamese. A funky offering with daily lunch specials (€10 for three plates), wifi and wicked cocktails.
LONGER, SETTLED MEALS
Book for a night at Bar Del Pla where the premise is to eat well and be a place to "meet for drinks and appetizers, to eat sooner, or later, or to have dinner". You'll end up talking for hours with those from all over, long ingrained locals and expats too. It's run by a young crowd, that serves not just Catalan food but dishes that take inspiration from all over Spain. There are always new additions owing to what's at the market, but their tartare style tuna is a must. So too anything with mushrooms.
For something a little more traditional and less expensive go to Morrysom. It's packed every night and with good reason. Locals and visitors cram in for the generous servings of very good things, including fried pork cheeks – a sinfully crisp indulgence.
If you've a hankering for a brunch style experience, with a flat white, scrambled eggs and smear of vegemite on your toast, head for Federal Café. The original owners based their offering in ode to Australia's coffee culture, and although they sold it a few years back, the integrity's remained. Come Friday and Saturday nights, it's fun to head upstairs to the roof top bar.
Picnic, is run by a Chilean and California couple, who are doing some cool work via serving Californian style food, with a South American twist. On the weekends, look for those in Parc de la Citudella picnicking (pun intended) on their boxes branded with a balloon.
Other spots to try include Granja Elena (Passeig de la Zona Franca, 228), Gresca, Embat and Freixa Tradicio. Or for fine experiences that will blow your mind, tastebuds and possibly the budget, try for a booking at ABaC, Sauc, Botafumeiro or Moo.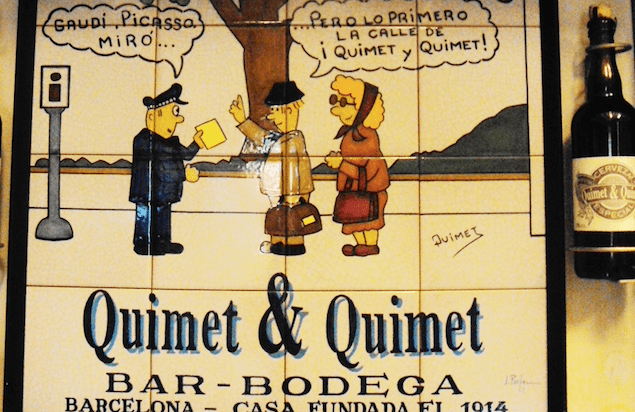 DRINK
Jump in a cab and head up above diagonal for Bar Tomas (Carrer Major de Sarrià, 49). It's in a slightly more affluent neighbourhood, and you'll find all types sitting at the tables, drinking, talking and tucking into arguably Spain's best plates of Patas Bravas (fried potatoes in sauce). Once you've tried them, you'll be glad you took the cab ride up. Their empanadas are too a treat.
If there's one bar you should plant yourself in to plan the evening ahead it's Mudanzas (Vidrieria, 15,). The levels are split in two, and the floors tiled in black and white, the bar's packed with many a poison, and characters from all over file in and out. It's a happening, ingratiating place and if you're alone, you'll most likely strike up conversation with another kindred spirit.
For a big night out (both on the liver and wallet), don your best garb and head to the Elipse Bar at the W Hotel. It always draws a crowd, particularly those looking to see the sun rise over their sweeping views of the sea. The neighbourhood of Gracia, is fun to be in at night, and a step removed from the bustle below diagonal. Make for Placa de Sol, starting at one of the bars on this square and making your way around to more.
SPEND
You could put your euros towards football paraphernalia or you could get some more artisan orientated keep sakes. At La Manual Alpargatera they've been making espadrilles since 1943, long before they became fashionable and graced the feet of royalty and movie stars. Take home a bottle of the very best olive oil and other olive orientated products from the aptly named L'Olive (Carrer de Balmes, 47). Or if you've a sweet tooth, stock up on Spanish sweets from Caelum, where their pastries and treats are handmade by the local convents and monasteries. At the back and downstairs lies a 6th century Jewish bathhouse, which only adds to the charm. Those that love fine kitchen gadgets will love La Cuina d'en Garriga, a hybrid of a shop/restaurant/deli that executes all it offers in homage to quality.
CULTURE
You don't have to be design fiend or an architect to marvel at the work (some finished, others not) of Anotnio Guadi, the man at the head of Catalan Modernism, and one who left a distinctive mark on the city. La Sagrada Familia, stuns on first impression, as do the details found in the calming interiors, of which you'll sit and study, not noticing the time lapse.
To make the best of the World Heritage listed Parc Guell (an expanse Gaudi was charged with transforming into a private park for affluent families by entrepreneur Eusebi Güell) aim to get there before the heat sets in, or try for late afternoon before dusk. It's a big expanse, but armed in a sun smart manner and with supplies, you can easily spend a few hours wandering through all the elements, before exiting via the Hansel and Gretel style houses.
Casa Batlló, and its organic and imaginative façade, adorned with bright mosaic is one work Gaudi did complete, and worth the €20 admission price.
Barcelona abounds with art galleries and the engaging Museu d'Art Contemporania de Barcelona (Museum of Contemporary Art), will appeal to all, and not just the art enthusiasts.
The Picasso Museo houses one of the world's largest collections of this great artist, with 4,249 pieces permanently exhibited. Opened in 1963 it shows Picasso's evolution and so too his relationship with the city.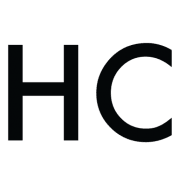 Pepper Passport
Pepper Passport delivers and shares stories that showcase 'the good' found in food and travel. We're a destination for the avid cook, discerning & curious traveler, lover & sharer of good things, both at home & while away. Australian based, but globally focused, our office dream about where we'll eat and what we'll consume long before that mealtime arrives. We love to know more and strive to be a source of information and inspiration for those who share an interest in exploring, eating and other associated delights.