Spicy Peanut Cabbage and Chard Salad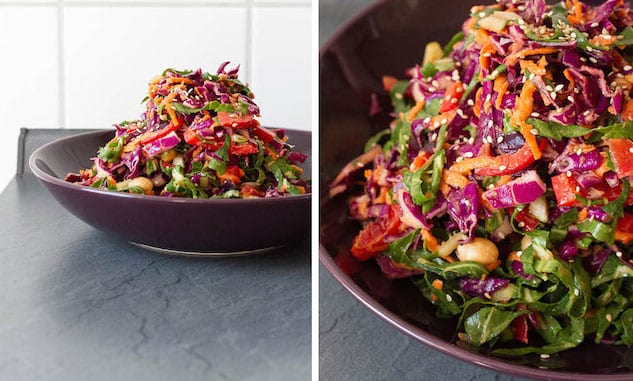 A Thai-inspired salad with a spicy, tangy dressing using ingredients already in your pantry. Easy peasy and great to toss with whatever vegetables you have on hand for a nice lunch. The chard greens add a nice spicy kick and the cabbage a good crunch, but any greens and vegetables will do.
By Katherine Sacks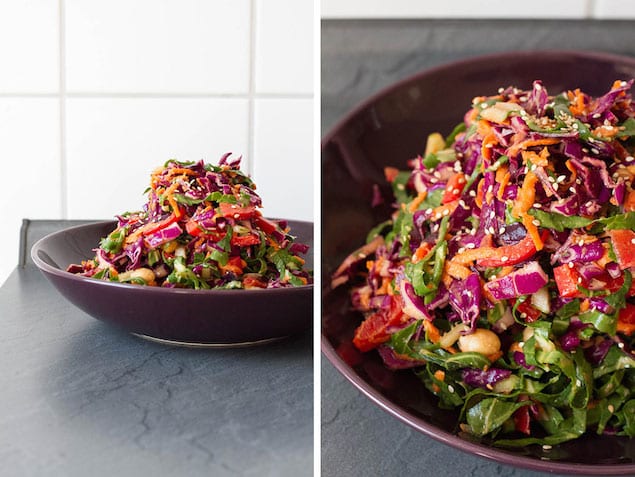 After all the rich foods we enjoyed during our summer of traveling, I needed a little refresh. So I cut back on the sugar this week and focused on vegetable-packed, nutritious meals. It's so wonderful to explore new cities and eat out at restaurants, but it also feels great to be back in the kitchen, cooking and enjoying our home.
Of course, wholesome doesn't have to mean boring. I was pleasantly surprised at how delicious this Thai-inspired salad turned out, with a spicy, tangy dressing I'm sure to use again and again. Simple to make, it's a combination of peanut butter, rice wine vinegar, sesame oil, soy sauce, and hot sauce, all things I already had in the pantry. Easy peasy and great to toss with whatever vegetables you have on hand for a nice lunch. The chard greens add a nice spicy kick, the cabbage a good crunch, but any greens and vegetables will do.

Spicy Peanut Cabbage and Chard Salad
A Thai-inspired salad with a spicy, tangy dressing using ingredients already in your pantry. Easy peasy and great to toss with crunchy cabbage and chard.
Ingredients
1½ tablespoons creamy peanut butter
1 tablespoon rice vinegar
Juice from ½ lime
2 teaspoons toasted sesame oil
1 teaspoon tamari or soy sauce
½ teaspoon hot sauce
½ teaspoon grated ginger
½ teaspoon finely chopped garlic
3 tablespoons water
½ cup thinly sliced purple cabbage
1 cup chopped Swiss chard greens
⅔ cup canned chickpeas
½ cup chopped red bell pepper
¼ cup shredded carrots
2 teaspoons sesame seeds
Instructions
In a bowl, whisk together the peanut butter, vinegar, lime juice, sesame oil, tamari, hot sauce, ginger, garlic, and water. Add the cabbage, kale, chickpeas, bell pepper, and carrots.
Toss to combine, then sprinkle sesame seeds on top.
Katherine Sacks
Katherine Sacks is a Berlin-based freelance writer and recipe developer specializing in travel, food, lifestyle, and health topics. A graduate of Drexel University's culinary arts department and Northwestern University's Medill School of Journalism, Katherine combines seven years of restaurant experience with her reporting and editing background. Her work has appeared in Chicago magazine, the Chicago-Sun Times, and FoodandWine.com, among other publications. She also contributes to culinary trade publication StarChefs.com, Forbes Travel Guide, and Snooth Eats, and blogs at LaVitaCucinare.com.