When you think of "new" Brooklyn– cool and hip and fun– Gowanus might not be the first place that comes to mind. Here is a plan that is sure to woo you.
By Amanda Marie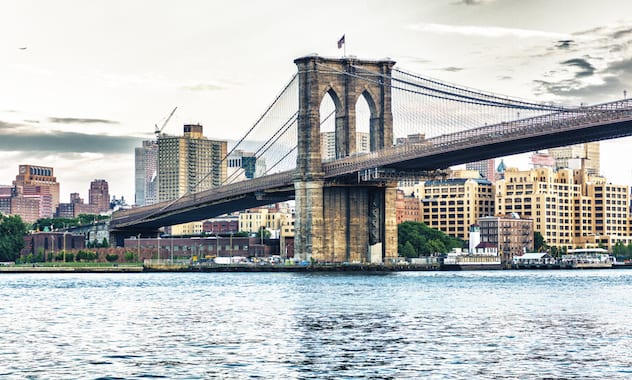 Shutterstock: dade72
When you think of "new" Brooklyn– cool and hip and fun– Gowanus might not be the first place that comes to mind. It might not even be the fourth or the fifth– but that's OK, because like an aged wine, Gowanus has ripened from an industry-heavy area to a haven of arts and artisans, vibes and value. There is SO much more to do there than you might imagine, and a lot of great kept secrets. Adventure on a Saturday? Here is a plan that will woo you over to Gowanus, too.
10 am
I'm a breakfast/bruncher all the way. The best wake-up food I've had in a while was at Four and Twenty Blackbirds, the cult-famous shop, nestled on an unassuming block, that's turning out some pretty perfect pies. While they're known for their salted caramel apple pie (hm, wonder why– oh yeah, it's awesome), a real contender is their stone fruit crumble, with an amazing oatmeal brown sugar crust. Start your day right.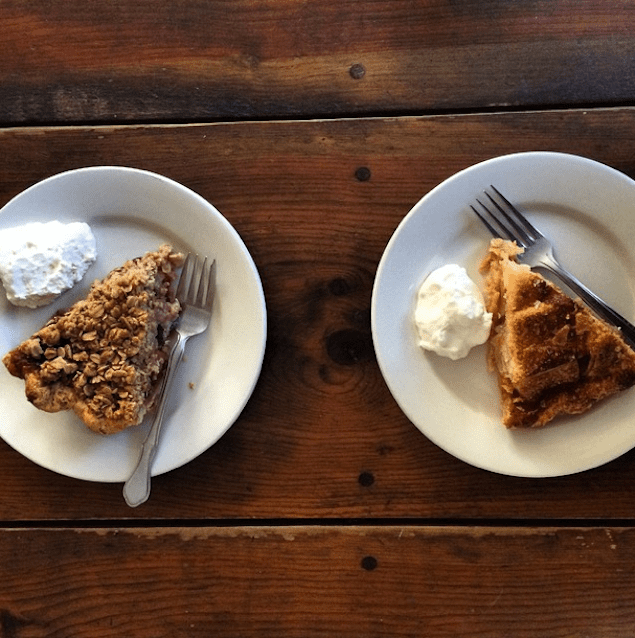 Now that you're on a sugar high, you might want to get yourself a little coffee. Head over to Crop to Cup for an awesome French press and a cool interior– they have the stools that every middle school art room used as seating (you know the ones I'm talking about; points for nostalgia). If you're not super full from your pie, get yourself one of the pastries locally made by Runner & Stone. What makes them so good? The head baker, Peter Endriss, has mad skills, and used to be head baker at Per Se and Bouchon Bakery. Go for an almond croissant and you will be happy as a clam.
Crop to Cup, Instagram via @jasond97214
12pm
I'm always looking for cool pieces of furniture or accessories for my apartment, and I have a secret love for antiquing– that's why I was on cloud 9 in Build It Green, a home store of salvaged and reclaimed furniture, building materials, and knick-knacks. Seriously, you can find anything here. If you're down to sift through stuff, this is the place for you– it's a thrift store meets museum meets magical place.
If you're feeling a little snacky for something that's not just bread and sugar, head over to the nearby year-old Table 87. Go for the pizza, and stay for the garlic and peppers. It's one of the few places where you can order coal-oven pizza by the slice (think crispy, crackly, charred crust with melty, perfect cheese and sauce). When you order, they bring you two jars filled with their oven roasted garlic and their spicy roasted peppers to top your pizza– these are game changers. But there is a lot of eating and adventuring to do Gowanus, and you probably don't want to eat a jar of garlic for many obvious reasons. But Table 87 is a semi-secret spot and a definite must-hit.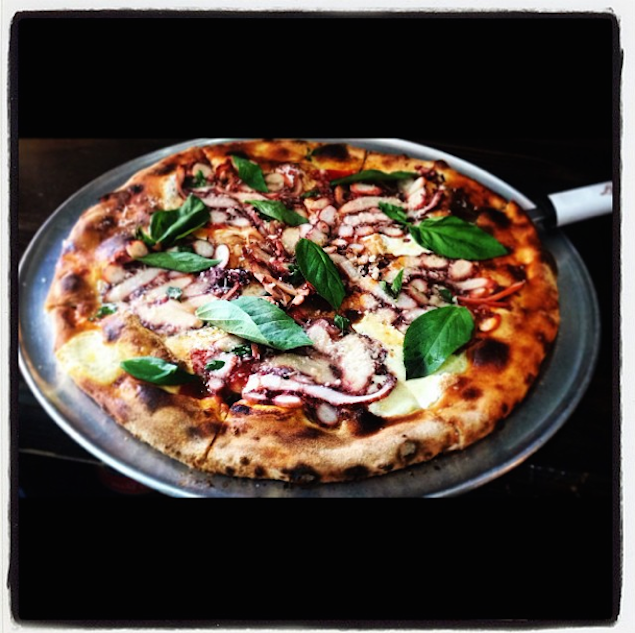 Instagram via @table87_coal_oven_pizza
4pm
All that food means you want to move, and there's no better way to move in Gowanus than the way the 85+ crowd does– with a little shuffleboard. Royal Palms Shuffleboard Club is an incredibly unique indoor shuffleboard court, designed to look like the coolest old folks home, but for young folks. You can grab one of 8 courts, a drink, and anything from the food truck bay while you shuffle a little. Definitely an experience, and definitely something that gets even more fun after you're a few umbrella drinks in. Retirement never felt so good.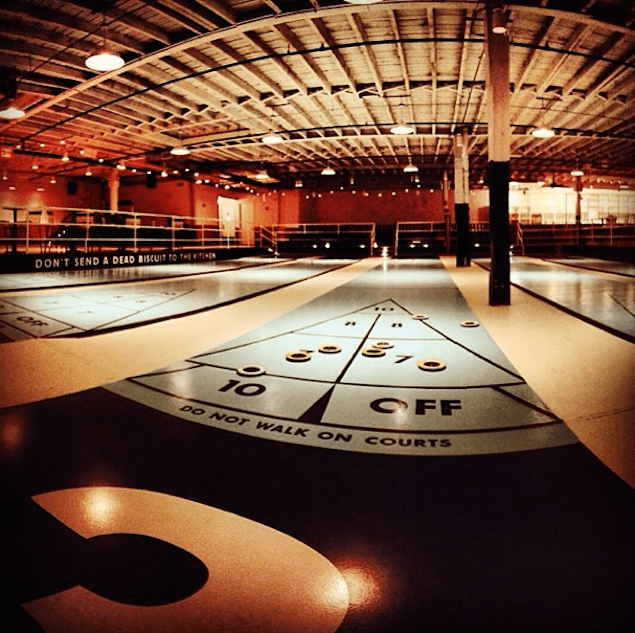 Instagram via @Royalpalms
6pm
Put your name in at Battersby, but be ready to wait for a little while. In the meantime, flip over to the nearby Clover Club to get some drinks. Their cocktails are phenomenal. What to order? Go for the Major Moses, which is apple brandy, rose, lemon, egg white, muddled blackberries, and angostura bitters. Or you could try the Nice Pear, which is pisco, pear brandy, velvet falernum, lemon, bitters, and moscato. Make your way back to Battersby, because it's worth it.
At Battersby, you can get a five course tasting menu, or order a la carte. After a day of eating, sharing some a la carte items is the perfect call. Try the spaghetti nero with uni, or the amazing tile fish with bacon in a smoked chowder broth. Battersby is a party in your mouth with inventive, good food, but maintains a cool and relaxed vibe (meaning, I could wear my converse there and it's all good).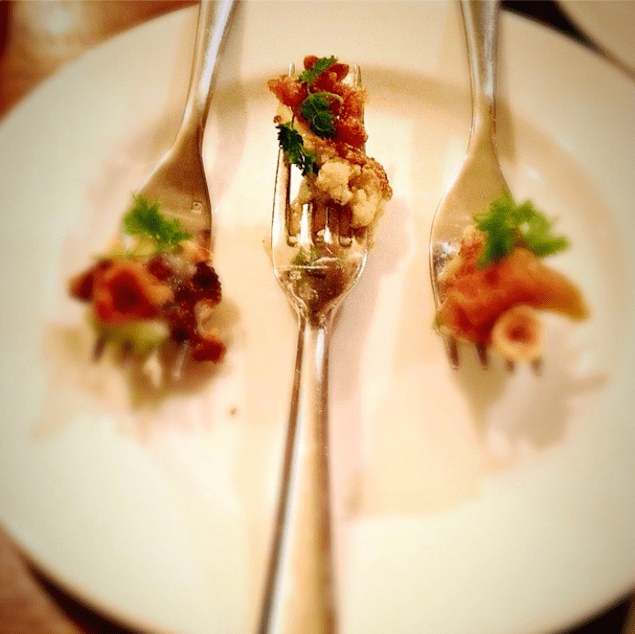 Instagram via @battersbybk
9pm
No better nightcap than a few scoops of Ample Hills Ice Cream. Go for ooey gooey butter cake– which is basically what it sounds like, but better, or snap, mallow, pop, which is the reverse of a rice krispie treat: marshmallow ice cream with crunchie krispies in it. Flavors are always changing, and that's because (as our scooper explained) they make everything in a room in the store, and they "kind of whip up whatever they're feeling like." Fresh, creamy, dreamy, awesome? Yes, yes, yes, and yes.
Instagram via @amplehills
So yes, you should go to Gowanus, and eat and shuffle your way through the area, and probably curb your sugar intake a few days before and after. It's. totally. worth. it.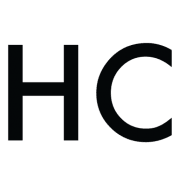 Amanda Marie
Amanda is a twenty-something living in downtown New York City. A lover of travel, design, adventure and food, she shares her unique take on city living through her blog, The Cool York.