Savory Italian Pie with Broccoli and Fontina Cheese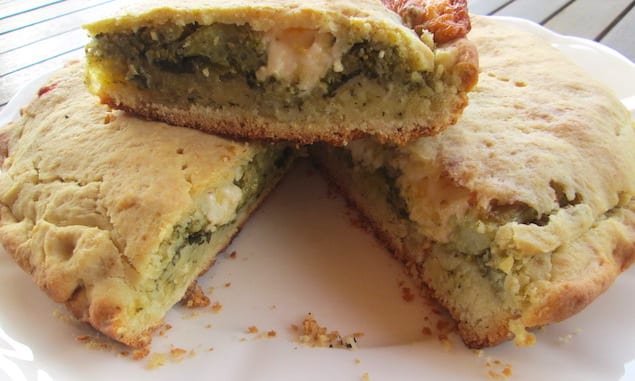 A savory vegetable pie nestled into a yeast-risen dough crust and topped with a Sicilian-style cheese.
By Veronica Lavenia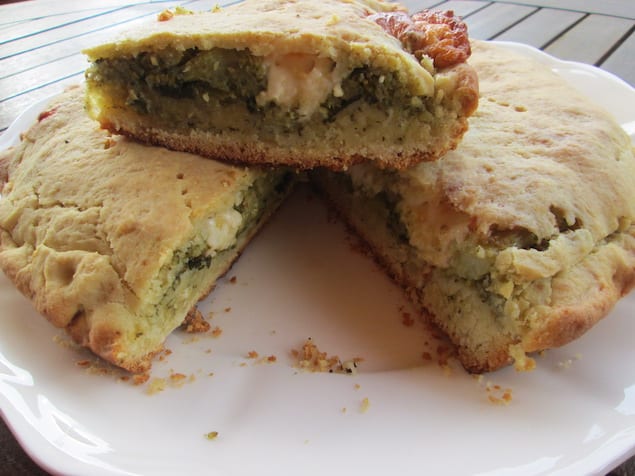 Pie with broccoli and cheese is a delicious dish to taste freshly baked but it is equally tasty to eat cold. Feel free to use also cauliflower, spinach, or other vegetables in season. A good soft cheese make the difference.

Savory Italian Pie with Broccoli and Fontina Cheese
A savory vegetable pie nestled into a yeast-risen dough crust and topped with a Sicilian-style cheese.
Ingredients
1 kg (2 pounds-4 ounces ) broccoli
500 g (1 Ib/2 oz) Kamut flour
4 teaspoon organic yeast
warm water to taste
salt to taste
8 tablespoons extra virgin olive oil
white pepper to taste
350 g (12 oz) "Tuma" Sicilian cheese (or Fontina cheese)
Instructions
Mix the yeast with the flour. Add warm water to taste, salt, oil and form a firm but soft dough. Let rise the mixture for 2-3 hours. Roll out the dough on an oiled baking pan.
Wash and cut the broccoli and cook steam.
In a saucepan, pour 3 tablespoons of extra virgin olive oil, broccoli, salt and white pepper to taste Mix the ingredients together until brown the vegetables.
Pour the seasoned vegetables in the pan where you have placed the dough.
Season with "Tuma" Sicilian cheese or other high quality soft or semi soft cheese.
Bake at 180°C (350° F/gas 4) for 50 minutes.
Veronica Lavenia
Veronica is a born and raised Italian. She inherited her love for travel, passion for cooking and natural, sustainable, healthy slow food from her parents. Her works have appeared in 'Vegetarian Living', 'Veggie Magazine', 'Lifestyle food', 'Australian Good Food & Travel Guide', 'Chickpea' and 'Free from Heaven', among others. She is the author of "Panini: the simple tastes of Italian style bread"; 'The Rustic Italian bakery", "The Vegetarian Italian Kitchen" and "A Modern Italian table", published by New Holland Publishers Australia.