Making tamales at home is easier than you may think. Plus, this recipe shows you how to easily make them using the slow-cooker.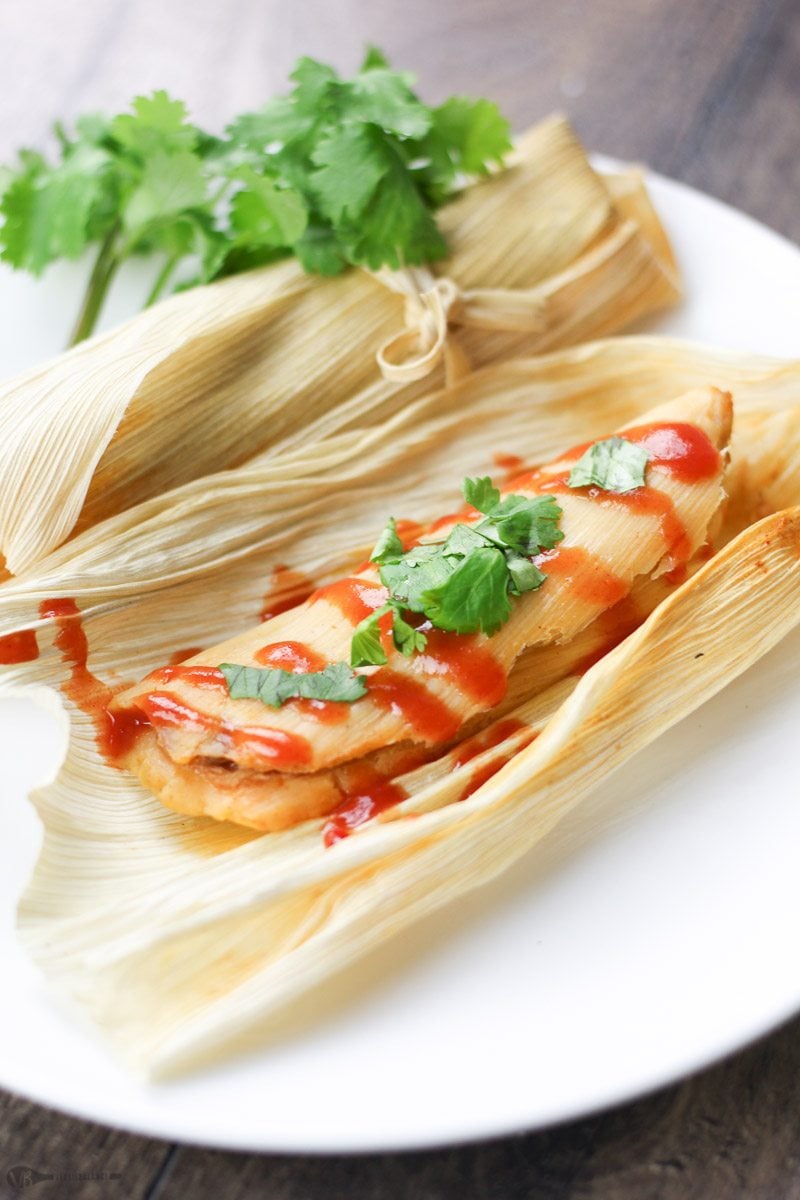 Have you had tamales before? No? YOU HAVE TO TRY THEM.
I married into a Mexican family. This was a culture shock–Mexican food for the holidays? Say what, like, is this a real thing?
My love for Mexican food is nothing short of an obsession. I never can get enough of it.
Which many have judged my Mexican Lasagna is not Mexican food. Well, I know that, you are correct my Debbie downers but you have to try it anyways! It's a fusion of Mexican and American cuisine, which… welcome to my house. These tamales have a similar fusion.
The first year I tried these, I'm not sure why, but I wasn't impressed. Probably because I ate them plain, without my old love, taco sauce. Once I tried tamales with taco sauce, I WAS HOOKED.
Now, I cannot get enough of tamales, and now I understand what R's family was always swooning over.
Let me start with this: After our grandmother passed away, it seemed only fitting to carry on the tradition and keep making tamales. The first year, we had zero clue what we were doing, but we adapted, changed things, fused things and now we make tamales our way.
We've found methods to make it easier (To be honest, this is an extreme task to take on) and have learned a couple tricks along the way.
To give you fair warning, this is a lengthy post.
(SEE BELOW FOR SOME MUST-HAVE ITEMS FOR MAKING PORK TAMALES)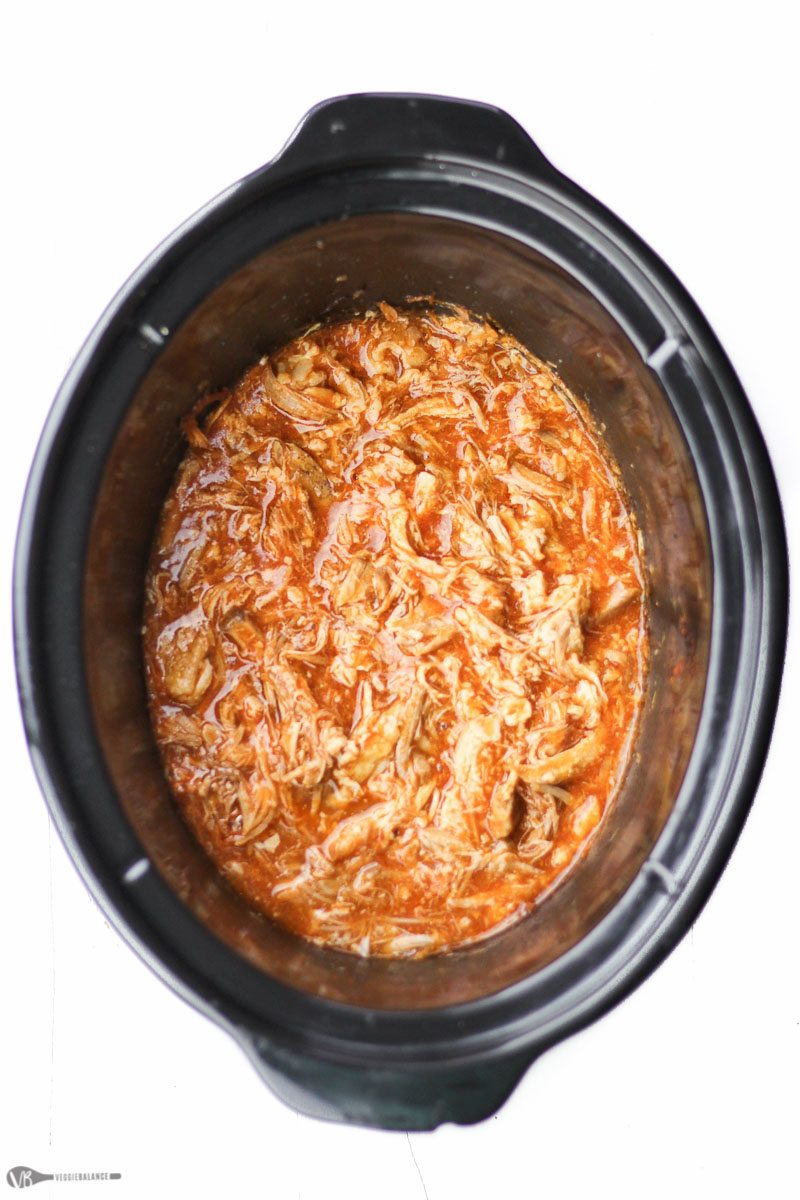 You know how much I love the crockpot? Well, of course, it's only natural to bring the crockpot into this easy pork tamale recipe. I love to slow-cook pork shoulder or pork butt (fat trimmed off) in some heavenly juice combinations of enchilada and taco sauce.
TIP: Best to make the slow-cooked, shredded pork the night before. One step out of the way.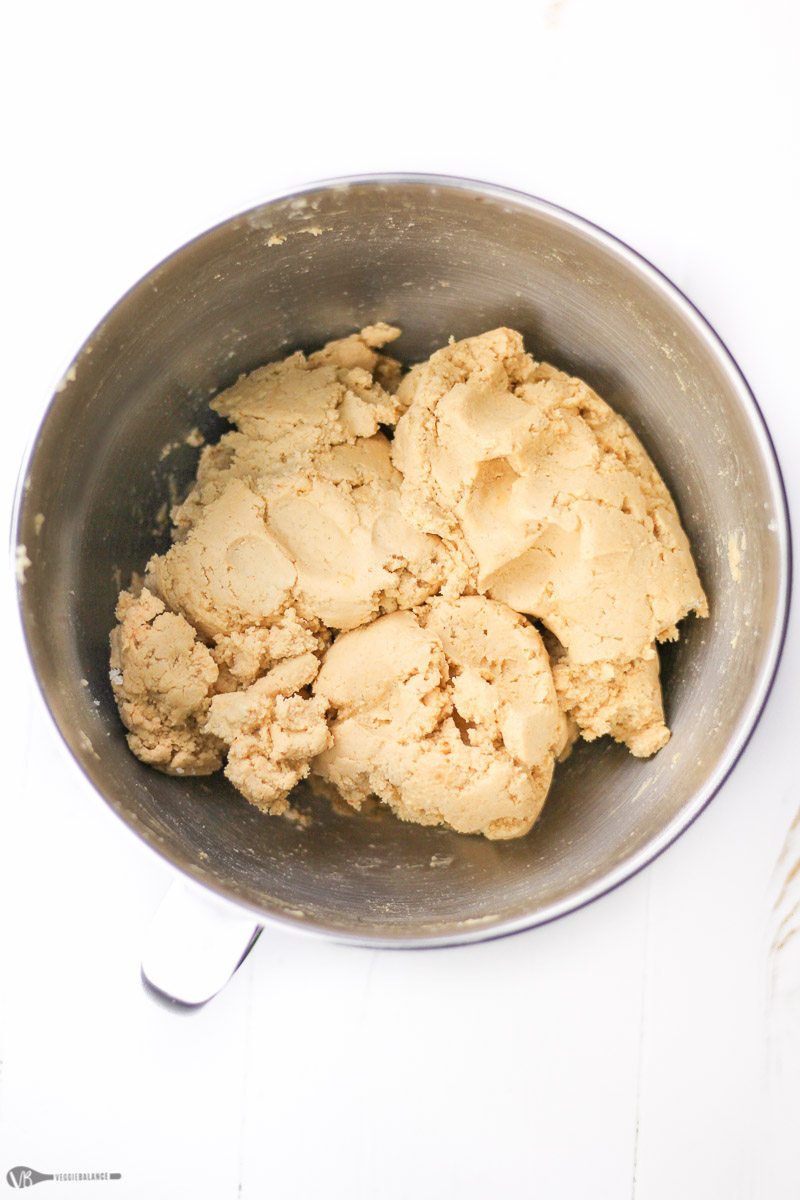 It starts with the masa (corn flour) combined with a few other ingredients: lard, beef stock, enchilada sauce, and salt.
We've made this without our stand mixer before. Let me tell you, the stand mixer is your best friend for this step. Years before we had to tag team to mix the masa until it was the right consistency.
Our arms and fingers were exhausted. It is possible to do this step without the stand mixer, but expect to have sore forearms the next day. // Oh well, who cares? You have tamales!
TIP: You want the masa to almost mimic the consistency of hummus; make it just a little firmer than hummus.
While working on the masa, prepare the corn husks. Place them in a large stock pot. Cover with hot water and let soak for at least 30 minutes.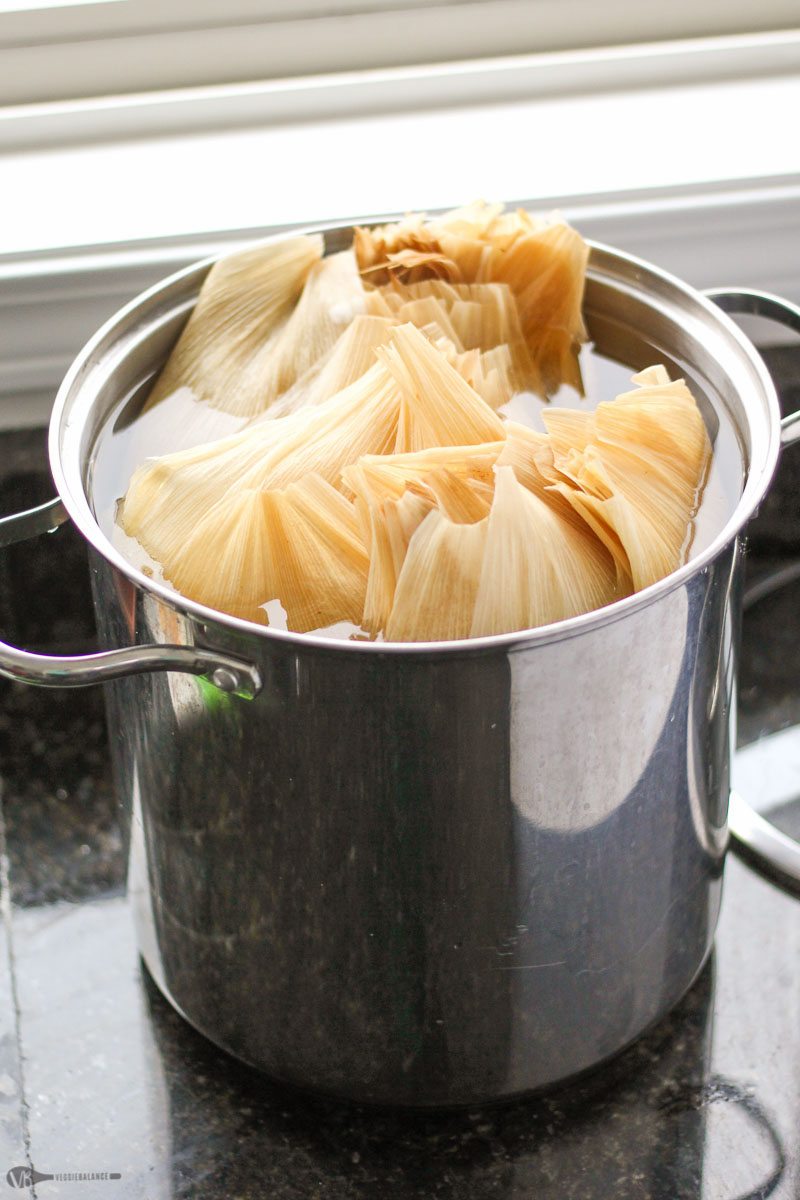 See Also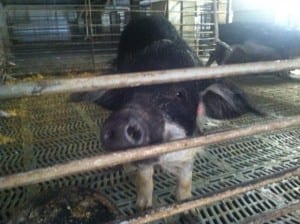 Must Have Items for Making Homemade Pork Tamales
Large Stock Pot with Steamer Insert
Cooking Twine
Stand-Mixer with dough hook (Your arm muscles and fingers will thank you)
Slow-Cooker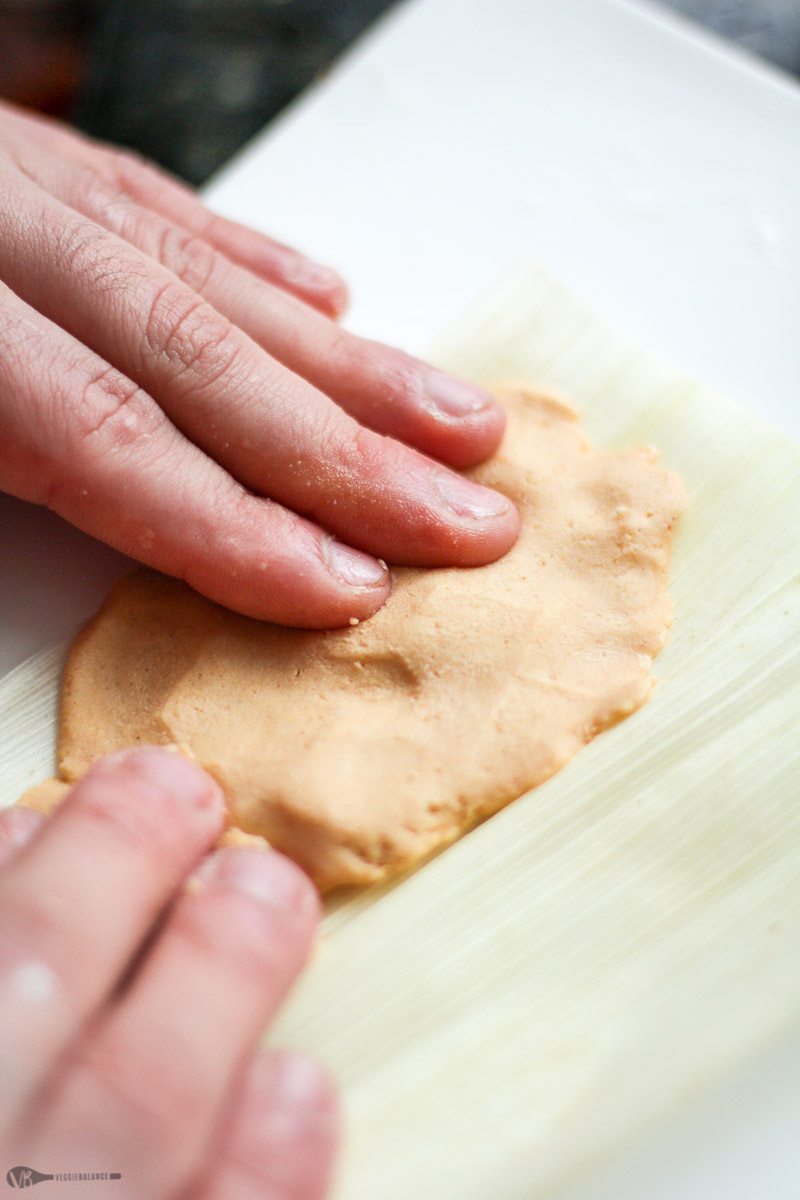 Once the masa has chilled for about 30 minutes, place about 2 Tablespoons of masa onto a flattened corn husk, and push until it is a round disk like circle. Then place about 1-2 Tablespoon of pork into the center of the masa, and fold the corn husk in half (sealing the pork inside the masa). Then fold one end of the corn husk inward, and continue to roll until the husk is firmly wrapped around.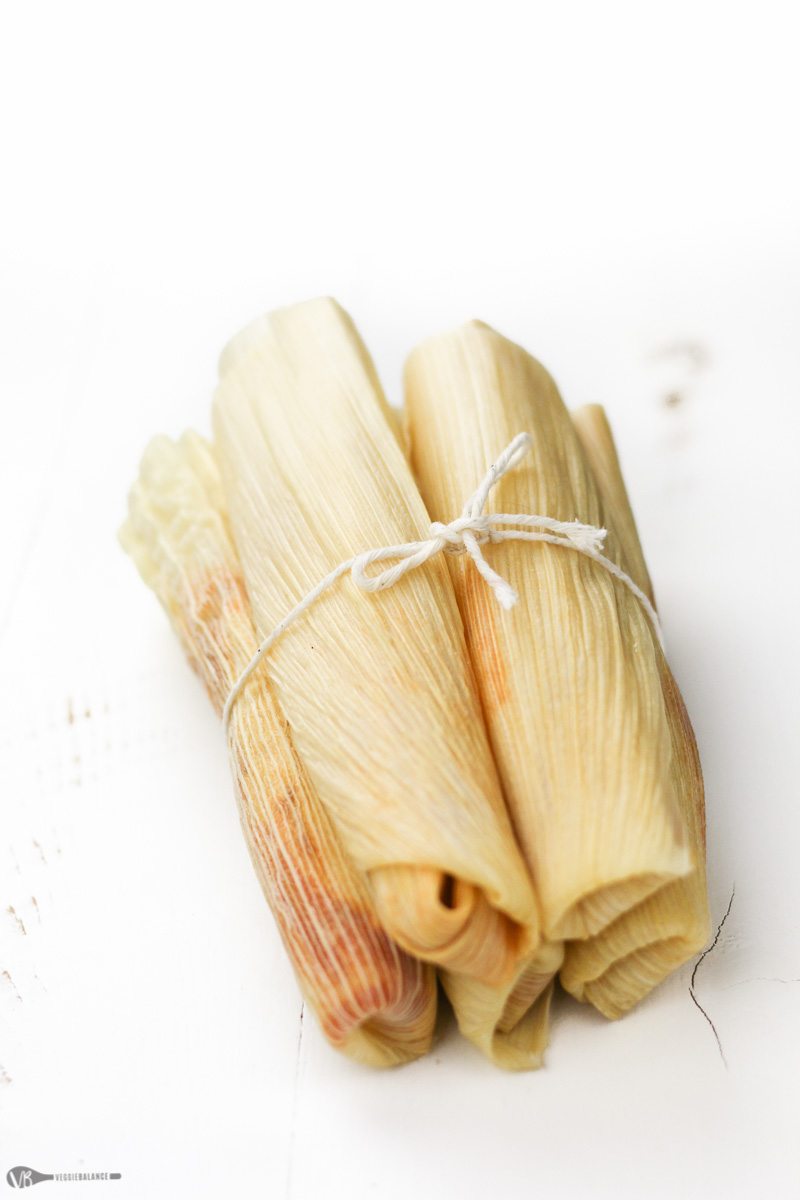 There are different ways to wrap these, but we've found this method works best and easiest.
We then use the cooking twine to wrap the tamales in batches of five, making sure ALL the tucked in corn husks are at the bottom. Like so: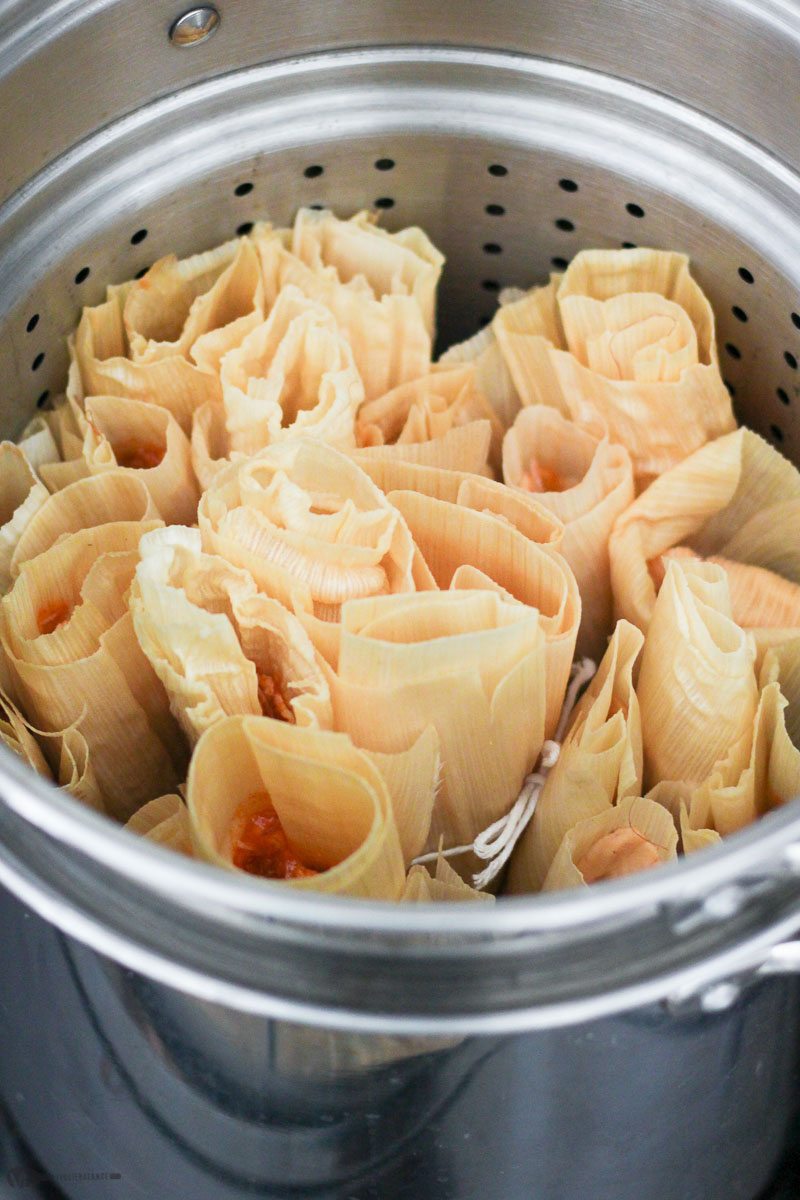 We then place all tamale bundles into the steamer, again, bottoms down. And steam those babies.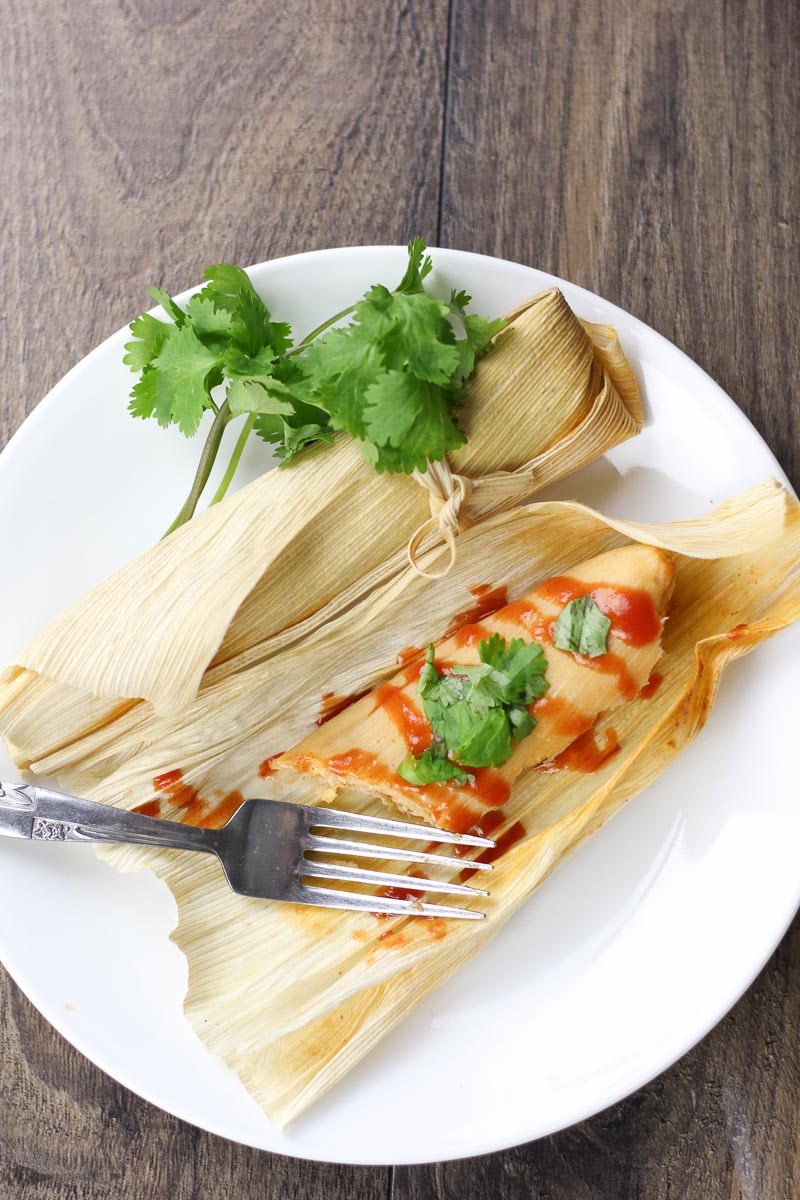 And there you have it! Easy Mexican Pork Tamales. Get in my belly!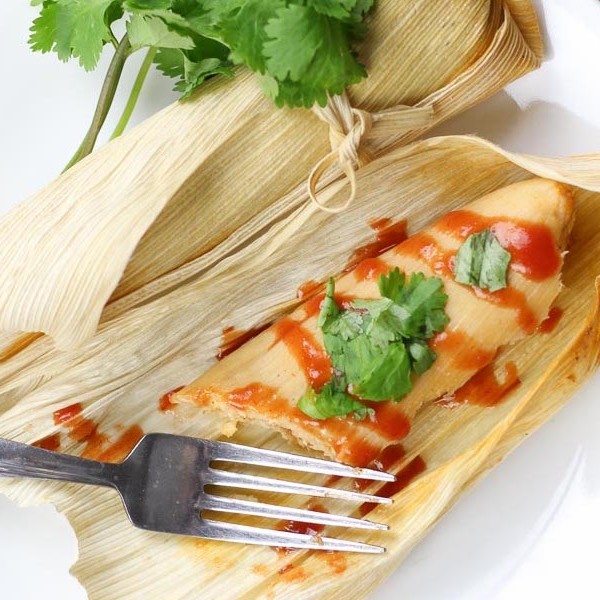 Lindsay Garza
Ingredients
Meat
2

pounds

boneless pork butt

fat trimmed

2

garlic cloves

minced

Large pinch salt & pepper

Water to cover the meat

1/2

cup

enchilada sauce

1/2

cup

taco sauce
Masa
1

pound

of masa

1/2

cup

melted lard

1/2

cup

enchilada sauce

1/4

cup

taco sauce

1

Tablespoon

salt

1/2

Tablespoon

baking powder

1/2

cup

meat broth

*SEE NOTES
Instructions
Meat
In a slow cooker add pork butt, garlic, salt, pepper and water. Cook on low 5 hours or High 2.5 hours or until meat easily falls apart. Drain extra liquid out and save meat broth in separate container for masa. Shred pork with a fork.

Stir in enchilada sauce and taco sauce. Set aside.
Masa
In stand mixer with dough hook (or very large bowl), add masa, melted lard, enchilada sauce, taco sauce, salt, baking powder and meat broth. Slowly add more meat broth until you get a just slightly thicker consistency to hummus. Set bowl in the fridge covered for 30 minutes.
Corn Husks
Separate corn husks and soak in warm water in a large container for at least 30 minutes.
Making the tamale
Spread a thin layer of masa onto corn husk, fill with 1-2 Tablespoons of meat. Fold each side of the corn husk over the meat mixture. Fold in the tail portion to cover the seam. Place seam side down on the cookie sheet and you continue until all meat and masa is used to make the rest of the tamales.

Tie tamales with cooking twine into batches of five.

Use a 5 gallon pot with a lid and steamer insert. Pour remaining meat broth (or chicken broth) in pot just enough to set below the steam insert. Place tamale batches bottom/seam side down. Cover and bring to a boil. Reduce the heat to medium low and steam for one hour.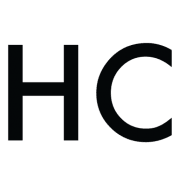 Lindsay Garza
Lindsay Garza is the personality behind the gluten-free website VeggieBalance.com, and author of Gluten-Free Party Food cookbook. On her site you will find simple, all-natural, gluten-free recipes that everyone will enjoy.