Coated in corn flakes and baked until crispy, this easy version of the take-out classic is then tossed in a not-too-sweet sauce with red chilies.
By Caroline Phelps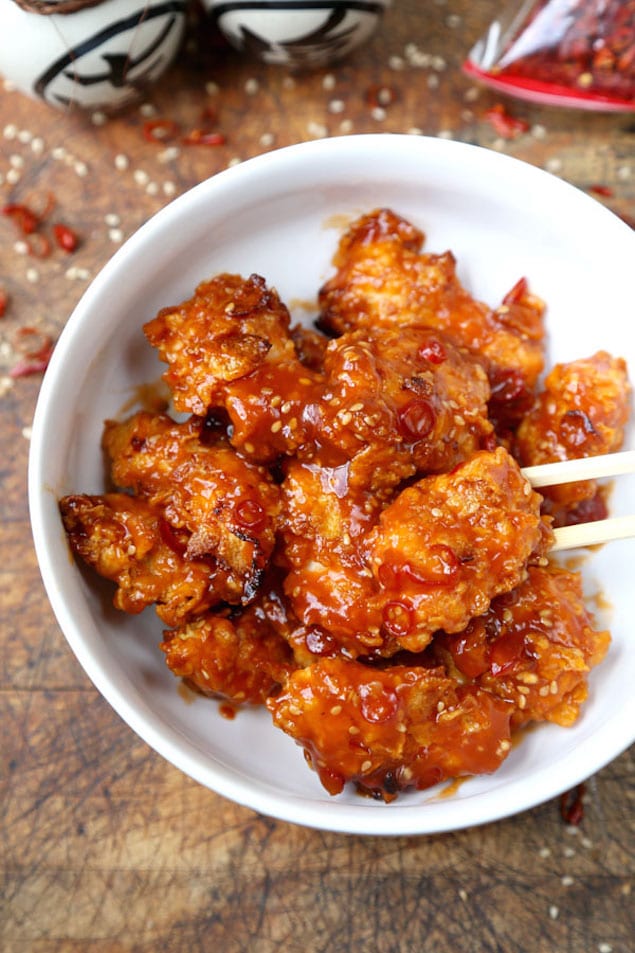 Netflix is one of the ways we entertain ourselves and a few nights ago we came across this funny and very interesting documentary on general Tso's chicken! If you'd like to see it, it's called The search for general Tso and it's about finding the origins of general Tso's chicken. It also talks about the history of Chinese food in America and the struggles Chinese immigrants had to live through in order to survive and eventually thrive in this country. Very interesting doc!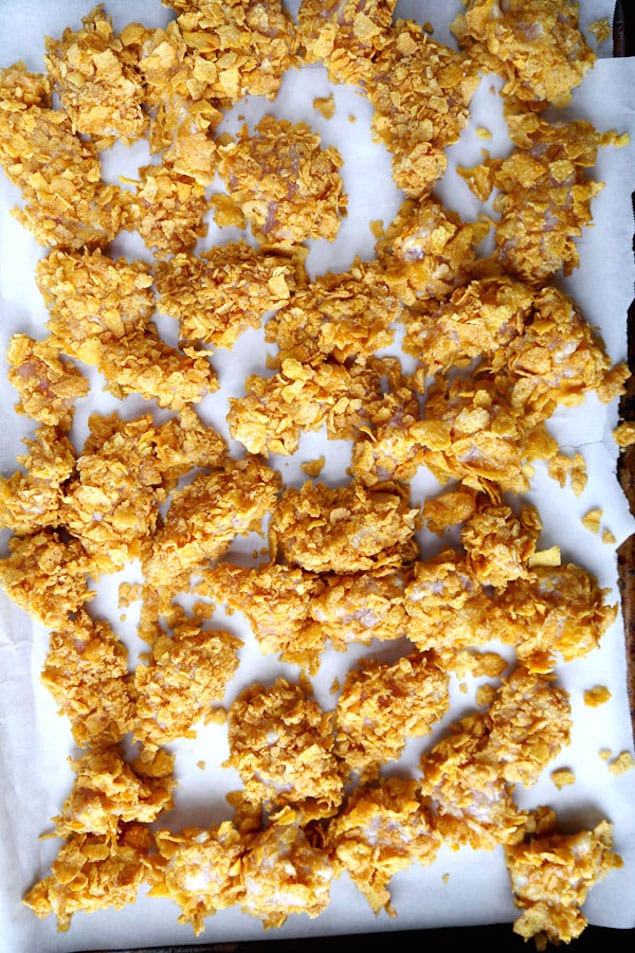 Once I finished watching the documentary I wasn't only craving a big plate of general Tso's chicken but I suddenly wanted to see if I could make it in my own kitchen – a healthier version of it. Baked general Tso chicken recipe.
I knew I didn't want my own general Tso chicken recipe to be too sweet. I don't like much sweetness unless it's in a dessert. And since general Tso's chicken hails from Taipei by Hunan Province-born chef Peng, it only seemed right to create something with a little heat (Hunan province is known for its hot and spicy flavors). And while I still kept the dish somewhat sweet, I focused more on its savory and tangy side.
See Also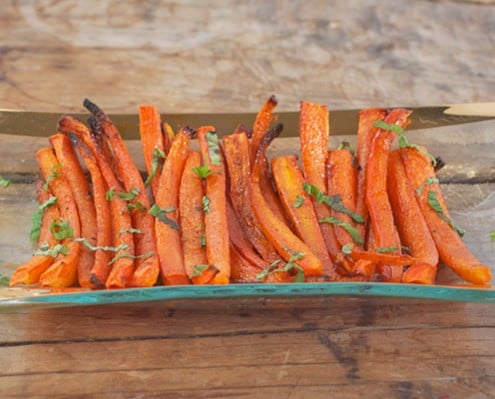 For this baked chicken Tso recipe I used crushed corn flakes to give the chicken a crispy, breading-like texture. It's a technique I've seen used a lot lately that I wanted to try. No frying is needed and the chicken is instead baked in the oven for about 15 minutes. The result is pretty amazing: crispy and juicy chicken bites just like you would get if you deep fried them! I had to remind myself every time I thought I was eating fried chicken that these were baked chicken pieces. Not fried – baked!
The chicken is then tossed in sauce and served. Serve this general Tso chicken recipe with a bowl of rice, a quick and healthy Japanese cabbage salad, some pickled watermelon rinds and spicy egg drop soup.

Easy Baked General Tso Chicken
Coated in corn flakes and baked until crispy, this easy version of the take-out classic is then tossed in a not-too-sweet sauce with red chilies.
Ingredients
1 pound boneless, skinless chicken breasts, cut into 2-inch chunks
¼ cup all-purpose flour
2 large egg, beaten
2 cups crushed Corn Flakes
For the sauce:
¾ cup chicken broth
½ tbsp tomato paste
2 tbsp soy sauce
1 tbsp hoisin sauce
1½ tsp sriracha sauce
3 tbsp rice vinegar
1½ tbsp granulated sugar
2 tbsp corn starch mixed with 2 tbsp water
Optional:
1 tsp sesame oil
dried red chili flakes
sesame seeds
Instructions
Move one of the oven racks to the upper-middle part and preheat oven to 450ºF.
Cover a large cooking tray with parchment paper.
Place three large bowls one next to another and fill the first one with flour, the second with eggs and the last one with crushed corn flakes.
Dip each piece of chicken in flour and egg and cover with crushed cornflakes, while gently pressing to coat. Place on cooking tray.
Bake in the oven for about 13 minutes, until chicken is cooked through and cornflakes are golden brown.
Meanwhile put all the ingredients for the sauce- except for cornstarch - in a medium size pot and bring to a gentle boil. Give the cornstarch and water a quick stir and slow add to the sauce while stirring. Cook for a minute until sauce thickens and turn the heat off.
Take chicken out of the oven and transfer to a large pan. Turn the heat on to low and pour sauce over the chicken, coating each piece evenly while tossing. *If you are adding sesame seeds, sesame oil and dried red chilies, this is the time to add them.
Turn the heat off, transfer to a plate and serve immediately.
Caroline Phelps
I live in Brooklyn with my husband and adorable orange cat but I'm originally from Montreal, Canada. I'm of mixed heritage; my mother is Japanese and father French Canadian. I started a food blog back in 2010 as a way to keep track of all the recipes I was creating in my kitchen. Since then my recipes have been featured in Bon Appetit, Today, The Cooking Channel, The Kitch and Huffpost to name a few. Blogging is a lot of work but I love what I do. I now have over 350 recipes and I am also growing my YouTube channel with video recipes.