Burgers and hot dogs have gone gourmet and now it's time for the sandwich to have its moment. Check out a London eatery serving mouth-watering, ethically minded sandwiches.
By Valentina Mariani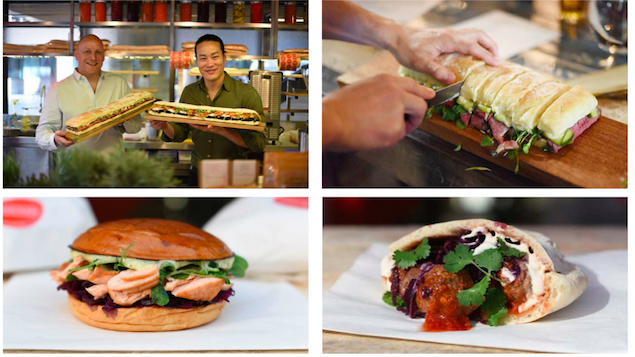 Size matters!
For this reason, Street Kitchen is now open in Broadgate Circle for gourmet "by-the-inch".
The concept – "Restaurant know-how lovingly crammed between two slices of bread" Londoners can now duck in for ethically sourced sandwiches served 'by the inch' with a range of delectable fillings from rare roast beef with caramelized onions and horseradish to lobster rolls with shellfish mayo and salt beef on rye. A must try is their coffee; the baristas are serving up artisan coffee using beans roasted by Allpress.

Grab a salt beef sandwich or hot smoked salmon brioche with your local artisan beer, cocktail or glass of bubbly.
Gourmet burgers. Buttermilk-fried chicken. And posh 'dogs. They've all had their turn. And now it's the turn of sustainable gourmet sandwiches thanks to Street Kitchen at Broadgate Circle, the first permanent shop from street food stalwarts Mark Jankel (The Food Initiative*) and Jun Tanaka (formerly of Pearl). Open for lunch and dinner (7am-9pm) Monday through Friday, everything from the ingredients to the interiors at Street Kitchen is in-line with Street Kitchen's ecologically-sound ethos, enabling the chefs to offer what they call 'slow food, fast' – an entirely new proposition on London's grab-and-go dining scene.
GOURMET ON-THE-GO: The shop – offering the same brand of natural and organic food that Street Kitchen has been serving to Londoners for the last three years – specialists in signature 24-inch sandwiches (£4-7) served 'by-the-inch' and measured against bespoke boards inlaid with vintage yardsticks for quirky 'cut-to-size' ordering.
Made using a selection of beautiful breads sourced from specialist bakers across the capital – focaccia, pitta, challah, rye, brioche – fillings include charred organic broccoli with free-range eggs, smoky mustard mayo, pickled red onions and Old Winchester cheese; and rare roast beef with caramelized onions, watercress, pickled cucumber and horseradish.
Also available throughout the day are hot sandwiches such as roast chicken with tarragon mayo, smoked salmon with pickled red cabbage and lamb meatballs with tomato compote and spiced yoghurt. Two hot- to-trot specials – salt beef and lobster rolls – are exclusive to the evenings and pair perfectly with a cool collection of locally-brewed craft beers from the likes of Camden Town Brewery and London Fields Brewery as well as a tight edit of sprightly English sparklings.
The perfect after-work wind-down.
Accompanying the sandwiches is a range of light and healthy, farm-to-fork salad boxes – both large and small (£3; £5) – packed with seasonal British ingredients such as home-smoked salmon with sweet pickled vegetables and dill dressing; spiced aubergine with hummus, roast cauliflower and pomegranate; beef and broccoli with pickled carrot and soy and sesame dressing; and goats' cheese with sweet red onion, butternut squash and marjoram. Low in calories, they are ideal for those watching their waistlines as we hurtle headfirst into summer.
Founded by chef Mark Jankel, The Food Initiative supports sustainable farming practices and Street Kitchen was set up as a pilot for the ethos. A collaboration with chef Jun Tanaka, formerly executive chef at Pearl Restaurant & Bar, Street Kitchen now has four sites including The Hatch in Battersea open for weekday lunch and a Friday night 'burger session'; two Airstream kitchens in Devonshire Square and Broadgate Circle open for weekday coffee, breakfast and lunch; and a permanent shop in Broadgate Circle open for weekday coffee, breakfast, lunch and dinner.
Street Kitchen
42 Broadgate Circle,
EC2M 2QS
www.streetkitchen.co.uk
@streetkitchen
#BroadgateCircle facebook.com/streetkitchenuk