PARTNER POST – Get inspired with creatively crafted Castello Blue Cheese as we celebrate a Summer of Blue with #BluesdayTuesday.
Summer vegetables are grilled and served on a flatbread crust that is also grilled along with a creamy blue cheese.
By Denise Browning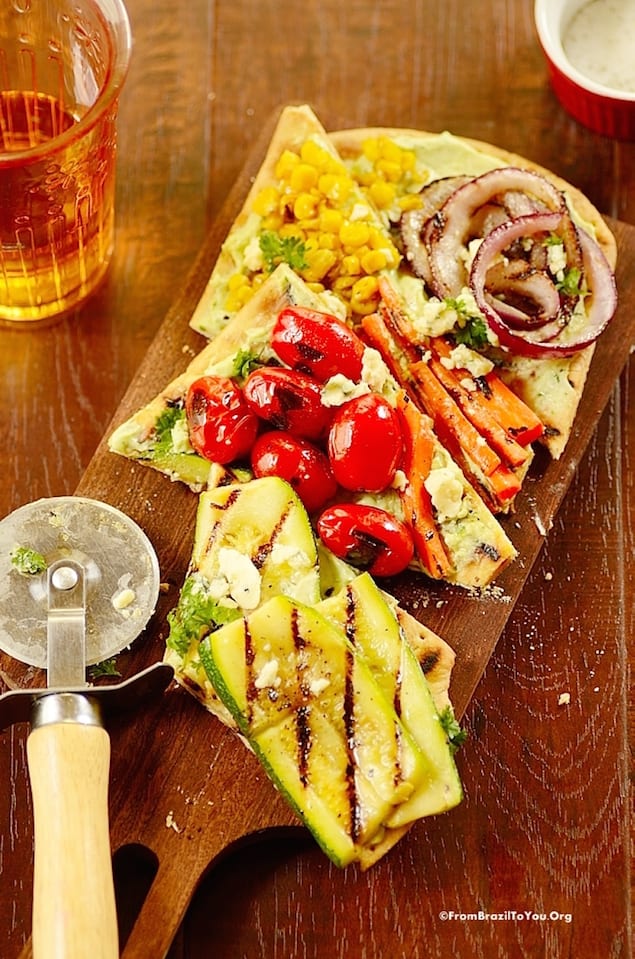 Summer is the best excuse for me and you to prepare all kinds of grilled goodies, including this Grilled Vegetable and Blue Cheese Pizza. After all, what could be better than a grilled pizza crust and vegetables topped with blue cheese for a delicious summer lunch or dinner?
Let me tell you that our grilled vegetable pizza couldn't be any easier to prepare… All you have to do is to grill a store-bought flatbread, such as pita, along with assorted, sliced vegetables such as zucchini, carrots, corn, onions and tomatoes.  Next, top the grilled pizza with our quick blue cheese spread and the grilled vegetables, and then crown it with crumbled blue cheese.  And the result?  A real stunner, both visually and taste wise.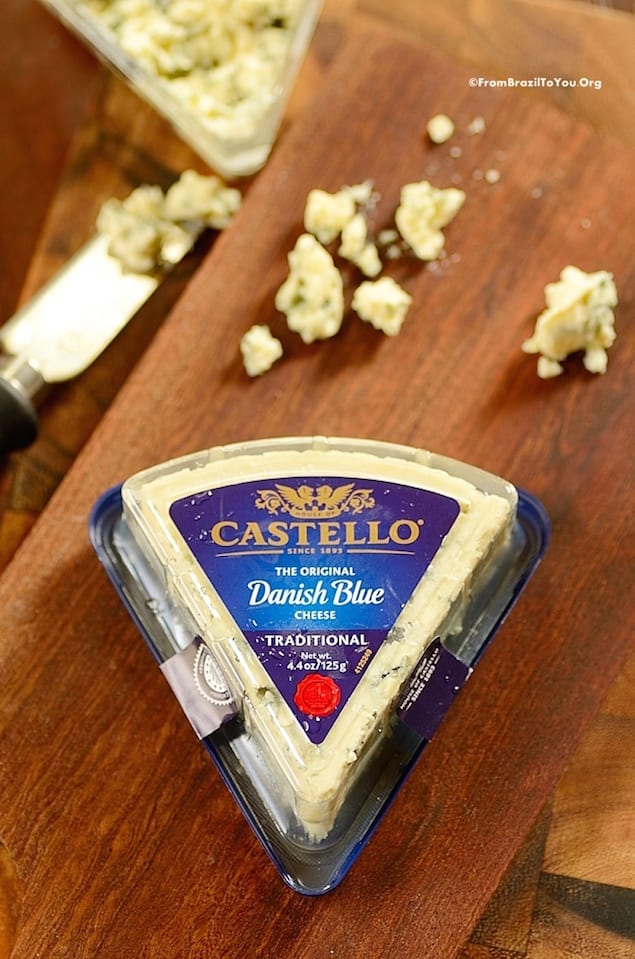 When I say cheese, I am not talking about just any cheese, but an absolutely family favorite–Castello Traditional Danish Blue… A fine, nutty, blue mould aroma with hints of marzipan and the bitterness of sourdough.
In case you didn't know, Castello  Blue Cheeses are epicurean delights. The tangy characteristics are balanced with delicious sweet and salty flavors that are ideal for topping a grilled burger or bringing a complex flavor to summer vegetables.  From crumbly, soft, and spreadable blue cheeses, to a sliced variety with floral notes that is perfect for melting, Castello has a wide range of unique blue cheeses.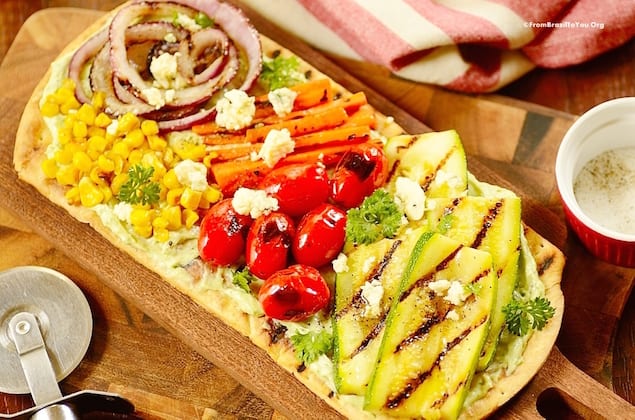 Castello Summer of Blue — Grilled Vegetable and Blue Cheese Pizza Flatbread
Summer vegetables are grilled and served on a flatbread crust that is also grilled along with a creamy blue cheese.
Ingredients
For the pizza and vegetables:
1 ear of corn, covered in water for about ½ hour and then husks and silk removed
¼ red onion, peeled and sliced into ⅓ inch rings
1 large carrot, peeled, ends cut-off, sliced lengthwise and then cut into sticks
1 zucchini, washed, ends cut-off, and sliced lengthwise
10-12 grape tomatoes, washed and stem removed
Olive oil to brush
2 large pita breads
Salt and freshly ground pepper, to taste
Crumbled Castello® Traditional Danish Blue to sprinkle on top
For the cheese spread:
4 oz Castello® Traditional Danish Blue, softened or at room temperature
4 oz (1/2 package) cream cheese, softened or at room temperature
1 teaspoon olive oil
2 Tablespoons roughly chopped cilantro or parsley
2 Tablespoons roughly chopped green onion or chives
1 clove of garlic, minced (optional)
Instructions
Start by preparing the cheese spread. Place all of the cheese spread ingredients in a food processor, pulsing well until mixture is homogeneous and fairly smooth. Transfer to a small bowl, cover, and refrigerate. Bring it to room temperature 5-10 minutes prior to spreading on pizza.
Then, grill the vegetables. Brush all vegetables with oil. If using a gas or charcoal grill, place brushed vegetables on a grill rack over medium-low heat. If using a griddle like I did, heat griddle over large burner on medium to medium-low heat, brush its surface with oil as well, and then grill vegetables. Times varies from one vegetable to the other. For corn, grill for about 15-20 minutes (grill) or 8-10 minutes (griddle), or until cooked and grill marks appear; cut corn kernels off the cob. For red onions, about 3 minutes per side. For carrots, about 2-3 minutes per side. For zucchini, about 2 minutes per side or until grill marks appear. For grape tomatoes, which can be skewered or not, approximately 1-1/2 to 2 minutes per side, or just until grilled marks appear. Of course, you can replace any of these vegetables, customizing according to your preference. Place all grilled vegetables in a platter and cover.
Finally, brush pitas with oil on both sides and grill for about 1-2 minutes per side or just until warm and grill marks appear.
To assemble the grilled vegetable pizza: Lay both grilled breads on a surface, spread cheese spread on both, arrange grilled vegetables on top, sprinkle salt and pepper, drizzle on a bit of olive oil if desired, and then place a bit of the blue cheese crumbs on top. Enjoy!
Notes
Notes: Although I think this grilled vegetable pizza doesn't need anything else, you are welcome to add grilled pieces of meat to it as well as any other vegetable that you wish.
Castello® Traditional Danish Blue is available at several local supermarkets and also major chains.
Denise Browning
Denise Browning is a native Brazilian foodie, trained Chef, cooking instructor, restaurant menu/recipe developer, and former lawyer. She is also the author of From Brazil To You - a blog that features Brazilian, fusion, and international dish recipes, stories, and photography of Brazil. Her writing has appeared in Cia Brasil Magazine, while her photography is frequently featured on Foodgawker, TasteSpotting, and Foodepix. She lives in Texas with her American husband and two children.