Flavorful tofu with peanut sauce and crunchy, raw vegetables makes for a filling roll that is cool enough for a hot summer day.
By Vicki Brett Gach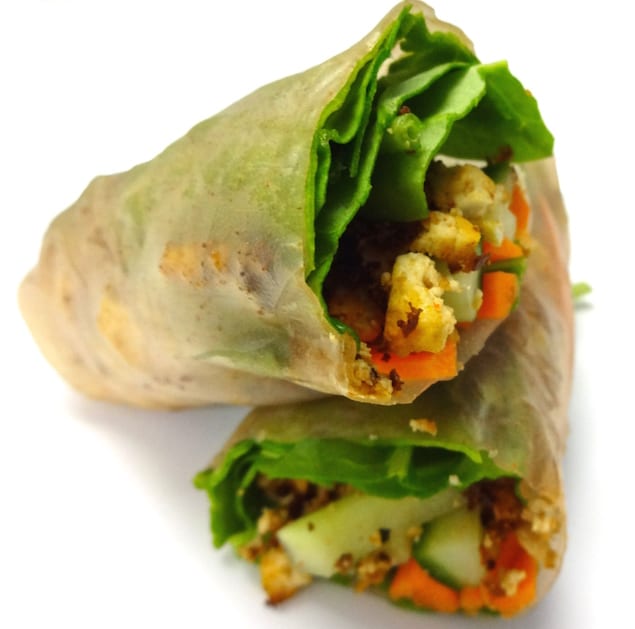 You may already be a fan of spring rolls, in which case you'll understand my great enthusiasm for these. But if you aren't familiar, you're going to thank me once you try them.
Unlike fried spring rolls or egg rolls, summer rolls are generally made with fresh ingredients, and served at room temperature.
The easy assembly starts with rice spring roll wrappers, dipped briefly in water, then laid flat on a plate. The wrappers are covered with all of your wonderful fresh ingredients, neatly rolled, and served immediately.
This is a great recipe to make on a hot summer day by leaving the vegetables raw.

Spicy Tofu Spring Rolls
Flavorful tofu with peanut sauce and crunchy, raw vegetables makes for a filling spring roll that is cool enough for a hot summer day.
Ingredients
2 brown rice spring roll wrappers
⅔ cup fresh spinach leaves or other salad greens
1 medium carrot, trimmed, peeled, cut into matchsticks
2-inch wedge of English cucumber, cut into matchsticks
½ cup Spicy Peanut Tofu (see recipe below)
Spicy Peanut Tofu
1 package extra firm tofu, crumbled
¼ cup Bragg's Liquid Aminos (or soy sauce)
¼ cup Cholula Hot Sauce (or equivalent, to taste)
2 tablespoons natural peanut butter
1 tablespoon balsamic vinegar
Instructions
Follow package directions to prepare rice paper wrap, carefully holding (one at a time) under a running faucet to get wet, then placing it on a plate. Working quickly, place spinach leaves evenly over the top, leaving a border of an inch for wrapping.
Add other vegetables in a line across the center. Top with Spicy Peanut Tofu.
Gently roll tightly from one side to the other, carefully tucking in the ends as you go, just like a burrito.
To slice, cut the summer roll into halves and serve.
Spicy Peanut Tofu
Heat a large wok or skillet, and add tofu to the pan. Brown slightly, stirring occasionally. If needed, add a little water to prevent sticking to the pan. Sprinkle with Bragg's Liquid Aminos and hot sauce. Continue to cook until slightly browned.
Add peanut butter and balsamic vinegar, and continue cooking until golden and crispy. Turn off heat and set aside.
Vicki Brett-Gach
Vicki Brett-Gach is a food writer, recipe developer, cooking instructor, Certified Vegan Lifestyle Coach and Educator, and Certified Personal Chef. She specializes in simple, low-fat, heart-healthy plant-based nutrition, and writes, coaches, teaches, and blogs about delicious vegan food. Find more of Vicki's recipes on her blog, Ann Arbor Vegan Kitchen at AnnArborVeganKitchen.com.