As easy as it is delicious, this baked cinnamon french toast recipe is perfect for feeding a crowd, a lazy weekend breakfast, or even a make-ahead for a busy week. Enjoy!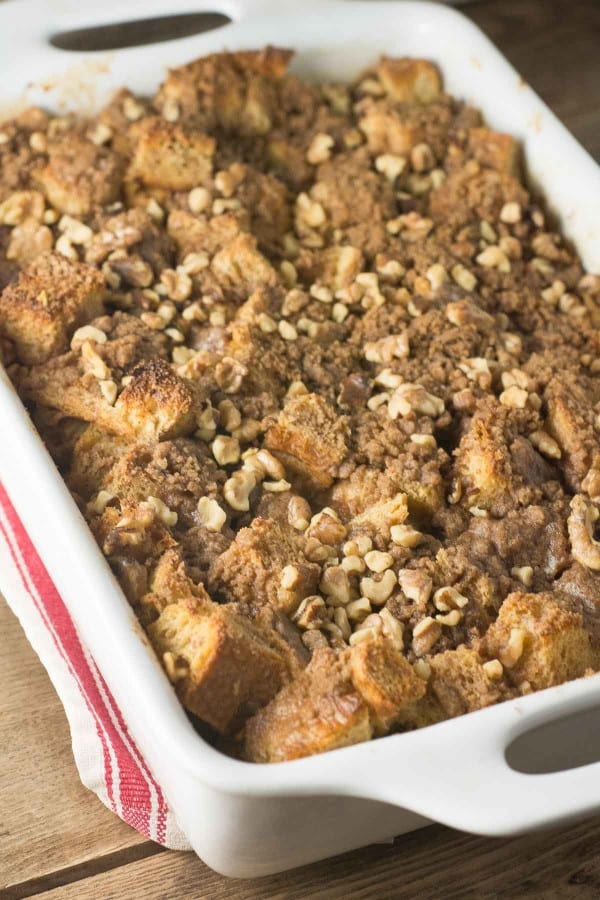 Seriously, is it summer yet? I'm over the cold.
But – bright side here – we still have French Toast, amIright? And this? Baked, cinnamon, crunchy, sugary topping with some nuts sprinkled in french toast? Worth the cold. Worthitworthitworthit.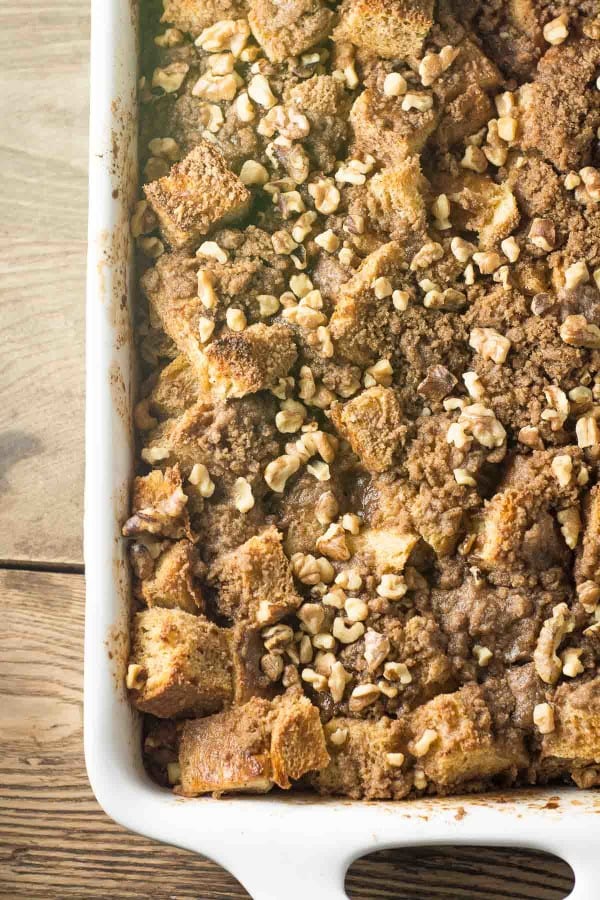 I love that this this recipe is SO easy. It's best if you can prepare it the night before and bake it in the morning, but I've prepared it just a couple of hours early too, and it's still great. Just make sure all of those bread crumbs soak up all of that custard and you're in good shape.
We love walnuts sprinkled over the top of ours, and I maybe *might* just increase the topping by 50% because WHY NOT? It's cold outside, might as well go for it.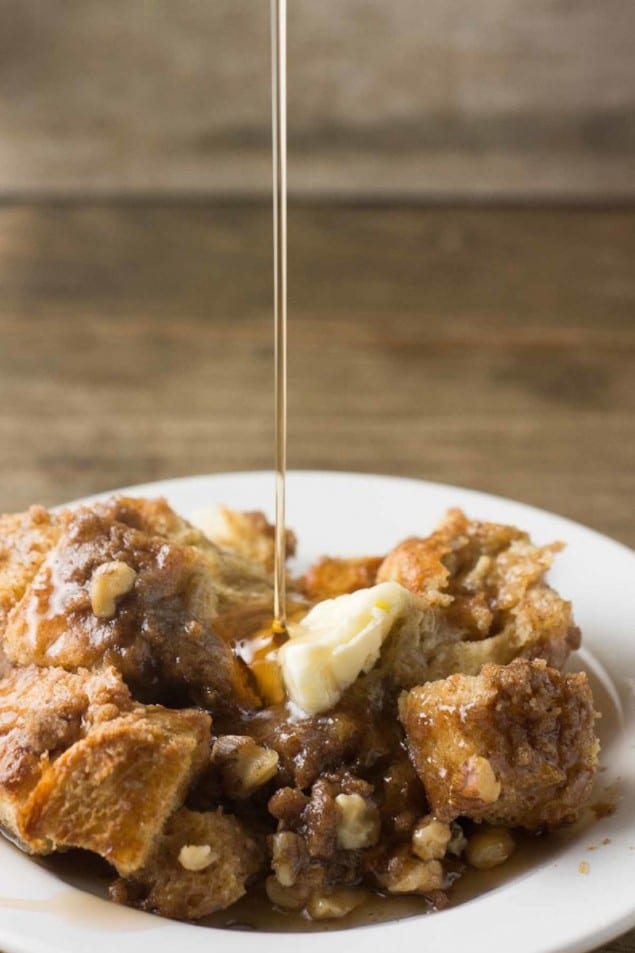 And, you know when you go to the grocery store and you buy a big, beautiful loaf of bread with all of the great intentions to make a nice lasagna and salad, and serve with it with crusty garlic bread and then life happens and you get sidetracked and all of a sudden you have a big beautiful loaf of moldy bread in your pantry that's never even been touched? *deep breath*
See Also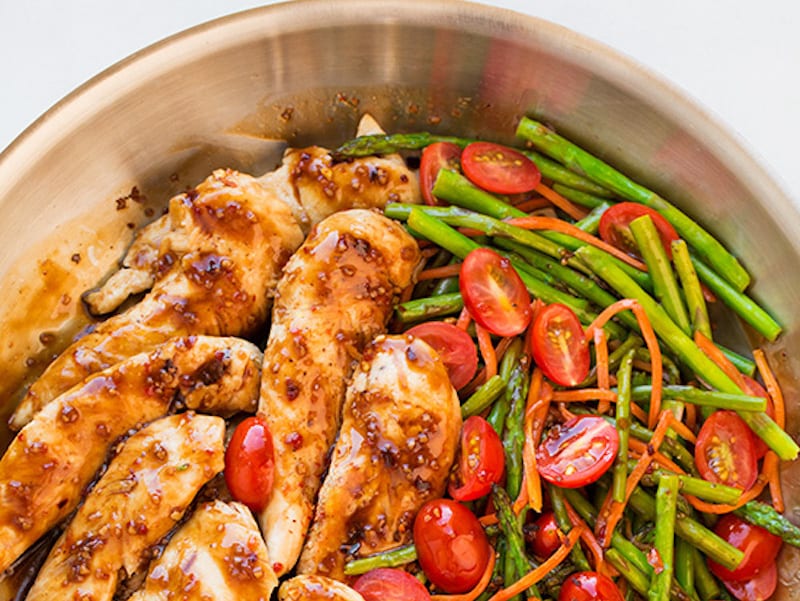 Yeah, me neither.
BUT, if you were the type of person (not me) that this happens to, you could totally switch gears, use your almost-old bread for this awesome casserole, and then be all like, "Yep, I meant to do that. I totally needed day-old bread for this awesome french toast casserole. Lasagna? What lasagna??"
Hope you love this as much as I do. Enjoy!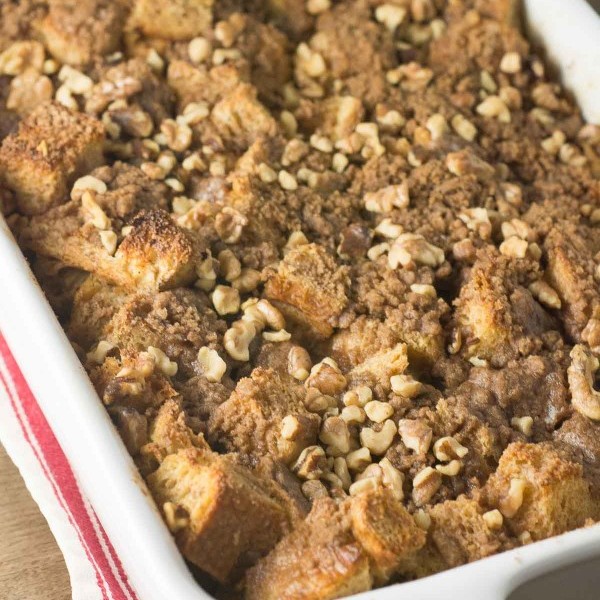 Easy Bake French Toast
Erin Mahoney
As easy as it is delicious, this baked cinnamon french toast recipe is perfect for feeding a crowd, a lazy weekend breakfast, or even a make-ahead for a busy week. Enjoy!
Ingredients
French Toast:
1

loaf day-old crusty bread

like French or Sourdough

8

whole eggs

1

cup

milk

I use 2%

1

and ½ cups heavy cream

¾

cups

sugar

2

Tablespoons

vanilla extract

2

teaspoons

ground cinnamon
Topping:
½

cup

all-purpose flour

½

cup

packed brown sugar

1

teaspoon

cinnamon

¼

teaspoon

salt

1

stick

8 Tablespoons unsalted butter, cold and cut into small pieces
Optional:
Butter and Maple Syrup

for serving
Instructions
Cut bread into small (about 1 inch) cubes.

Prepare a 9x13 baking dish by coating generously with butter.

Place bread cubes into the baking dish. Set aside.

In a large bowl, whisk eggs.

Add milk, heavy cream, sugar, cinnamon and vanilla. Whisk to combine.

Pour the custard over the bread crumbs. Use your hands or a spoon to combine and coat each bread cube with the mixture.

Cover with plastic wrap, and refrigerate at least 2 but up to 24 hours.
Topping:
In a small bowl, combine butter, flour, brown sugar, cinnamon and salt.

Use forks or a pastry cutter to combine until it forms a coarse (about pea-size) crumb.

Cover the mixture and put it into the refrigerator until ready to use.
Bake:
When ready, preheat the oven to 350 degrees (F).

Pour topping over the top of the french toast. If desired (I did) top with some chopped pecans or walnuts for an extra crunch.

Bake for 35-50 minutes (ovens vary greatly) until desired consistency is reached - we like ours completely set up, and took it out of the oven at 40 minutes.

Allow to cool slightly, then serve warm with a generous pat of butter and maple syrup.

Enjoy!
Erin Mahoney
Erin Mahoney is a food blogger from the Kansas City area. With a day job in the TV business and two little girls at home, this busy Mom spends her very limited free-time experimenting in the kitchen. While her culinary efforts tend to fall on sweet treats and comfort foods, her focus is on real, from-scratch food for her family and friends. Her blog, Lemon Sugar, is full of whimsical recipes and anecdotal stories that will warm your heart and make you hungry.