Easy Applesauce Grilled Chicken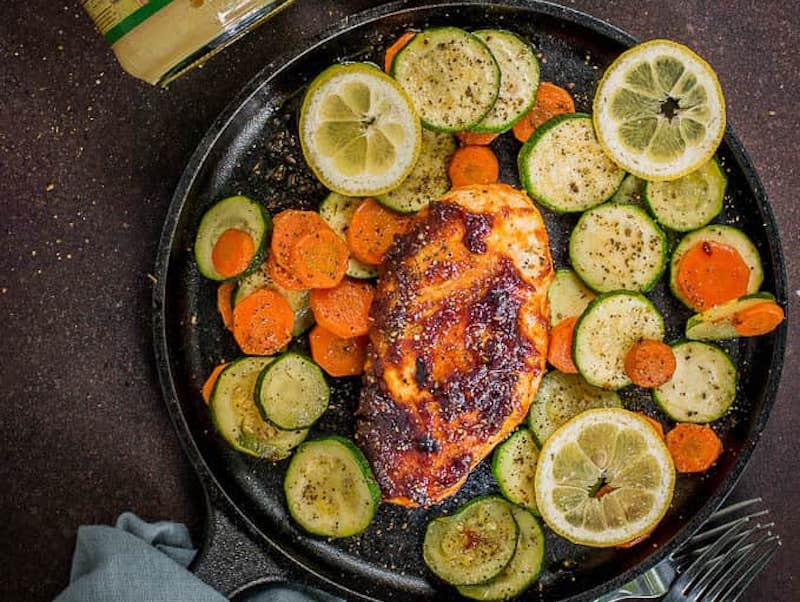 Sponsored Post: We've partnered with North Coast Organics, makers of delicious apple products, to bring you fun recipes ideas for the coming season. Their apple sauces, vinegars, juices and ciders are made with only U.S. grown apples. You're sure to taste the difference! Be sure to enter their giveaway below.
This saucy Applesauce Grilled Chicken is so tempting. It's easy, tender and full of flavor.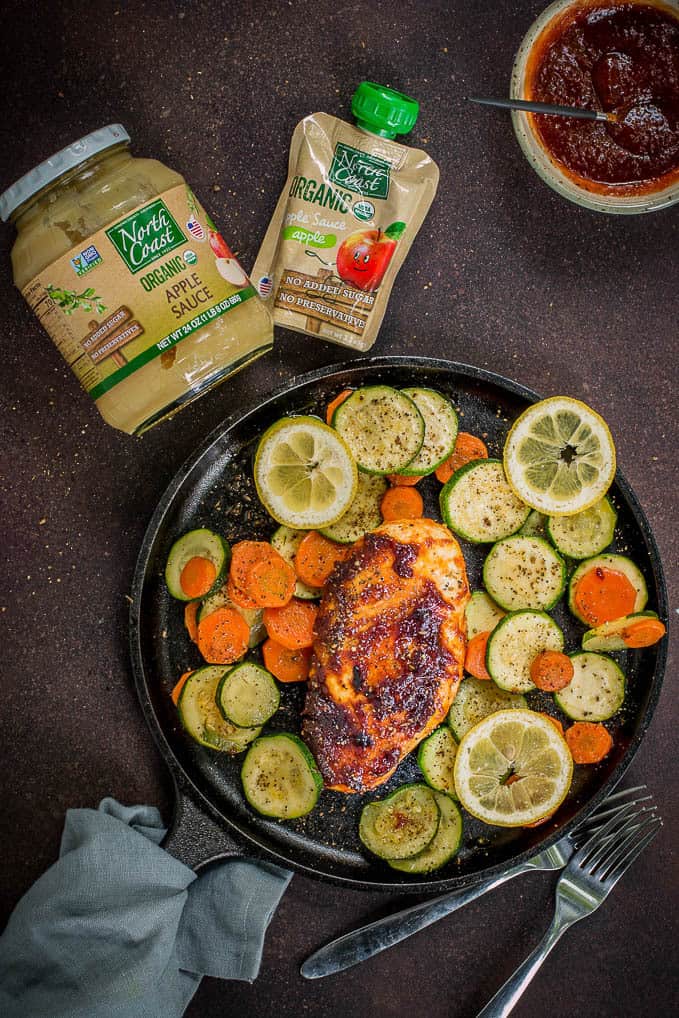 Making grilled chicken seems complicated. Yet, I think Applesauce Grilled Chicken is by far a very easy chicken recipe that I have made apart from Instant Pot Chicken Breast. Also, you only need a few basic ingredients for this recipe. Now, ain't that simply amazing?
Hence, I am sure thinking of making Applesauce Grilled Chicken twice or thrice a month because it got a thumbs up from my boys as well. In addition to the subtle flavor of apple sauce, I love how chicken infuses it all. Therefore, when you lastly assemble it up that's when the literal "riot" happens.
Now that's further great with cleanly produced Applesauce from North Coast. Using freshly pressed, 100% organic certified USA-grown apples, North Coast applesauce is Non-GMO project verified, BPA-free certified and KSA kosher certified. It contains no added sugar or preservatives. Their applesauce comes in cups, jars and even convenient pouches, which are perfect for school lunch boxes or for a healthy snack on the go.
Tips for making chicken more amazing at home:
Along with applesauce, you can also add barbecue sauce while making the wet mix. Because, it would hit the right spiciness for chicken.
Since applesauce is slightly sweet and sour, it perks up the flavors of the chicken by manifold.
Use the most basic spices like chili powder, nutmeg powder and ground pepper as they do not overtake the taste and texture of the sauces.
Most importantly, allow the wet sauces, spices and chicken to cook well together. Don't rush.
Not too oily or soggy, this apple-bbq-licious chicken hits your palate with a grilled extravaganza. Seems like the idea of using olive oil for this dish absolutely makes sense and perks up the taste. Therefore, crossing off all the other oils from the mind.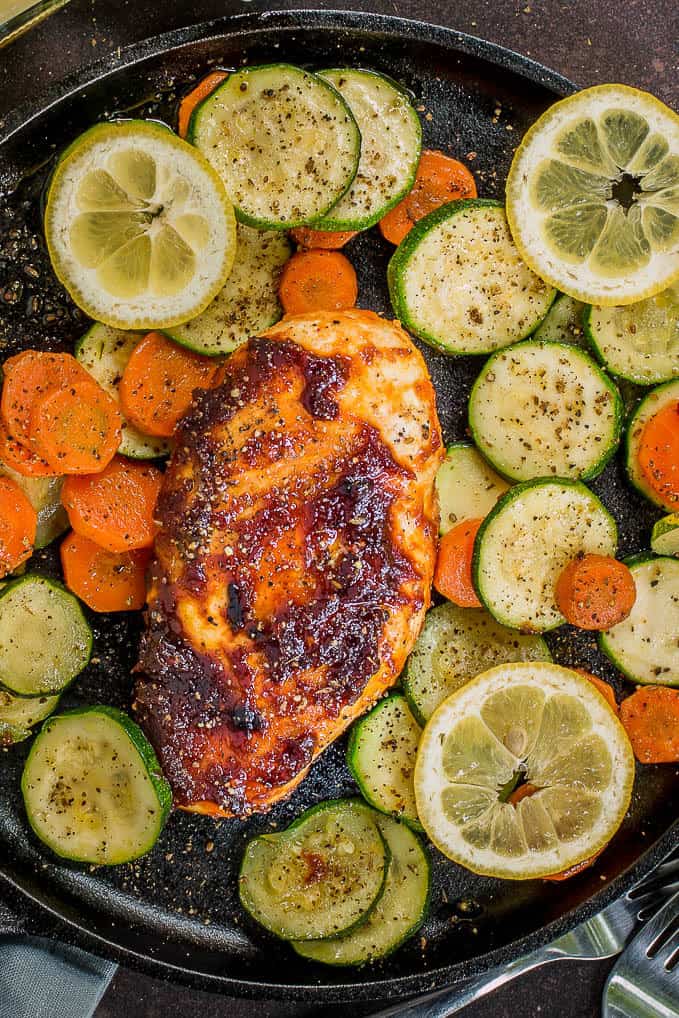 Want to win a year's supply of applesauce and more delicious North Coast products? Enter here!
How to serve Applesauce Grilled Chicken?
Overall, it tastes complete even as it is. But want to make it a promising weekend meal? Oh, then, I would suggest serving it with some Instant Pot Brown Rice or Pasta or soup!
Prep up this delicious chicken recipe this weekend then? My easy guide for the same shall sure come handy: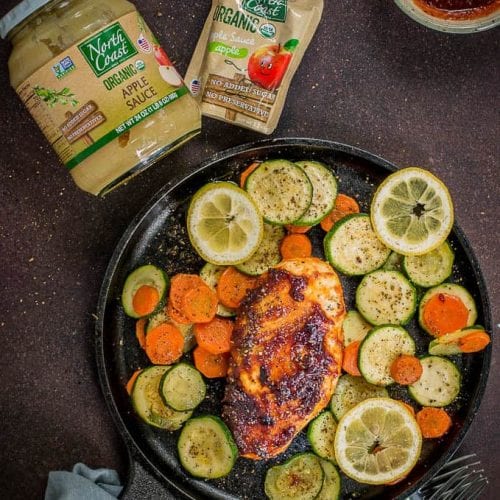 Easy Applesauce Grilled Chicken
Neha Mathur
Ingredients
2

Chicken Breast

1/2

tsp

Ground Pepper

2

tbsp

Olive Oil

1/4

cup

North Coast Applesauce

1/4

cup

Barbeque sauce

1

tbsp

Brown Sugar

1/2

tsp

Chili Powder

1/4

tsp

Nutmeg Powder
Instructions
Wash the chicken breast and pat dry using a kitchen towel.

Cut the chicken breast horizontally to make thin slices.

Sprinkle with ground pepper.

Heat olive oil in a grill pan.

Once the pan is very hot, drizzle olive oil on it.

Brown the chicken breast from both the sides on the pan.

Mix applesauce, barbecue sauce, brown sugar, chili powder and nutmeg powder in a bowl.

Pour this mixture over the browned chicken breast and cook for 8-10 minutes.

Serve hot with sautéed veggies.
Neha Mathur
Passion to make food look good and taste amazing is personified in Neha Mathur, author of amazing recipes through whiskaffair.com where she writes about her experiments in food and other creative stuff. Having travelled extensively around the globe she has seen first hand various cultures and their likings. With a background in dental sciences her current objectives are just fulfilling her persona.