Dukkah is one of those delicious spice mixes that we really should use more often, it adds texture and flavor to dishes.
By Heather Sharpe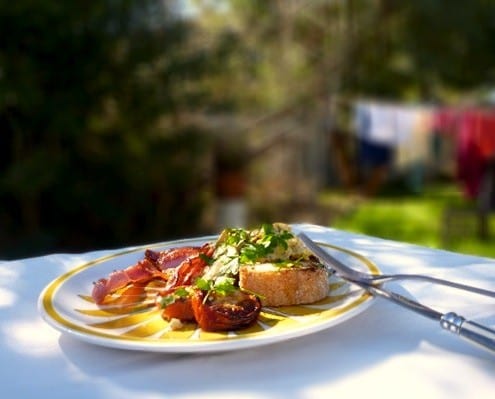 Dukkah is one of those delicious spice mixes that we really should use more often, it adds texture and flavour to dishes. I mean I'm sure most of us have tried it on bread with some olive oil, which is certainly delicious, but it's also a wonderful crumb for lamb and as this dish will demonstrate is absolutely fantastic folded through scrambled eggs. So simple, but SO delicious. It's a mainstay in our household, as it's pretty easy to whip up on a bleary-eyed Saturday morning (or any morning for that matter!)
If you haven't discovered the joys of free-range eggs yet, I suggest you give them a proper go when preparing this dish, I'm not just talking about super market free-range eggs either, try to get hold of some made by companies who ONLY produce eggs… and – even better – only produce free-range eggs. This usually means that the producers care about what they're producing enough to ONLY produce that one thing. In a dish like scrambled eggs you should notice the difference in taste, texture and COLOUR with well produced free-range eggs.
Dukkah Scrambled Eggs with Slow Roasted Tomatoes
Ingredients
scrambled eggs
5 eggs
2 tbsp whipping or thickened cream
2 tbsp dukkah
2 tsp olive oil
20g of feta cheese, crumbled (optional)
salt and pepper to taste
2-4 slices of good quality bread
slow roasted tomatoes
2 large tomatoes (preferably Roma tomatoes)
2 tsp olive oil
2 tsp sugar
salt and pepper
Instructions
Preheat your oven to 300F (150C).
Halve and core your tomatoes.
Place them on a baking paper lined baking tray.
Pour the olive oil over the top of the tomato halves, then sprinkle the sugar over the top of them.
Season.
Bake for 1 to 1½ hours, until they're starting to brown on the top and have cooked through.
At this point, turn your oven off but leave the tomatoes in (with the oven door closed) until you have made your toast and prepared your scrambled eggs (this should keep them warm.)
Prepare your toast while you're doing the eggs.
Heat a non-stick frying pan to a medium heat on the stove.
Crack your eggs into a bowl, whisk in your cream and olive oil until lightly fluffy and well combined.
Pour the egg mixture into the pan and allow to start cooking.
Using a non-metal spatula scrape the eggs at the bottom of the pan every 20-30 seconds (allowing quite large chunks of scrambled to develop, but not to burn.)
Just before the eggs are finished, while there is a still a little bit of runny egg, remove from the heat and fold the dukkah and a bit of seasoning through, as well as the feta if you're using it.
The residual heat from the pan should cook the eggs through.
Serve immediately with your toast and tomatoes, you might choose to top with parsley, or have some avocado, bacon (as pictured) or spinach on the side.
Notes
these tomatoes are also great tossed through pasta or on a pizza (roughly chopped)