These baked breakfast bars are sweet with fig and maple, but packed with nutrients from pumpkin and flax.
By Alison Marras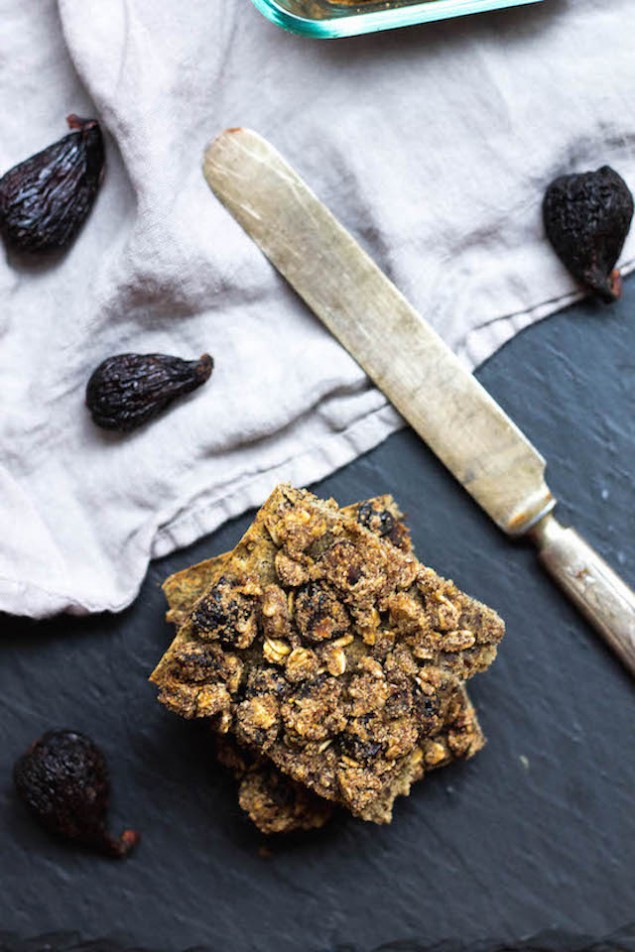 How often are donuts, muffins, scones or other sugary doughy things thrown in your face in the morning?
Well, now IT'S ON.
I wanted to play with a breakfast bar recipe that would be warm, satisfying, filling but not loaded with sugar, preservatives and who knows what else. Challenge accepted. These came out great and the topping is pretty flexible with any dried fruit or nuts you may want to add. I used pumpkin purée as an oil replacer on the topping which worked out nicely… You could also use apple sauce or just coconut oil.
I started experimenting with flaxseed meal as a "flour" and was really surprised! I definitely want to keep trying new recipes out with it.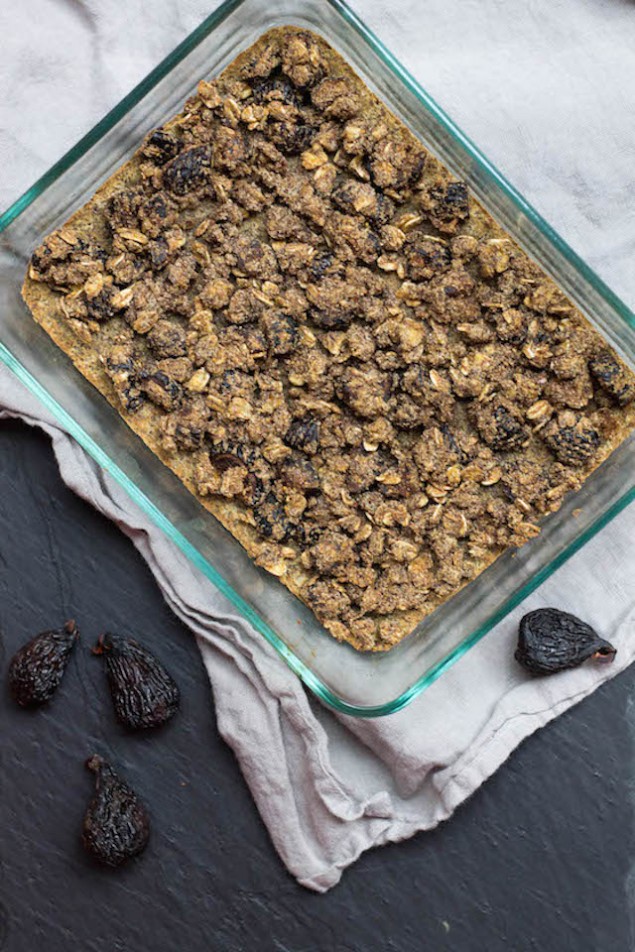 To the sweet part- maple syrup! I love it and it's a good substitute to traditional sugar which is why I use it so much. If you like it really sweet, add more to the topping or just raw afterwards (like mini pancakes!) and it'll still stand up nicely.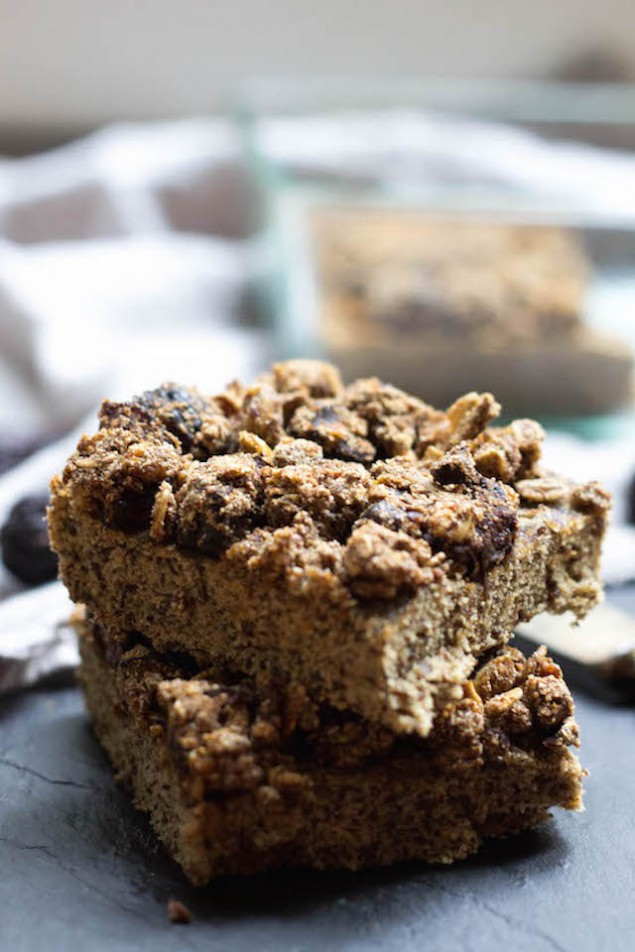 These bars will keep you full and happy in the morning! They also keep very well in a plastic container in the fridge for approx. 4 days so you can enjoy these on the go for days to come. And while there's nothing wrong with oatmeal (dear goodness, I love it)… it's good to break it up and sink your teeth in a baked breakfast bar every now and again. Am I right?!?

Dried Fig and Maple Breakfast Bars
These baked breakfast bars are sweet with fig and maple, but packed with nutrients from pumpkin and flax.
Recipe Type:
Baking, Bar, Snack
Ingredients
½ cup flax seed meal
½ cup coconut flour
1 tsp baking powder
1 tsp baking soda
2 tsp cinnamon
½ tsp nutmeg
3 eggs
1 tsp apple cider vinegar
¼ cup water
2 tbsp coconut oil
3 tbsp maple syrup
1 tsp vanilla extract
Topping:
¼ cup gluten-free oats
¼ cup maple syrup
2 tbsp pumpkin puree (or 1 tbsp coconut oil)
⅓ cup dried figs, chopped small
4 tbsp of batter from above
1 tsp cinnamon
pinch sea salt
Instructions
Pre-heat oven to 350f degrees and lightly grease a 8x7 or 8x8 glass baking dish with coconut oil.
In a mixing bowl, add all dry ingredients and mix with a spoon until well blended.
Separately, in your stand mixing bowl or another bowl that you'll use a hand mixer on, add everything from the eggs to the vanilla extract (in the order listed above) and mix with the whisk attachment of your mixer until well incorporated, 2-3 minutes.
Keep the mixer on slow, as you slowly add the dry mixture into the wet. Keep mixing until everything is turning into a spongey-like batter.
Reserve 4 tbsp of the batter in a smaller mixing bowl that you'll use for the topping.
With the bulk of the batter, pour and press it into your baking dish and bake for 15 mins initially while you prep the topping.
Add all topping ingredients and reserved batter together and mix manually with a spoon. After the base of the bars have baked for 15 minutes, you can remove from the oven and pour the topping on top, press lightly with the back of a spoon and then return it to the oven for another 15 mins.
Pierce the middle with a toothpick or fork and when it comes out clean, it's done (approx. 30 minutes total bake time). Pour more maple syrup if you have a sweet tooth, otherwise, cut into squares and serve. Can be stored in the fridge for up to 4 days.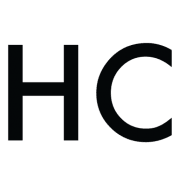 Alison Marras
Food by Mars is a Clean, Seasonal, Celestial Recipe Blog featuring gluten-free, vegetarian, vegan, and lactose-free recipes including a Monthly Horoscope inspired recipe!