PARTNER POST — The holiday season is here and it is time to add some Italian flair to your menu with authentic ingredients from Colavita and Perugina's rich Italian chocolate.
Create a beautiful dinner for guests of hearty shrimp pasta with a touch of spice and a soft orange polenta cake topped with a rich ganache.
By Jessica Potts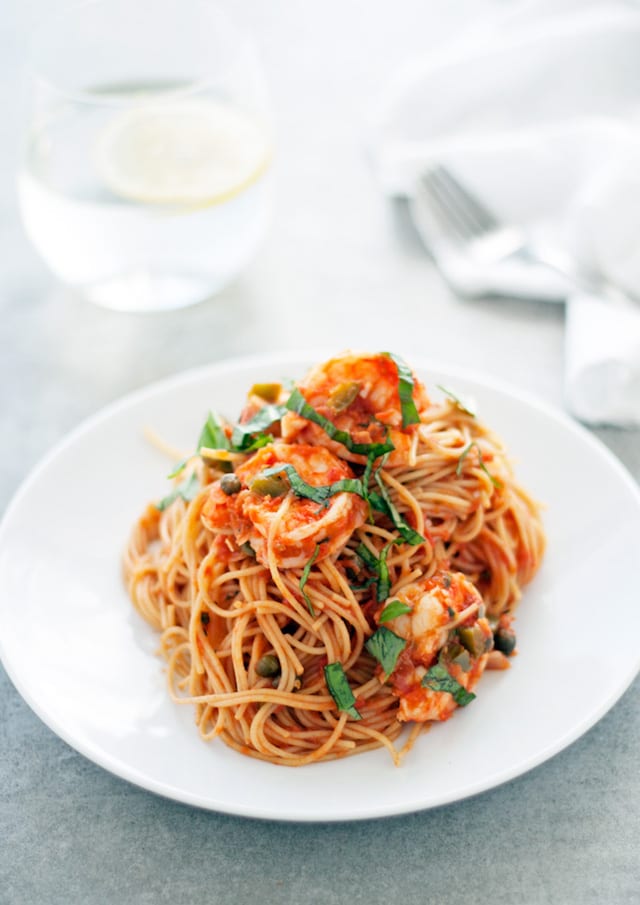 Nothing beats a big hearty family dinner during the holidays.
One of my favorite ways to entertain a big crowd is with a big, Italian style dinner. Most Italian meals use very few ingredients, but those few ingredients are usually seasonal, vibrant items that can make a whole meal shine. This spicy shrimp capellini pasta is no different. Made with briny capers, bright lemon and fragrant garlic and shallots, which are all tossed into Colavita's whole wheat capelleni pasta and topped with jumbo shrimp.
The heat from this dish comes from a sautéed jalapeño pepper and crushed red pepper, but it's a subtle heat that you can just barely feel after each bite. This is a hearty dish, which serves many and cooks up quickly.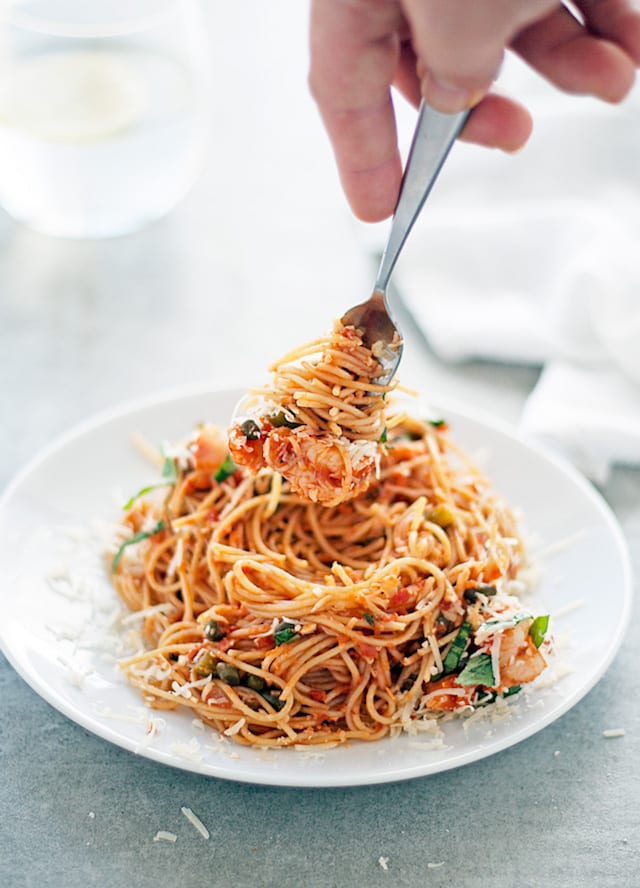 Want to win your own gift basket to recreate this meal or invent an Italian holiday dinner of your own?Enter the sweepstakes below!
Italian Holiday Table: Spicy Shrimp Pasta
Cuisine:
Italian Inspired
Ingredients
1 pound Colativa Whole Wheat Capellini
1 pound extra-large (21-25 ct.) peeled and deveined shrimp
2 tablespoons unsalted butter, divided
1 tablespoon Colativa Roasted Garlic Extra Virgin Olive Oil
2 garlic cloves, finely chopped
1 shallot, finely chopped
1 jalapeno pepper, seeded and finely chopped (leave seeds in for more heat)
½ cup white wine
1 cup Colativa crushed tomatoes
1 tablespoon fresh thyme
½ cup clam juice
1 tablespoon fresh lemon juice
2 tablespoons capers
¼ cup fresh basil, chiffonade
Salt and pepper, to taste
Parmesan cheese, for serving
Instructions
In a large pot of boil water, cook capellini according to package directions. Set aside.
In a large skillet, heat olive oil and 1 tablespoon butter over medium heat.
Add garlic, shallots and jalapeno, sautéing until soft.
Pour in white wine and let simmering until reduced by half.
Once reduced, add in crushed tomatoes, fresh thyme, and clam juice. Cook, stirring occasionally, until sauce has reduced and thickened. Season with salt and pepper as needed.
Add in shrimp and simmer for about 60 to 90 seconds on each side. Shrimp should be pink throughout, but be careful not to overcook.
Stir in lemon juice, capers and butter and remove from heat. Add in basil, stirring just to incorporate.
Pour shrimp pasta mixture over capellini pasta and toss just to coat.
Serve immediately and top with grated Parmesan cheese, if desired.
See Also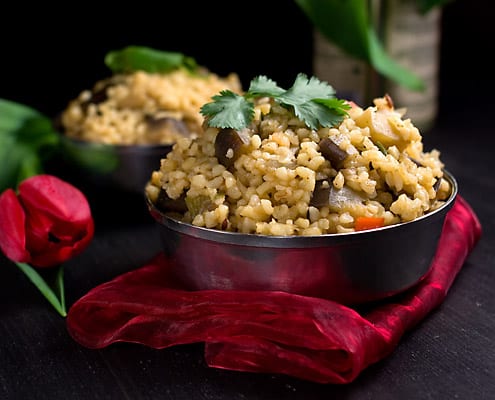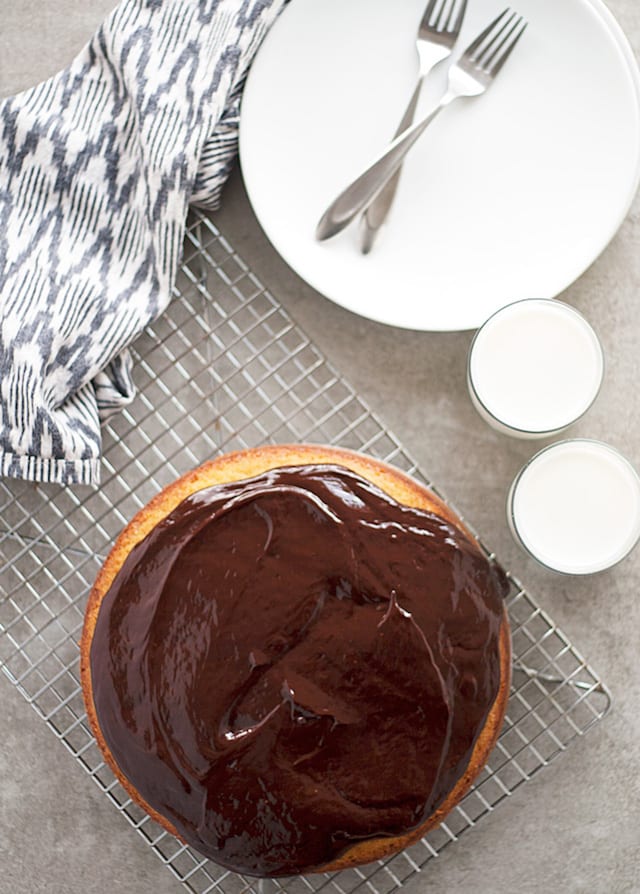 And who doesn't want a delicious dessert to end a meal. This cornmeal orange olive oil cake is the quintessential Italian dessert, using Colavita's floral Argentinian olive oil and polenta, all topped with Perugina's semi-sweet dark chocolate ganache. It's decadent, delicious and so full of flavor.
Citrus and chocolate are a match made in heaven, but chocolate and orange are a personal favorite. It has the perfect balance of sweetness, with the brightness of seasonal citrus and the deepness of semi-sweet chocolate.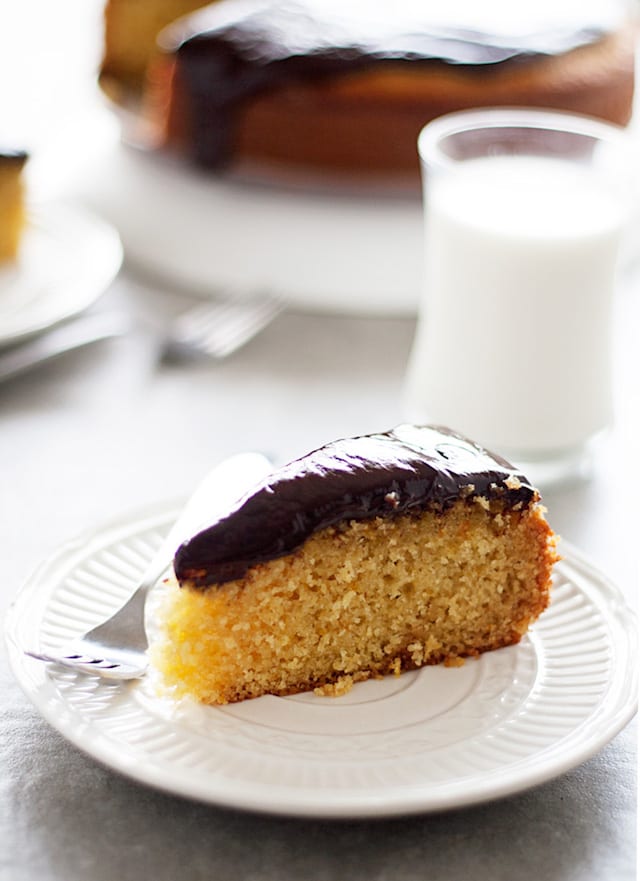 Olive Oil Orange Cake
Recipe Type:
Dessert, Cake, Baking
Cuisine:
Italian Inspired
Ingredients
3 large eggs
1 cup granulated sugar
1 ½ cup whole milk
1 cup Colativa 100% Argentinian Extra Virgin Olive Oil
¼ cup fresh orange juice
Zest from two oranges
1 ½ cups all-purpose flour, plus more for dusting pan
½ cup Colative Polenta Cornmeal
1 teaspoon baking powder
1 teaspoon baking soda
Pinch of salt
8 ounces Perugina 70% Cacao bittersweet chocolate
½ cup heavy cream
1 teaspoon instant espresso
Instructions
Preheat oven to 350 degrees F and arrange oven rack on middle setting. Coat a 9-inch round cake pan with oil and dust with flour, tap out excess.
In a large bowl, whisk together eggs and granulated sugar. Whisk until mixture is pale yellow and well blended.
Add the milk, olive oil, orange juice and orange zest. Mix well.
In another bowl, combine the flour, polenta, baking powder, baking soda and salt.
Add the egg mixture to the dry ingredients, stirring until just blended. Be careful not to overmix.
Pour the batter into the prepare cake pan and bake until a toothpick is inserted and comes out clean, about 40 to 50 minutes.
Remove from oven and place on a wire rack to cool completely.
Once cake has cooled, run a knife around the perimeter of the pan and invert onto a serving platter.
In a bowl fitted over a pot of simmering water, combine chocolate, heavy cream and instant espresso. Let chocolate melt completely, stirring occasionally.
Once the chocolate is completely melted, remove from simmering water and let cool for 3-5 minutes.
Top olive oil cake with ganache and serve immediately.
Jessica Potts
The amateur cook, baker and photographer responsible for everything you'll find at A Happy Food Dance. I live in Los Angeles, by the beach, with my boyfriend and our quirky little dog. I am crazy, head over heels, in love with food; making it, sharing it and eating it. I consider myself a professional cupcake eater, will put avocado on anything and nothing taste better than a good margarita.