Dos Caminos' Meatless Monday: How to Make Butternut Squash Enchiladas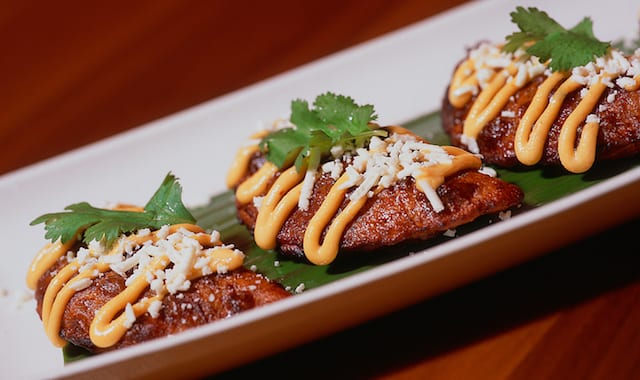 Recharge for the week ahead while banishing any Monday blues with a stellar meatless menu at NYC's Dos Caminos. Plus, learn how to make flavorful butternut squash enchiladas at home.
By Alyssa Holder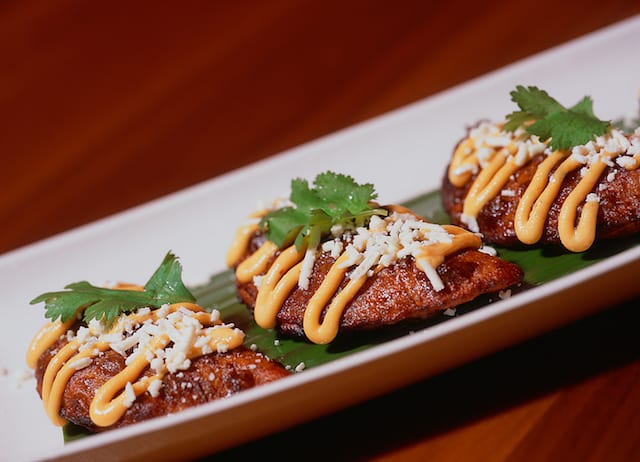 Monday, the first day of the work week, the dreaded day as it marks the end of the favored weekend activities of brunching, drinking and sleeping in.
After a long day catching up on work it is only right to reward yourself with something special. Rewarding and celebrating is not limited to the weekend, Mondays are now included. Have a margarita and relish in the fact that you have four more days until the brunching begins, again.
In honor of celebrating Monday, NYC-original Mexican restaurant Dos Caminos and Executive Chef Ivy Stark,in collaboration with the global movement Meatless Mondays, created a cure for those of us who suffer from a case of the Monday blues.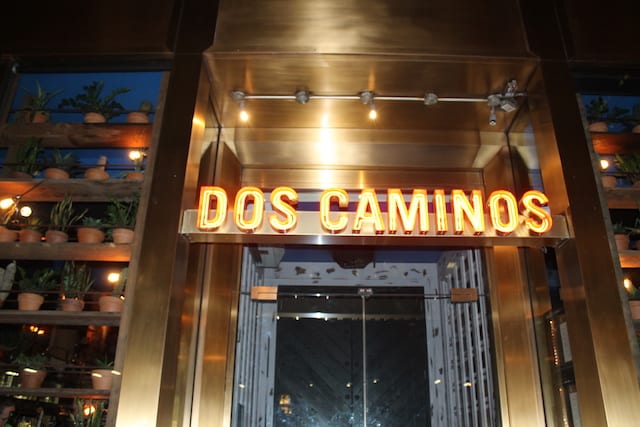 Meatless Monday is a movement created to inspire people to eat vegetarian one day a week in order to improve their health, as well as the environment. Dos Caminos and Executive Chef Ivy Stark are Mexican cuisine masterminds. Put both together and the magic happens: healthy flavorful food to make you forget about all the stress Monday has caused. Dos Caminos NYC restaurants, including the new Times Square addition, and Atlantic City locations is currently offering a special meat-free menu on Mondays, yes margarita included.
You will now approach this day with a new mind set, every Monday I am helping the earth and celebrating #MagaritaMondays.
Thankfully celebrating Meatless Monday is not limited to Dos Caminos restaurants, Executive Chef and author of book "Dos Caminos Tacos" Ivy Stark offers simple step by step instructions on how to celebrate Mondays, with true Mexican flare.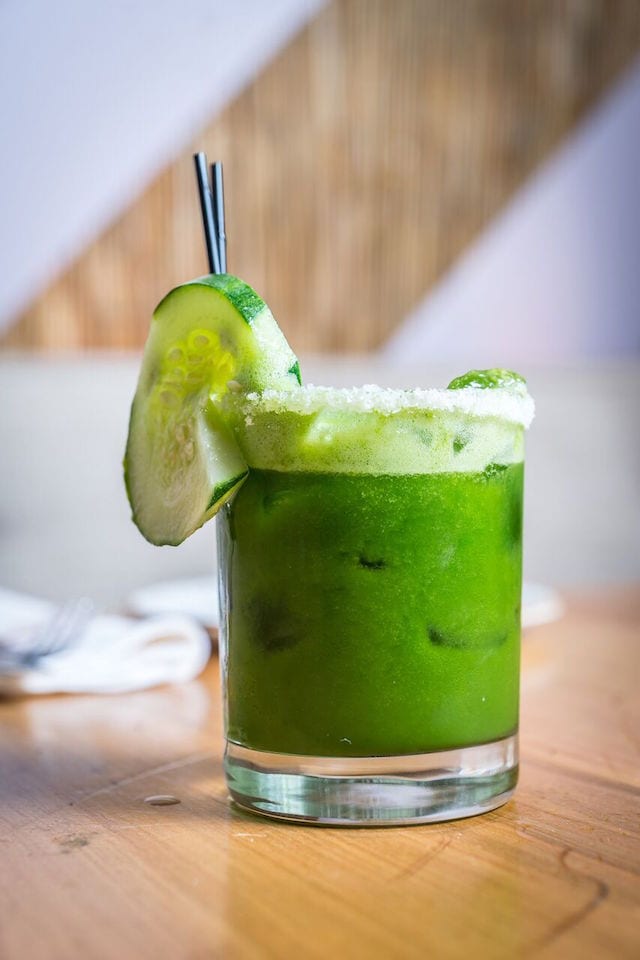 During an intimate cooking class at the 373 Park Ave South Dos Caminos location, Chef Stark shared her expert cooking skills on how to make the following simple and beautiful Mexican favorites with a vegetarian twist:
The Breakfast Margarita: Green Juice for breakfast, no longer a foreign concept but a Breakfast Margarita; raises eyebrows and eyes widen with excitement for the thought of tequila to boost your energy in the morning. Think of it like a shot of espresso. You say potato I say patata.
Empanadas de Platano: the key ingredients include plantains, cheese and black beans. This appetizer balances both sweet and savory cravings.
Butternut Squash Enchiladas: serving as the main dish of the meal, the butternut quash enchiladas are such a delightful surprise, that honestly, the traditional meat is forgotten. The dish is made of butternut squash, sautéed spinach and guajillo salsa to bring authentic flavor to the meatless enchilada.
These menu items do require some work but for those of us who are keen to dominate the kitchen , it is worth the effort to make at home. Especially as the holiday season in full swing, here is your chance to entertain friends and family by including some vegetarian options. It is your duty as a host to cater to all guests, meat lovers and vegetarians alike.
Visit any of the five NYC Dos Caminos locations or make meals at home thanks to the guidance of Chef Ivy Stark with her book Dos Caminos Tacos.
Here is how to make the Butternut Squash Enchiladas:

How to Make Butternut Squash Enchiladas
Cuisine:
Vegetarian, Mexican
Ingredients
Guajillo Sauce:
24 Garlic Cloves
64 Large, Dried Guajillo Chiles
1 tbsp. dried Mexican oregano
1 tsp black pepper, whole
1 tsp whole cumin seeds
12 cups chicken stock
6 tbsp. blended oil
1 tbsp. salt
3tbsp sugar
Sautéed Spinach
½ bag fresh baby spinach
2 cloves of garlic, minced
Butternut Squash
2 large butter nut squash peeled and diced into 1 in cubes (remove any seeds)
½ cup olive oil
1 tbsp. chipotle chili powder
2 tsp cumin powder
2 tsp garlic powder
2 sprigs thyme chopped
2 sprigs oregano chopped
1 tbsp. brown sugar
Salt and pepper
To Serve
1 dozen 6 inch blue corn tortillas
4 cups of shredded cheese blend
Julienned Radishes, Shredded Lettuce & Sour Cream for garnish
Instructions
Guajillo Sauce
On a griddle over medium heat, roast the garlic, turning occasionally, until blackened in spots and soft, about 15 minutes. Cool, and roughly chop
While the garlic is roasting, break the stems off the chiles, tear the chiles open and remove the seeds. Next toast the chiles on the griddle. Transfer to a bowl, cover with hot water and let rehydrate for 30 minutes, stirring regularly to ensure even soaking. Pour off all the water and discard.
If using whole spices, pulverize the oregano, pepper and cumin in a spice grinder or mortar, and then transfer to a blender, along with drained chiles, garlic and ⅔ cup of the broth. Process to a smooth puree, scraping and stirring every few seconds.
With a rubber spatula work the puree through a chinois (conical strainer) into a bowl; discard the skins and seeds that remain behind in the chinois Taste and season with salt.
Heat the oil in a medium- high heat. When hot enough to make a drop of the puree sizzle sharply, add it all at once. Cook, stirring constantly, as the puree sears, reduces and darken ( about 7 minutes )
Taste it you'll know it's done when it has lost the harsh raw chile edge. Stir in the remaining 3 cups of stock, partially cover and simmer, stirring occasionally about 30 minutes.
Taste and season with salt and sugar.
Butternut Squash
Pre Heat Oven to 400o F. Mix olive oil, chile powder, cumin, garlic, thyme, oregano, sugar and salt and pepper to taste in a small bowl. Put squash in a large roasting pan and cover with olive oil mixture. Bake for 40 – 50 minutes until soft and brownish. Once you remove them from the oven mash them up a bit with a fork leaving some chunks.
Sautéed Spinach
Add olive oil to a medium skillet pan on medium heat until oil shimmers. Add garlic and sauté for a minute until translucent, be careful not to burn. Add the spinach and sauté until wilted.
Assembling the Enchiladas
Lightly fry the tortillas in small amount of oil just until soft (about 30 seconds). Dip one tortilla in the guajillo salsa and cover completely.
Add about a ½ cup of the squash to the center of the tortilla. Add a spoonful of the spinach to the tortilla. Spread out evenly. Add a few teaspoons of cheese. Cover the filled tortilla with another blue corn tortilla and more guajillo salsa.
Cover the cheese and bake for 30 minutes until cheese is bubbly and browned in spots
Serve garnished with radishes, lettuce and sour cream.
Alyssa Holder
Alyssa is passionate about donuts, burpees, listening to the stories of the people who devote their time to fill our stomachs and exploring. She spends most of her time balancing her love for sugary, carb heavenly goods and fitness trends. She is currently working at the empowering fitness community Lucille Roberts as their Social Media Manager