Honest Cooking Editor in Chief took a Mediterranean cruise to see how current culinary trends fare on one of the most classic cruise lines.
By Kalle Bergman

Holland America Line (HAL to the experienced cruiser) has been around for almost 140 years and is considered to be one of the most classic cruise lines in the world. With a loyal, but aging customer base, and a traditional approach to cruising, they are currently in the middle of the daunting task of trying to gradually modernize and upgrade their offer without turning their back on their core customers. Honest Cooking took a Mediterranean cruise to see how they do, and how current culinary trends fare on one of the classics of the high seas.
Before we get into the food, you should know that if you are one of the most classic cruise lines, you attract a certain clientele. And without venturing too deep into the world of ageism, let's just say that most of the guests onboard didn't play cowboys and indians when they were kids. The were cowboys and indians.
Now, Holland America Line is of course aware that their clientele isn't going to be around for another 30 years – and that they need to upgrade their classic approach to cruising and cruise ship dining in order to attract a new crowd. They have embarked on this transition by slowly introducing "as you wish dining" (which basically means that you can eat when you want – this is "new" in the cruising industry) and adding a couple of alternative restaurants to the dining options onboard.
Manhattan Dining Room
The main dining room onboard the MS Nieuw Amsterdam is called the Manhattan Dining Room. This gigantic circle shaped red room is the heart of food operations onboard the ship. It is where many – actually probably most – guests eat all of their meals (the restaurant serves breakfast, lunch and dinner every day), either in set time slots at the same table every day on the upstairs level, or on the bottom level where you can just stroll in and get a table as soon as one is free. The four course dinner menu changes daily, and reads like a who is who of the most well known dishes from the most popular cuisines. There's no real culinary direction here, if you've heard of a dish before, chances are it will appear on the menu at one time during your cruise.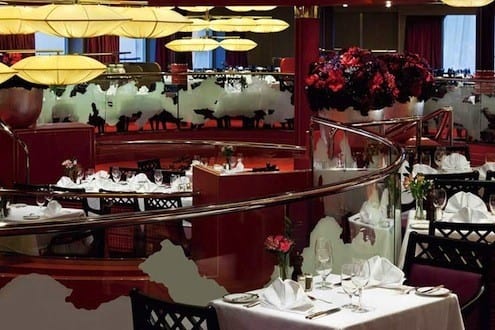 You can't really judge the Manhattan Dining Room as you would any other restaurant. Because actually, it's not a restaurant. It's a food factory. Here, 700 people are being served a four course meal on two levels every night.
The service in the Manhattan Dining Room is fast paced. A four course meal is almost rushed through, and you can expect to be in and out in a little over an hour. Holland America's guests like that. They eat, and then they're off to the slot machines or trying out souvenir t-shirts in the onboard shop. You can ask your waiter to slow things down a little, but don't expect that to have huge impact on speed.
One of the stranger things about the Manhattan Dining Room is the fact that you'll most likely find yourself approached by a wine steward before you've even ordered your food. Even if you have no idea what you're eating – be prepared to order your wine as soon as you sit down. All in the name of logistics and speed.
The menu consists of four selections each within appetizers, soups & salads, entrees and desserts. The dishes change daily, but stay within the limits of Americanized versions of French, Italian and sometimes Asian cuisine. And the guests seem to like it. One fellow traveler told me that the French Onion Soup was really authentic as "it tasted exactly as it does at TGI Fridays".
Lido
The buffet restaurant of Holland America. I guess this is what you'd expect from a cruise ship. A gigantic buffet featuring just about everything. Staffed by what seems like thousands of short order cooks at each buffet station, your food selection – whether it's a breakfast omelette or a thai stew for lunch – is being "cooked" to order in front of you. Now, when I write "cooked" instead of cooked, it's because most of the food is prepared in advanced. But the fact is that since the cooks actually put the finishing touches on your food when you order it, the food tastes rather fresh.
Tamarind
On the 10th floor lies Holland America Line's Asian dining concept, The Tamarind. Decorated in a funky urban style, with dark wooden notes accompanied by yellow highlights and a view to die for, a menu at the Tamarind comes at a 15 dollar / person surcharge. And it is well worth the extra dough. The Tamarind serves westernized Asian cuisine, and the seasoned Asian restaurant goer might look around the room for some extra sambal or chili. But having said that, Tamarind is still a very pleasurable, and rather modern dining experience.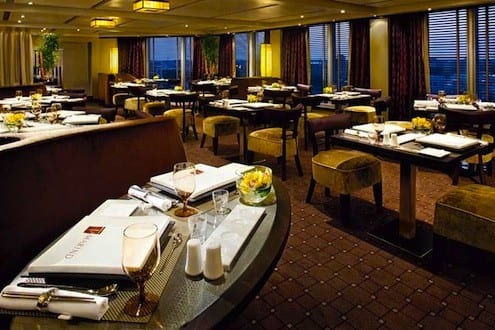 As always onboard the ship, the staff is über friendly – and the tempo is quite a bit slower than in the Manhattan Dining room. For anyone who's not just on the ship to go to the casino or the next show, that's a treat. The food is fresh, well cooked, pretty to look at and good to eat. Lunch is a set dim-sum menu which comes at no extra charge, and even if it's a silly idea to lock customers to the same lunch menu every day of the cruise – the Tamarind lunch and dinner is a must for any cruise ship traveler who is just slightly interested in food as something other than just nutrition.
Silk Den
Across the hall from Tamarind, you'll find the Silk Den cocktail lounge. Why this lovely bar is almost completely empty every night is beyond me. A contemporary (ah, now I understand) chic Asian-inspired cocktail lounge that could have been located in just about any big city in the world, where the friendly staff serves up fancy lookin' and very tasty cocktails. But nobody's there. Except for Honest Cooking and the odd stroller looking for the restrooms, the bar was almost deserted every single night. One couple told Honest Cooking that they'd been onboard for 24 days and only found the Silk Den on their last day. Another sign that Holland America Line has a somewhat uphill struggle with their guests.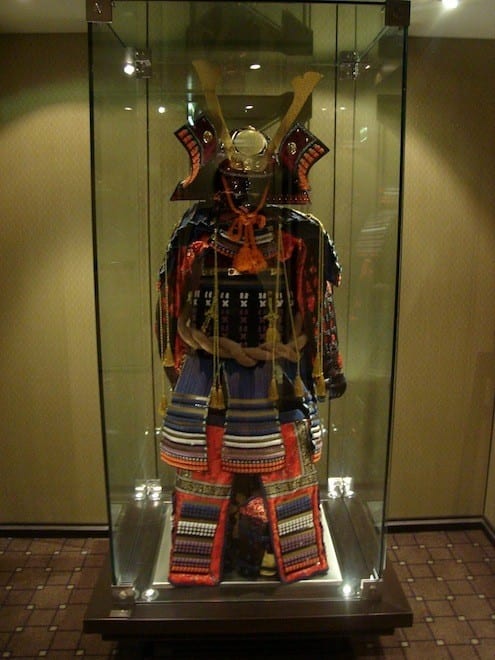 Pinnacle Grill
The Pinnacle Grill is the most exclusive dining option guests onboard the Nieuw Amsterdam have. For an extra fee of 20 dollars / person, you get access to a four course meal with a pacific west coast inspiration and focus on meat. Now, before you start thinking about price – all you need to know if you've booked a Holland America cruise is that this restaurant is where you will need to have at least half of your meals during your cruise.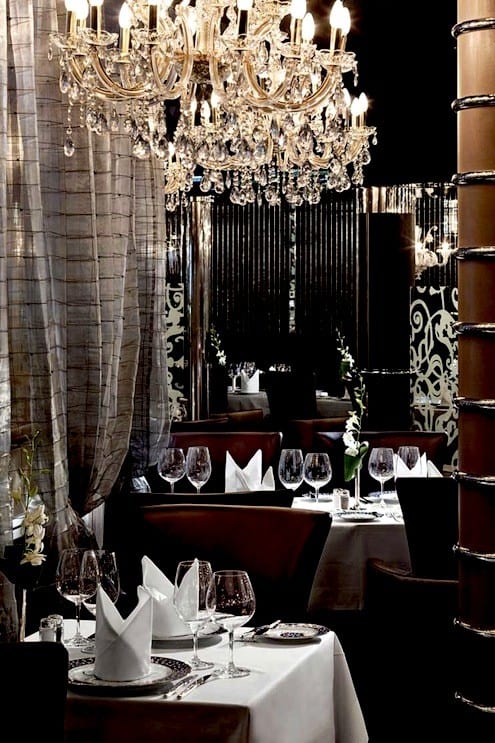 The meat served at the Pinnacle Grill is excellent. Aged sterling silver beef, cooked perfectly according to your preference. The service is professional, the menu appetizing and the decor kind of cool (if you – like me – enjoy an over the top 21st century oil sheik style). The food served – in huge portions – is very good. A bone in rib eye, served with an airy bearnaise sauce and whipped potatoes melts in your mouth. So juicy, perfectly cooked. The tenderloin is buttery, with a lovely Maillard crust. A burger, spiced up with a fistful of truffles is a hit. Moist, tender and served with seriously good french fries. As a self proclaimed representative of all carnivores out there; I can only say "bravo" to the Pinnacle. If Holland America can take the quality of this restaurant and get their traditional guests excited about quality – they just might succeed with the next generation of cruisers as well.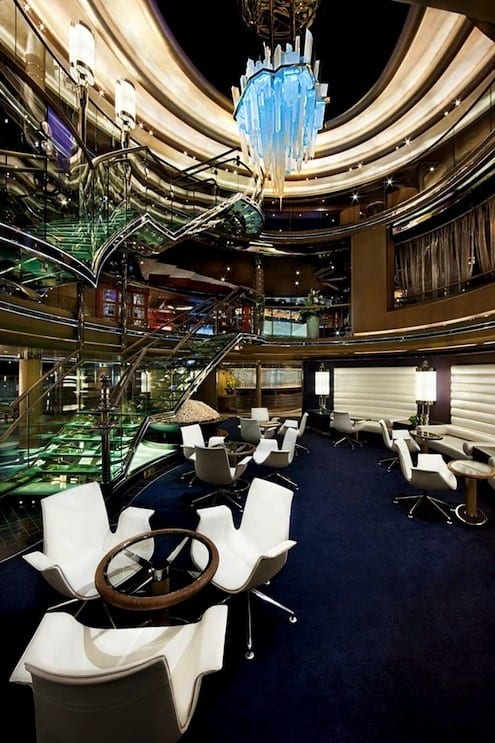 During my time onboard the MS Nieuw Amsterdam, I honestly felt that Holland America Line was stuck in the past. But with some distance, I realize that actually that's not true. It's not Holland America Lines that's stuck in the past. In fact, they're trying to move with the times and gently upgrade their dining options. And they're doing it rather well. The problem is their customers. They just don't want things to change. They love their baked alaska. They love their happy hour cocktails, and they absolutely 100% love, Love, LOVE their Surf & Turf Filet Mignon with Lobster Tail at the end of the cruise. In fact, they love it so much they don't care about the new and more interesting choices they have onboard.
I feel a little bad for good old HAL. They mean well, and their newest dining concepts are actually rather good. They are just not getting a lot of help from their guests.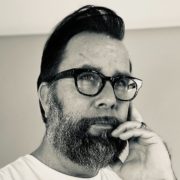 Kalle Bergman
Kalle Bergman is a food writer and media entrepreneur who is the founder of Honest Cooking and PAIR Magazine. As a food writer, his writing has been regularly featured in publications like Gourmet, Los Angeles Times, Huffington Post and Serious Eats. He is obsessed with simple food, more often than not from his native Scandinavia.