These Snowball Cookies or Almond Snowballs are extremely delicious, with the almond fragrance that just melts in your mouth.
By Ann Low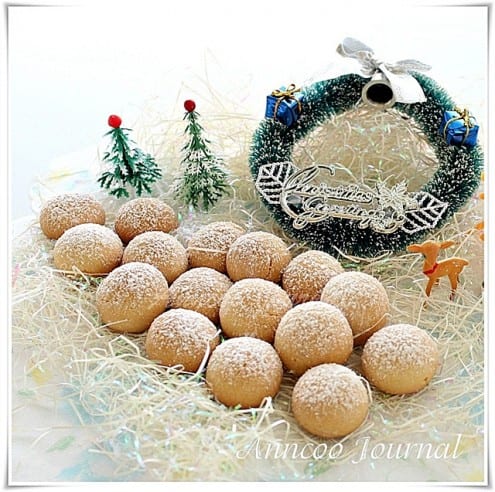 Snowball Cookies
These Snowball Cookies or Almond Snowballs are very yummy with the almond fragrance that just melts in your mouth. You can let your kids to help you around and have fun. You can roll the dough into small balls so that they be easily popped into your mouth.
Ingredients
150g Plain flour
120g Butter, softened
50g Icing sugar
a pinch of salt
½ tsp Vanilla extract
50g Ground almonds
Instructions
Preheat oven to 160C (320F). Line a baking tray with parchment paper.
Beat butter, icing sugar, salt and vanilla extract until softened.
Fold flour and ground almonds into butter mixture using a spatula.
Wrap dough with cling film and refrigerate for about 20 minutes.
Roll chilled dough into a long cylinder about 3 cm in diameter. Slice roll and weigh the pieces to check they are uniform in size, about 8g each.
Shape dough pieces into balls and place in alternating rows on prepared baking tray to ensure good distribution of oven heat for even baking.
Bake cookies for 20 minutes, then remove from heat and leave to cool on a wire rack.
Once cooled, dust cookies with icing sugar and store in an airtight container to keep them crisp.
Ann Low
Ann Low is the author of Anncoo Journal, and loves to bake and cook for both family and friends. She acquired a strong passion for culinary skills from a very young age by watching her grandmother prepare delicious meals for the family. Ann believes that baking is an art and she wants to share her baking and cooking experiences with everyone in the world.