This beautiful strawberry sorbet is a delicious and easy everyday treat.
By Christina Soong-Kroeger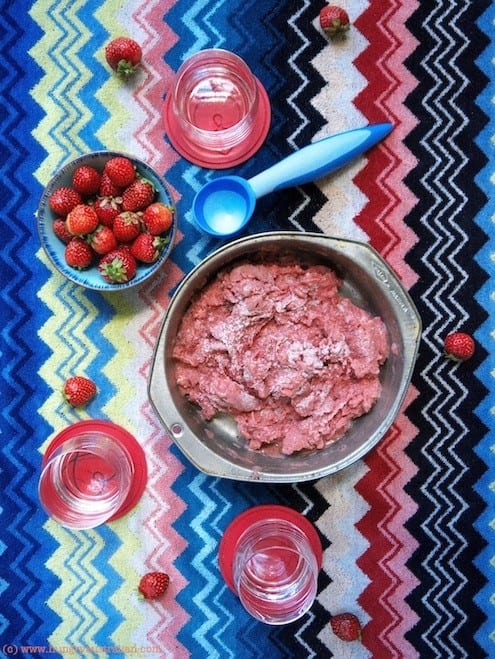 My children love ice cream. In this hot weather, they're having it at least once a day, usually twice, and sometimes even before breakfast. (Shhh! Don't tell their grandma!)
So I was thrilled to discover a great recipe for healthy ice cream by the lovely JJ from 84th & 3rd. JJ made a Vegan Chocolate Ice Cream from only bananas, avocado, chocolate and maple syrup. I made it the other day and was amazed by how good it tasted. It wasn't exactly ice cream but it was a damn fine substitute and one I'd be happy to eat any day of the week. And I wasn't alone in liking it either – my kids absolutely loved it.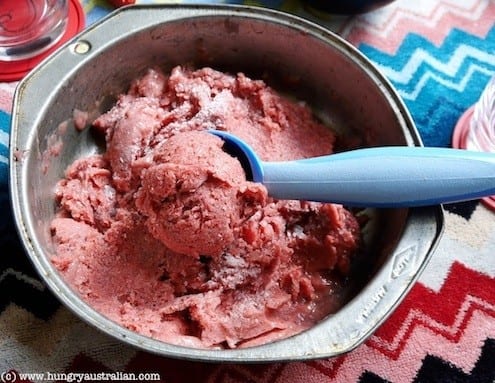 So today when I spotted some lovely strawberries at my greengrocer I decided to make a strawberry version. I only had half an avocado in the fridge so it ended up being midway between a sorbet and an ice cream.
See Also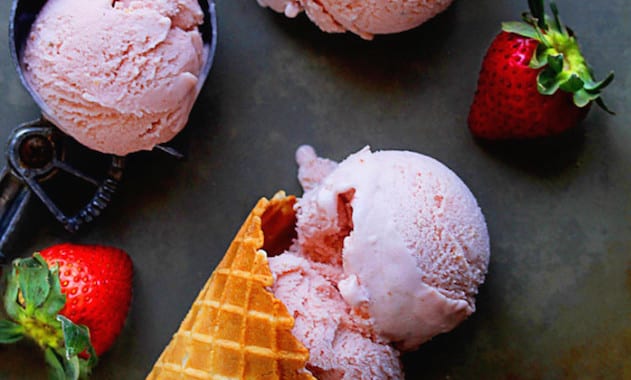 This Strawberry Sorbet is refreshing, delicious and very pretty. It's healthy, too – it's literally only fruit with a couple of spoonfuls of jam added. You could even omit the jam if you wanted it to be completely sugar-free.
Best of all, it's a cinch to make. So I can give this healthy, homemade snack to my children once or twice a day feeling quietly satisfied with myself rather than guilty.
Gotta love that.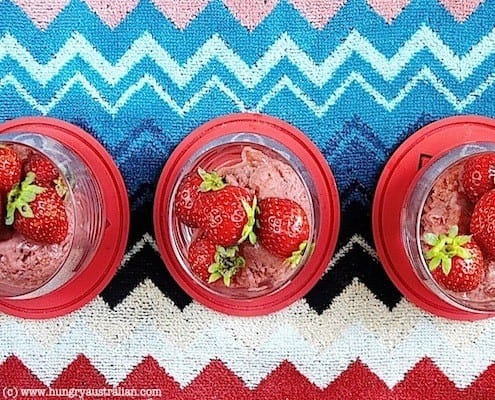 This beautiful strawberry sorbet is a delicious and easy everyday treat.
Author:
Christina Soong-Kroeger
Ingredients
3 bananas, peeled, cut into pieces and frozen for a few hours
½ avocado, peeled and stoned (add one full avocado for a creamier texture)
1 punnet strawberries, washed and hulled
2-4 teaspoons raspberry or strawberry jam (to taste)
Instructions
Blend frozen bananas, avocado, strawberries and jam with a hand held mixer and pour into a container. Cover with a lid or tinfoil and then freeze.
After half an hour scrape the frozen edges into the middle of the container and mix roughly. Repeat two to three times more every half hour and then freeze for a few hours. Alternatively, put it into your ice cream mixer and let it do the work for you.
When you're ready to serve, take the sorbet out of the freezer and let it sit for 10 minutes to soften up.
Serve with lots of fresh strawberries – the contrast of the sorbet and the fresh fruit is sublime.
Christina Soong-Kroeger
Christina publishes The Hungry Australian - a collection of recipes, reviews and stories about food - and is a regular contributor to Sumptuous. Her writing has appeared in the China Daily and That's Shanghai while her photography regularly appears on Foodgawker, Tasteologie and Photograzing. After eating her way around Shanghai, London, Hong Kong, Leeds and Melbourne, she now calls Adelaide, South Australia, home again.