Christina Soong-Kroeger starts the year with a delicious dessert and some great poetry.
By Christina Soong-Kroeger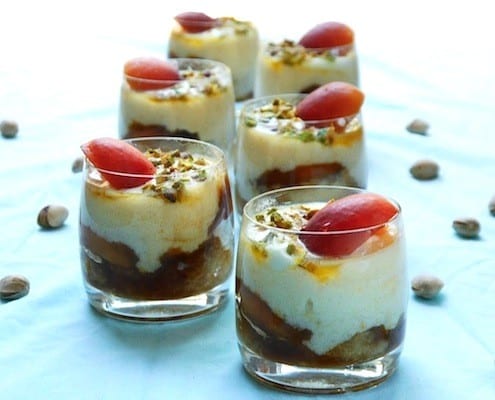 At the beginning of 2012 I'm feeling optimistic. Onwards and upwards will be my mantra this year.
However, I am a realist: I understand that we don't get the highs without the lows. Moreover, the highs and lows are more frequent if you're someone like me who thrives on challenges and new adventures.
At times like these, I'm reminded of the poem, The Road Not Taken, by the American poet Robert Frost:
Two roads diverged in a yellow wood,
And sorry I could not travel both
And be one traveler, long I stood
And looked down one as far as I could
To where it bent in the undergrowth;
Then took the other, as just as fair,
And having perhaps the better claim
Because it was grassy and wanted wear,
Though as for that the passing there
Had worn them really about the same,
And both that morning equally lay
In leaves no step had trodden black.
Oh, I marked the first for another day!
Yet knowing how way leads on to way
I doubted if I should ever come back.
I shall be telling this with a sigh
Somewhere ages and ages hence:
Two roads diverged in a wood, and I,
I took the one less traveled by,
And that has made all the difference.
With the idea of treading new paths top of mind, I was happy to make my first trifle the other day. (How's that for a segue?)
I haven't actually eaten many trifles but that didn't matter. I knew in theory what the component parts were and I knew the flavours I wanted to use. So I read up on a few recipes and came up with an apricot, cardamon and pistachio trifle I served for a recent family dinner when my cousin and his girlfriend were visiting.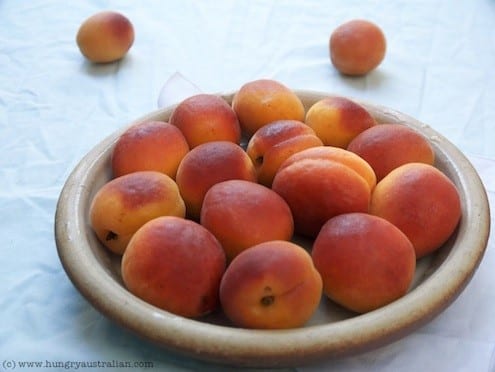 The trifle tasted divine and looked impressive in the big crystal bowl I'd borrowed. However, once served on the plate the trifle looked, well, a bit sloppy. It oozed and flopped. It was not the beautiful picture I had imagined.
See Also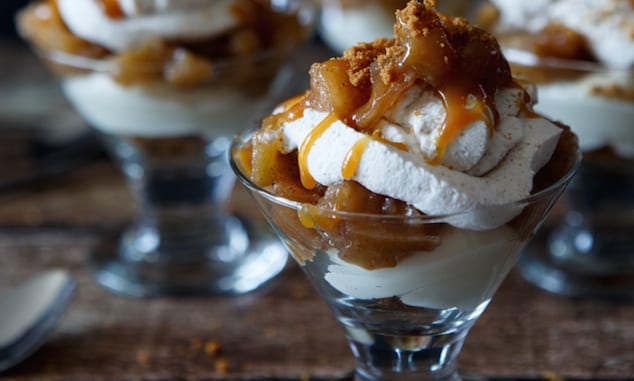 For a moment, I had a crisis of confidence. But then I remembered that when written in Chinese, the word 'crisis' is composed of two characters: one represents 'danger' – and my dessert was dangerously close to looking unappetising – and the other represents 'opportunity'.
That's when I decided to get around the sloppy plate factor by making mini trifles instead. You get the beautiful layering and combination of flavours of a trifle in a neat, individual portion that retains its presentability.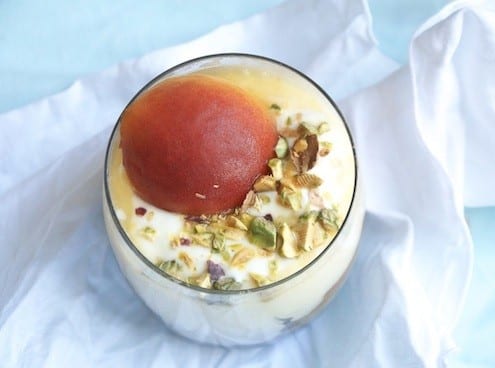 Consider mini trifles the the path less taken.
And may you also set off on all sorts of interesting new roads in 2012.
Print
Mini Trifles, Robert Frost & New Beginings
---
Author:

Christina Soong-Kroeger (www.hungryaustralian.com)

Total Time:

40 minutes

Yield:

6

1

x
Description
Mini Trifles with Apricots, Cardamon, Pistachios & Honey – simple but stunning!
---
6

ripe apricots, plus another 3 (choose the ripest) to decorate

1 cup

water

1/2 cup

brown sugar

2 teaspoon

vanilla essence

5

cardamon pods, crushed to expose seeds
Pinch cinnamon

2 cups

milk

2

egg yolks

1/4 cup

caster sugar

1/3

panettone (Italian sweet cake)

200 grams

tub Greek yoghurt

6 teaspoons

honey

12

roasted and salted pistachios, shelled and cut into shards.
---
Instructions
Stew six, halved apricots by placing into a saucepan with one cup water, half a cup brown sugar, one teaspoon vanilla essence, five cardamon pods and a the tiniest pinch of cinnamon. Bring to the boil and then put on low simmer for 15 minutes so that the apricots are very soft and the liquid has reduced. Remove cardamon pods and seeds and discard.
Make custard by heating up two cups milk and one teaspoon vanilla essence in a small saucepan. Mix two egg yolks and a quarter cup sugar in a mixing bowl, then pour heated milk into the mixing bowl, whisking all the time. Pour mixture back into saucepan and add one tablespoon flour, whisking briskly to combine. Heat mixture gently, stirring occasionally, until it thickens and coats the back of a spoon.
Cut the panettone into one inch slices. Out of the slices, cut 6 circles/discs to fit snugly into the bottom of the glasses. Eat the rest with a cup of coffee.
Ladle two apricot halves and syrup on top of the panettone, diving the syrup evenly between the glasses. Then top the apricots with the custard.
If not serving straight away, refrigerate until needed.
To serve, add a generous dollop or two of greek yoghurt on top of the custard and then dribble honey over the yoghurt. Place half an apricot on top, resting it on the rim of the glass and scatter crushed pistachios on top.
Eat. Sigh. Repeated until finished.
Prep Time:

25 mins

Cook Time:

15 mins
Christina Soong-Kroeger
Christina publishes The Hungry Australian - a collection of recipes, reviews and stories about food - and is a regular contributor to Sumptuous. Her writing has appeared in the China Daily and That's Shanghai while her photography regularly appears on Foodgawker, Tasteologie and Photograzing. After eating her way around Shanghai, London, Hong Kong, Leeds and Melbourne, she now calls Adelaide, South Australia, home again.